The anti-hero in fiction
1

Prince of Thorns (The Broken Empire, #1)




by




2

King of Thorns (The Broken Empire, #2)




by




3

The Lies of Locke Lamora (Gentleman Bastard, #1)




by




4

Emperor of Thorns (The Broken Empire, #3)




by




5

The Blade Itself (The First Law, #1)




by




6

The Left Hand of God (The Left Hand of God, #1)




by




7

A Clockwork Orange




by




8

Darkly Dreaming Dexter (Dexter, #1)




by




9

Wuthering Heights




by




10

The Last Four Things (The Left Hand of God, #2)




by




11

American Psycho




by




12

1984




by




13

The Count of Monte Cristo




by




14

Trainspotting




by




15

One Flew Over the Cuckoo's Nest




by




16

Skagboys




by




17

Crime and Punishment




by




18

Lunar Park




by




19

The Elephant Tree




by




20

Invisible Monsters




by




21

The Wasp Factory




by




22

Plague of Angels (The Descended, #1)




by




23

Factotum




by




24

Fight Club




by




25

The Way of Shadows (Night Angel, #1)




by




26

The Gunslinger




by




27

Fahrenheit 451




by




28

Six of Crows (Six of Crows, #1)




by




29

The Zombie Room




by




30

The Catcher in the Rye




by




31

Requiem for a Dream




by




32

Best Served Cold




by




33

The Thief (The Queen's Thief, #1)




by




34

Catch-22 (Catch-22, #1)




by




35

I Hunt Killers (I Hunt Killers, #1)




by




36

I Know Not (The Legacy of Fox Crow, #1)




by




37

The Stranger




by




37

Prince of Fools (The Red Queen's War, #1)




by




39

The Magicians (The Magicians, #1)




by




40

John Dies at the End (John Dies at the End, #1)




by




41

The Colour of Magic (Discworld, #1)




by




42

Safecracker




by




43

Mr. Monster (John Cleaver, #2)




by




44

I Am Not a Serial Killer (John Cleaver, #1)




by




45

The Three Musketeers (The D'Artagnan Romances, #1)




by




46

The Crown Conspiracy (The Riyria Revelations, #1)




by




47

Game (I Hunt Killers, #2)




by




47

Among Thieves (Tales of the Kin, #1)




by




49

The Death of Bunny Munro




by




50

Confessions of a D-List Supervillain (D-List Supervillain, #1)




by




51

I Don't Want to Kill You (John Cleaver, #3)




by




52

Dragons of Autumn Twilight (Dragonlance: Chronicles, #1)




by




53

Falling Kingdoms (Falling Kingdoms, #1)




by




54

The Chronicles of Thomas Covenant, the Unbeliever (The Chronicles of Thomas Covenant the Unbeliever, #1-3)




by




55

The Power That Preserves (The Chronicles of Thomas Covenant the Unbeliever, #3)




by




56

This Book Is Full of Spiders (John Dies at the End, #2)




by




57

Watchmen




by




58

Dexter in the Dark (Dexter, #3)




by




58

Vicious (Villains, #1)




by




60

Lothaire (Immortals After Dark, #11)




by




61

Lolita




by




62

The Picture of Dorian Gray




by




63

Red Glove (Curse Workers, #2)




by




64

The Fifth Elephant (Discworld, #24; City Watch, #5)




by




65

In the Miso Soup




by




66

Audition




by




67

One Day in the Life of Ivan Denisovich




by




68

Scattershot




by




69

Captive in the Dark (The Dark Duet, #1)




by




70

The Talented Mr. Ripley (Ripley, #1)




by




71

Black Sun Rising (The Coldfire Trilogy, #1)




by




72

Heroes Die (The Acts of Caine, #1)




by




73

Elric of Melniboné (The Elric Saga, #1)




by




74

Dearly Devoted Dexter (Dexter, #2)




by




75

Young Love Murder (Young Assassins, #1)




by




76

Sleeping Beauty (The Broken Empire, #2.5)




by




77

Grendel




by




78

The Cement Garden




by




79

Nutshell




by




80

Dead Men's Trousers




by




81

Rogues




by




82

Ubik




by




83

Pale Fire




by




84

Wake the Wicked




by




84

The Soft Ground




by




86

Bitterblue (Graceling Realm, #3)




by




87

Post Office




by




87

Seduced in the Dark (The Dark Duet, #2)




by




89

Catwoman: Soulstealer (DC Icons, #3)




by




90

Flashman, Flash for Freedom!, Flashman in the Great Game




by




90

The Initiate (Time Master, #1)




by




90

The Rum Diary




by




93

Night Winds




by




94

Vanity Fair




by




95

Dreams of a Dark Warrior (Immortals After Dark, #10)




by




96

Dragon Wing (The Death Gate Cycle, #1)




by




96

The Rest of Us Just Live Here




by




98

Fire Sea (The Death Gate Cycle, #3)




by




98

Consider Phlebas (Culture, #1)




by




100

The (sort of) Dark Mage (Waldo Rabbit, #1)




by



339 books · 279 voters · list created January 9th, 2011 by deleted user.
No comments have been added yet.
Related News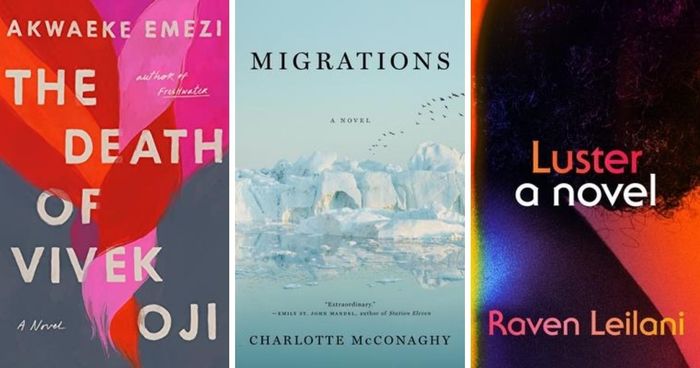 Need another excuse to treat yourself to a new book this week? We've got you covered with the buzziest new releases of the day. To create our lis...
Anyone can add books to this list.