Best short GLBT erotica
best of the best in short GLBT erotic fiction
1

The Taste of Magick




by




2

Apples and Regret and Wasted Time




by




3

Bite With Height




by




4

The Return of Alexander




by




5

Blood Brothers (Rocky Mountain Shifters, #2)




by




6

Surrender




by




7

Gambling On Maybe (GlitterBomb! #1)




by




8

Blazing Star




by




9

Michelle's Extra Digit




by




9

The Enlightenment of Alexander




by




11

Oneiros




by




11

Grade-A-Sex Deal (College Fun and Gays, #2)




by




13

Mate Hunt (Dragonmen, #1)




by




14

Gay Like You (G-A-Y #2)




by




15

The Direction Of Greatest Courage




by




16

Wanting




by




17

Burn the Brightest




by




18

Devotion




by




19

I Am the Highway




by




19

Birthday Burglar




by




19

Mark and Brenden: The Trip




by




22

Just Upstairs




by




22

Ginny's Lesson




by




24

Egging Him On




by




25

Crazy Kinky Dirty Clowns (Crazy Kinky Dirty Love, #4)




by




26

An Onanist's Journey to Reclaiming His Seed




by




27

The Mis-adventures of a Teenage Mark




by




28

Wingman




by




29

Submission in Silk




by




30

Vampire Menage




by




30

Her Temptress




by




30

A Taste for Cherries




by




30

Got Lemons?




by




30

Fireflies




by




30

Wet




by




30

Stranded in Paradise




by




30

Catherine's Toys




by




30

Torn (Torn, Twisted & Tangled, #1)




by




30

An Introduction to Sappho




by




30

Blow Machine




by




30

Executive Benefits




by




30

Sex Appeal




by




30

Melancholia




by




30

Ad-Dick-tion: Vol 3




by




30

Raspberry Truffle




by




30

Locked Down (Prison Politics, #1)




by




30

Treasure (Kept, #1)




by




30

The Story of Mr. X




by




30

Male Medusa, Caught in Coils (Otherkind Kink: Male Medusa, #1)




by




30

The Mechanic




by




30

Primal Chase (From the Ashes, #1)




by




30

Just A Game




by




30

Curious - A Collection Of Bi-Curious Male Fantasies




by




30

Lesbian Vampire Strippers of New Orleans




by




30

Party at the Lunar Pack (Lunar Pack, #1)




by




30

Divergence: Erotica from a Different Angle




by




30

Kyle's New Stepbrother (Nick and Kyle Book 1)




by




30

Artist's Model: Erotic College Girl Sex, Male Female Male Threesome, Menage a Trois




by




30

Anything But Everything & Five More Gay Erotic Stories




by




30

King of the Sea




by




30

Riley's Little Secret (My Best Friend's Son/Daughter #2)




by




62

Chasing Alex




by




62

The Beach House




by




62

I Kissed a Girl




by




62

Ridden Hard




by




62

Kissing Michael




by




62

El Espectro




by




62

Wild Cherry - Blindfolded And Used




by




62

Under His Wings




by




62

Crazy Kinky Dirty Stud (Crazy Kinky Dirty Love, #2)




by




62

Dope Boy Magic (Dope Boyz, #1)




by




62

Lord of the Manor




by




62

Savage Capture (From the Ashes #2)




by




62

Just This Once




by




62

The Francesca Rose




by




62

Kyle's New Stepbrother II: Long Hot Summer (Nick and Kyle Book 2)




by




62

Brody's First Time




by




62

Tucker




by




62

Bear Hunting (Bathhouse Confessions #1)




by




62

Dean's Forbidden Desire




by




81

Pyrogasm




by




81

I Kissed a Girl II




by




81

Hot Tales of Gay Lust 2




by




81

Cutter




by




81

Clockwork Dolls




by




81

Skin 2 Skin (Inked, #2)




by




81

Crazy Kinky Dirty Home Invasion (Crazy Kinky Dirty Love, #3)




by




81

The Pack




by




81

Wild Courage (From the Ashes #3)




by




81

Lesbian Vampire Strippers: Very Vampire Valentine's




by




81

Kyle's New Stepbrother III: Independence Day Fireworks (Nick and Kyle Book 3)




by




81

R.U.N. On The Folded Edge




by




81

Sensory Deprivation (Bathhouse Confessions #2)




by




81

Nick & Cam




by




95

Tea and Crumpet




by




95

Hard Lessons




by




95

Fancy Man and the Southern Gentleman




by




95

Lover Unexpected: Manlove Edition




by




95

Almond Scent




by




95

Raw Riot (Prison Politics, #2)




by



164 books · 88 voters · list created December 22nd, 2010 by deleted user.
No comments have been added yet.
Related News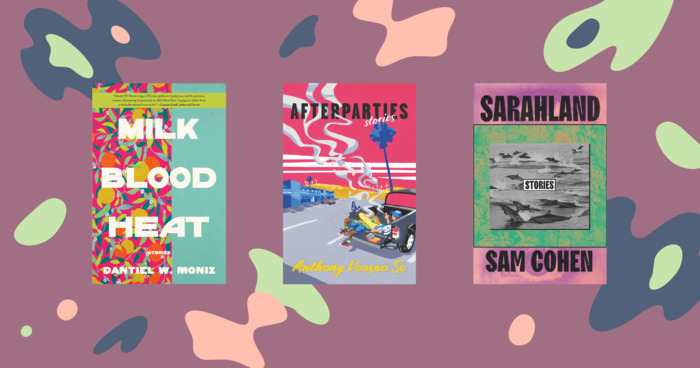 Trying to bust a reading slump? No time to sink into a long novel? Prefer plots that can be contained in a handful of pages? Then a short story...
Anyone can add books to this list.