I Really Can't Believe You Haven't Read This Yet
1

To Kill a Mockingbird




by




2

The Hobbit




by




3

Outlander (Outlander, #1)




by




4

1984




by




5

Animal Farm




by




6

The Da Vinci Code (Robert Langdon, #2)




by




7

The Diary of a Young Girl




by




8

The Hitchhiker's Guide to the Galaxy (Hitchhiker's Guide to the Galaxy, #1)




by




9

The Girl with the Dragon Tattoo (Millennium, #1)




by




10

The Handmaid's Tale (The Handmaid's Tale, #1)




by




11

Gone Girl




by




12

East of Eden




by




13

The Catcher in the Rye




by




14

And Then There Were None




by




15

Murder on the Orient Express




by




16

A Midsummer Night's Dream




by




17

Romeo and Juliet




by




18

Dracula




by




18

Black Beauty




by




20

Death on the Nile (Hercule Poirot, #16)




by




21

Interview with the Vampire (The Vampire Chronicles, #1)




by




22

The Grapes of Wrath




by




23

The Hunger Games (The Hunger Games, #1)




by




24

Hamlet




by




25

All Quiet on the Western Front




by




26

The Secret Garden




by




27

The Adventures of Tom Sawyer




by




28

Oliver Twist




by




29

How the Grinch Stole Christmas!




by




30

The Murder of Roger Ackroyd (Hercule Poirot, #3)




by




31

Catch-22




by




32

Midnight in the Garden of Good and Evil




by




33

Breakfast at Tiffany's and Three Stories




by




34

The Great Gatsby




by




35

The Last Days of the Incas




by




35

Apostle of the Tyrants




by




37

The Good Earth (House of Earth, #1)




by




38

The Canterbury Tales




by




39

The Yellow Wall-Paper




by




40

The Mysterious Affair at Styles (Hercule Poirot, #1)




by




41

Jaws




by




42

The A.B.C. Murders (Hercule Poirot, #12)




by




42

Angels & Demons (Robert Langdon, #1)




by




44

Macbeth




by




45

Lysistrata




by




46

The Killer Angels (The Civil War Trilogy, #2)




by




47

The Brothers Karamazov




by




48

Uncle Tom's Cabin




by




49

Things You Can't Take




by




50

The Club




by




51

Mrs Durham's Girl: And the Stories That She Told




by




52

Rebecca




by




52

Falling Inn Love (Harvest Ranch Romance #3)




by




54

The Body in the Library




by




55

A Night to Remember




by




56

The Souls of Black Folk




by




57

Desert Solitaire




by




58

Beowulf




by




59

The Joy Luck Club




by




60

Slaughterhouse-Five




by




61

The Crucible




by




62

Silent Spring




by




63

The Raven




by




64

In Cold Blood




by




65

The Little House Collection (Little House, #1-9)




by




66

Pride and Prejudice




by




67

Death in Paraiso




by




67

Rogue Flag




by




67

Perfectly Planned (A Pine Ridge Romance #6)




by




70

Inherit The Whirlwind: The Final Showdown Between Science And Religion




by




70

The Night Olivia Fell




by




72

Death of the Body (Crossing Death #1)




by




73

Ancillary Justice (Imperial Radch #1)




by




74

The Silence of the Lambs (Hannibal Lecter, #2)




by




75

Nurtured Evil




by




76

Fried Green Tomatoes at the Whistle Stop Cafe




by




77

Life of Pi




by




78

Good Omens: The Nice and Accurate Prophecies of Agnes Nutter, Witch




by




79

The Heart Is a Lonely Hunter




by




80

Atlas Shrugged




by




81

The Iliad / The Odyssey




by




81

Flowers for Algernon




by




81

The Sun Also Rises




by




84

A Tree Grows in Brooklyn




by




85

Battle Cry of Freedom




by




85

The Cider House Rules




by




87

Antigone (The Theban Plays, #3)




by




88

On Liberty




by




89

The Old Man and the Sea




by




89

Of Mice and Men




by




91

Our Town




by




92

What Alice Forgot




by




93

Under the Dome




by




93

Paradise Lost




by




95

Devil Water




by




96

Madame Bovary




by




97

You (You, #1)




by




98

David Copperfield




by




98

Tess of the D'Urbervilles




by




98

Running Blind (Jack Reacher, #4)




by



384 books · 225 voters · list created June 4th, 2014 by deleted user.
No comments have been added yet.
Related News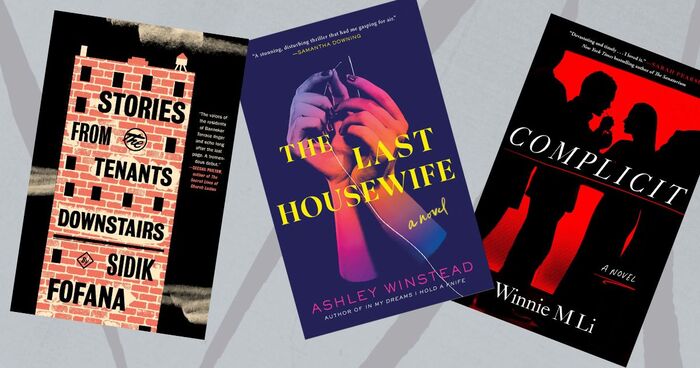 Need another excuse to treat yourself to a new book this week? We've got you covered with the buzziest new releases of the day. To create our...
Anyone can add books to this list.