Children Books About Art
Picture books about art
1

Harold and the Purple Crayon (Harold, #1)




by




2

The Dot




by




3

Mouse Paint




by




4

Ish




by




5

Art & Max




by




6

Little Blue and Little Yellow: A Story for Pippo and Other Children




by




7

Linnea in Monet's Garden




by




8

I Ain't Gonna Paint No More!




by




9

When Pigasso Met Mootisse




by




10

A Color of His Own




by




11

The Day the Crayons Quit




by




12

White Rabbit's Color Book




by




13

The Art Lesson (Paperstar Book)




by




14

If Picasso Painted a Snowman (The Reimagined Masterpiece Series)




by




15

Bridget's Beret




by




16

Magritte's Marvelous Hat




by




17

The Fantastic Jungles of Henri Rousseau




by




18

Beautiful Oops!




by




19

A Splash of Red: The Life and Art of Horace Pippin (Schneider Family Book Awards - Young Children's Book Winner)




by




20

Vincent's Colors (Illustrated Biographies by Chronicle Books)




by




21

A Day With No Crayons




by




22

Seen Art?




by




22

Viva Frida




by




24

Louise Loves Art




by




25

Emily's Blue Period




by




26

Sky Color




by




26

My Pen




by




28

The Artist Who Painted a Blue Horse




by




29

Drawn Together




by




30

The Iridescence of Birds: A Book About Henri Matisse




by




31

Olivia (Olivia, #1)




by




32

Extra Yarn




by




33

Wonder Bear




by




34

Willow (Willow, #1)




by




35

The Legend of the Indian Paintbrush




by




36

Uncle Andy's: A Faabbbulous Visit With Andy Warhol




by




37

Radiant Child: The Story of Young Artist Jean-Michel Basquiat




by




38

If da Vinci Painted a Dinosaur (The Reimagined Masterpiece Series)




by




39

An Eye for Color: The Story of Josef Albers




by




40

Wabi Sabi




by




41

Behold the Bold Umbrellaphant and Other Poems




by




42

The Imaginary Garden




by




43

Red Sings from Treetops




by




44

The Shape Game




by




45

Katie and the Sunflowers




by




46

The Boy Who Drew Birds: A Story of John James Audubon




by




47

Camille and the Sunflowers: A Story About Vincent van Gogh




by




48

A River of Words: The Story of William Carlos Williams




by




49

The Big Orange Splot




by




50

The Usborne Children's Book of Art




by




51

You Can't Take a Balloon into the Metropolitan Museum




by




52

Babar's Museum of Art




by




53

Willy's Pictures




by




54

The Noisy Paint Box




by




55

You Can't Take a Balloon into the Museum of Fine Arts




by




56

The Night Gardener




by




57

Maybe Something Beautiful: How Art Transformed a Neighborhood




by




58

Hh-Do You Know Colors?




by




59

Come Look With Me: Exploring Landscape Art with Children (Come Look With Me Art Books)




by




59

Artist to Artist: 23 Major Illustrators Talk to Children about Their Art




by




61

How to Paint the Portrait of a Bird




by




62

Vincent Van Gogh: Sunflowers and Swirly Stars




by




63

Draw!




by




64

Come Look with Me: Enjoying Art with Children




by




65

Come Look With Me: Animals in Art (Come Look With Me Art Books)




by




66

Perfect Square




by




67

A Child's Book of Art: Great Pictures First Words




by




67

Dave the Potter: Artist, Poet, Slave




by




69

Morris the Artist




by




70

Flotsam




by




71

All I See




by




72

Chasing Degas




by




73

Pezzettino




by




74

Why is Blue Dog Blue?: A Tale of Colors




by




75

Why Is Art Full of Naked People?: And Other Vital Questions About Art




by




76

Draw Me a Star (Paperstar Book)




by




77

The Magical Garden of Claude Monet




by




78

Pocket Full of Colors: The Magical World of Mary Blair, Disney Artist Extraordinaire




by




79

Vincent Can't Sleep: Van Gogh Paints the Night Sky




by




80

Katie's Sunday Afternoon




by




81

Augustine




by




81

Stained Glass Summer




by




81

Concepts of Colors for Kids




by




84

Panda Bear's Paintbox




by




85

Elemenopeo




by




86

The Black Book of Colours




by




87

Hugo and Miles in I've Painted Everything




by




88

My Dog Thinks I'm A Genius




by




89

Colors




by




90

In Mary's Garden




by




91

Georgia Rises: A Day in the Life of Georgia O'Keeffe




by




92

Dreamer from the Village: The Story of Marc Chagall




by




93

Mr. Flux




by




94

World Make Way: New Poems Inspired by Art from The Metropolitan Museum




by




95

Dinner at Magritte's




by




96

Can You Find It Inside?: Search and Discover for Young Art Lovers




by




96

When Emily Carr Met Woo




by




98

Bear's Picture




by




99

My Vancouver Sketchbook




by




100

Looking At Pictures




by



270 books · 157 voters · list created November 3rd, 2010 by deleted user.
Showing 1-11 of 11
(11 new)
date
newest »
back to top
Related News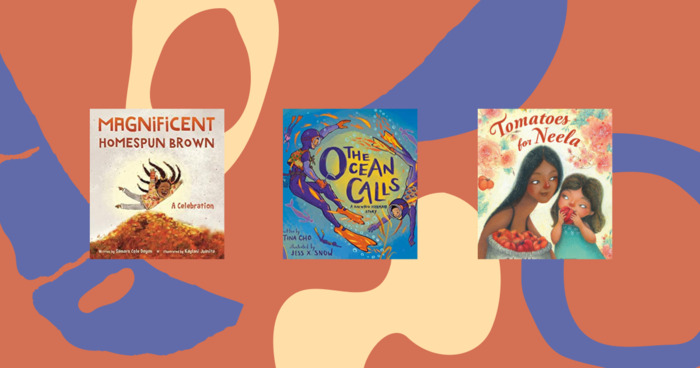 Mahogany L. Browne is the author of Chlorine Sky, Woke: A Young Poets Call to Justice, Woke Baby, and Black Girl Magic. She's also the...
Anyone can add books to this list.