Don't Care About The Rating I Loved The Book
1

The Da Vinci Code (Robert Langdon, #2)




by




2

Angels & Demons (Robert Langdon, #1)




by




3

Dracula




by




4

The Rise and Fall of the Third Reich: A History of Nazi Germany




by




5

A Tale of Two Cities




by




6

Jaws (Jaws #1)




by




7

The Historian




by




8

The War of the Worlds




by




9

The Shock Doctrine: The Rise of Disaster Capitalism




by




10

The Importance of Being Earnest




by




11

The Pickwick Papers




by




12

Don't Close Your Eyes




by




13

Complicated Moonlight (DCYE, #2)




by




14

Catch-22




by




15

Death on the Nile (Hercule Poirot, #16)




by




16

Lord of the Flies




by




17

The Girl Who Played with Fire (Millennium, #2)




by




18

The Girl Who Kicked the Hornet's Nest (Millennium, #3)




by




19

The Body in the Library




by




20

It




by




21

Riotous Assembly




by




21

The Big Four (Hercule Poirot, #4)




by




23

War and Peace




by




24

Media Control: The Spectacular Achievements of Propaganda




by




25

Daydream Believers




by




26

Not a Penny More, Not a Penny Less




by




27

Brave New World




by




28

Eye of the Needle




by




28

The Hitchhiker's Guide to the Galaxy (Hitchhiker's Guide to the Galaxy, #1)




by




30

Son of the Morning Star: General Custer and the Battle of the Little Bighorn




by




31

Crazy Horse and Custer




by




31

Bury My Heart at Wounded Knee: An Indian History of the American West




by




33

The Invisible Man




by




34

Indecent Exposure




by




35

The Satan Bug




by




36

Running Blind (Jack Reacher, #4)




by




37

Fear is the Key




by




38

Frankenstein




by




39

When Eight Bells Toll




by




39

Misery




by




41

Where Eagles Dare




by




42

The Mystery of the Blue Train (Hercule Poirot, #5)




by




43

Our Mutual Friend




by




44

Beau Geste (Beau Geste #1)




by




45

Poirot Investigates (Hercule Poirot, #3)




by




46

Déjà Dead (Temperance Brennan, #1)




by




47

Inside the Third Reich




by




47

A Bridge Too Far




by




49

Solan




by




49

Mojado (Navajo Nation Mystery #4)




by




49

Catharsis




by




49

Gianna: Aborted...and Lived to Tell about It




by




49

The Sight of Demons (The Master of Perceptions, #1)




by




49

Blindsighted (Grant County, #1)




by




49

The Nightingale




by




49

The Dawn of Evil (The Wages of Sin, #5)




by




49

The Sport of Kings




by




49

Divided by Race, Language, and Education: 200 years of Defiance and Deference under Colonial Rule




by




49

Mad Love (DCYE, #3)




by




60

Sir Gawain and the Green Knight




by




60

Ancient Blood (Navajo Nation Mystery #3)




by




60

The Ishbane Conspiracy




by




60

The Life and Opinions of Tristram Shandy, Gentleman




by




60

Moonlight in Odessa




by




60

Memory Man (Amos Decker, # 1)




by




60

The Camel Club (The Camel Club, #1)




by




60

The Night Olivia Fell




by




60

The Birth of Death (The Wages of Sin, #4)




by




69

Trouble on Cloud City (Star Wars: Young Jedi Knights, #13)




by




69

The Rising Sun: The Decline & Fall of the Japanese Empire, 1936-45




by




69

Navajo Autumn (Navajo Nation Mystery, #1)




by




69

Vote of Intolerance




by




69

The Big Sleep




by




69

My Name is Joe




by




69

The Fall of Innocence (The Wages of Sin #3)




by




76

Captivate (Submerged Sun, #1)




by




76

In Memory of Michelle




by




76

The Lost Ones (Star Wars: Young Jedi Knights, #3)




by




76

Boy Made of Dawn (Navajo Nation Mystery, #2)




by




76

The Road to Forgiveness




by




76

The Awakening: Fate in Motion




by




76

A Place Called Here




by




76

The Wrath of Truth




by




84

The Dead I Know




by




84

Threads




by




84

Deception Point




by




84

Pregnancy For Dummies




by




84

Miss Julia Speaks Her Mind (Miss Julia, #1)




by




84

Brownout - 666: or the Real Meaning of the Swastika




by




84

The Lucky One




by




84

The Devil's Advocate




by




92

The Seren Trilogy




by




92

Born in Blood and Fire: A Concise History of Latin America




by




92

Cockroaches (Harry Hole, #2)




by




92

Solomon's Knife




by




92

Wild Fire (John Corey, #4)




by




97

The Naphil's Kiss




by




97

Walden, or Life in the Woods




by




97

Headhunters




by




97

The Sacrifice of Tamar




by



177 books · 48 voters · list created May 31st, 2014 by deleted user.
date
newest »
back to top
Related News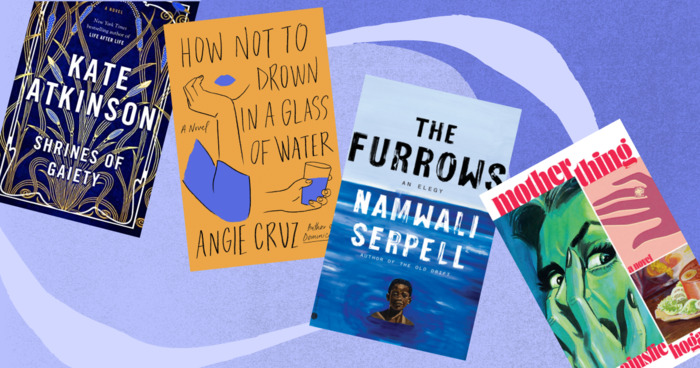 The common problem of "too many books, too little time" can reach truly dire proportions when you work on the Goodreads editorial team. After...
Anyone can add books to this list.