Big History
From Nothing to Everything
1

Sapiens: A Brief History of Humankind




by




2

Guns, Germs, and Steel: The Fates of Human Societies




by




3

A Short History of Nearly Everything




by




4

Collapse: How Societies Choose to Fail or Succeed




by




5

A Brief History of Time




by




6

The Origin of Species




by




7

Salt: A World History




by




8

Big History: The Big Bang, Life On Earth, And The Rise Of Humanity




by




9

Origin Story: A Big History of Everything




by




10

The Last Days of the Incas




by




10

The Removable Root Cause of Cancers and other Chronic Diseases : The Effort Theory of Evolution, Chronic Diseases and Extinction




by




12

Homo Deus: Een kleine geschiedenis van de toekomst




by




13

The Better Angels of Our Nature: Why Violence Has Declined




by




14

The Disappearing Spoon: And Other True Tales of Madness, Love, and the History of the World from the Periodic Table of the Elements




by




15

The Horse, the Wheel, and Language: How Bronze-Age Riders from the Eurasian Steppes Shaped the Modern World




by




16

The Cartoon History of the Universe I, Vol. 1-7: From the Big Bang to Alexander the Great (The Cartoon History of the Universe, #1)




by




17

The Great Transformation: The Beginning of Our Religious Traditions




by




18

The Rise and Fall of the Dinosaurs: A New History of a Lost World




by




19

The Gene: An Intimate History




by




20

Wonderful Life: The Burgess Shale and the Nature of History




by




21

The Ends of the World: Volcanic Apocalypses, Lethal Oceans, and Our Quest to Understand Earth's Past Mass Extinctions




by




22

A Little History of the World




by




23

Germs, Seeds and Animals: Studies in Ecological History: Studies in Ecological History




by




24

Maps of Time: An Introduction to Big History




by




25

Children Of The Ice: Climate And Human Origins




by




26

Time's Arrow, Time's Cycle: Myth and Metaphor in the Discovery of Geological Time




by




26

A Most Improbable Journey: A Big History of Our Planet and Ourselves




by




28

Big History and the Future of Humanity




by




29

Frozen Earth: The Once and Future Story of Ice Ages




by




30

Why Information Grows: The Evolution of Order, from Atoms to Economies




by




30

Uncharted: Big Data and an Emerging Science of Human History




by




32

Mutual Aid




by




33

Civilization and Capitalism 15th-18th Century, Vol. 1: The Structures of Everyday Life




by




34

What Is Life? with Mind and Matter and Autobiographical Sketches




by




35

The World Until Yesterday: What Can We Learn from Traditional Societies?




by




36

The Mediterranean and the Mediterranean World in the Age of Philip II, Volume I




by




37

Soundings in Atlantic History: Latent Structures and Intellectual Currents, 1500-1830




by




38

Big Bang: The Origin of the Universe




by




39

The Structure of Evolutionary Theory




by




40

Prehistory: A Very Short Introduction




by




41

In the Hands of the Great Spirit: The 20,000-Year History of American Indians




by




42

After the Ice: A Global Human History, 20,000-5000 BC




by




43

Your Inner Fish: a Journey into the 3.5-Billion-Year History of the Human Body




by




44

Cycles of Time: An Extraordinary New View of the Universe




by




45

People and the Land through Time: Linking Ecology and History




by




46

Why We Run: A Natural History




by




47

The Monkey's Voyage: How Improbable Journeys Shaped the History of Life




by




48

The Eternal Frontier: An Ecological History of North America and Its Peoples




by




49

Mapping Human History: Genes, Race, and Our Common Origins




by




49

The Illustrated A Brief History of Time and The Universe in a Nutshell




by




51

The History of Money




by




52

A Brief History of Everyone Who Ever Lived: The Human Story Retold Through Our Genes




by




53

Smithsonian Intimate Guide to Human Origins




by




54

Human Evolution: A Very Short Introduction




by




55

Clock of the Long Now: Time and Responsibility: The Ideas Behind the World's Slowest Computer




by




55

The Law Book: From Hammurabi to the International Criminal Court, 250 Milestones in the History of Law




by




55

The Universe Story: From the Primordial Flaring Forth to the Ecozoic Era--A Celebration of the Unfolding of the Cosmos




by




55

Timefulness: How Thinking Like a Geologist Can Help Save the World




by




55

The History of the Ancient World: From the Earliest Accounts to the Fall of Rome




by




55

How We Got to Now: Six Innovations That Made the Modern World




by




55

The Mutant Project: Inside the Global Race to Genetically Modify Humans




by




55

Deep Time Reckoning: How Future Thinking Can Help Earth Now




by




55

The WEIRDest People in the World: How the West Became Psychologically Peculiar and Particularly Prosperous




by




55

A (Very) Short History of Life on Earth: 4.6 Billion Years in 12 Pithy Chapters




by




65

T. Rex and the Crater of Doom




by




65

In Search of Time: The Science of a Curious Dimension




by




65

T Theory Says: Who Owns Our Universe (Trillion Theory, # 4)




by




65

Symbiotic Planet: A New Look at Evolution




by




65

Deep Time Dreaming: Uncovering Ancient Australia




by




65

The Mountains That Remade America: How Sierra Nevada Geology Impacts Modern Life




by




71

Black Holes Built Our Cosmos (Trillion Theory, # 3)




by




71

1491: New Revelations of the Americas Before Columbus




by




71

Over the Edge of the World: Magellan's Terrifying Circumnavigation of the Globe




by




74

More: Population, Nature, and What Women Want




by




74

Trillion Years Universe Theory (2)




by




74

Sex, Time, and Power: How Women's Sexuality Shaped Human Evolution




by




77

Trillion Theory (Trillion Theory, # 1)




by




77

Once & Future Giants: What Ice Age Extinctions Tell Us about the Fate of Earth's Largest Animals




by




77

The First Signs: Unlocking the Mysteries of the World's Oldest Symbols




by




77

The Invention of Yesterday: A 50,000-Year History of Human Culture, Conflict, and Connection




by




81

The Potato: How the Humble Spud Rescued the Western World




by




81

Cod: A Biography of the Fish that Changed the World




by




81

Big History: Between Nothing and Everything




by




84

Big History: From the Big Bang to the Present




by




84

The Little Book of Big History: The Story of the Universe, Human Civilization, and Everything in Between




by




86

The Structure of Big History: From the Big Bang until Today




by




86

Snowball Earth: The Story of the Great Global Catastrophe That Spawned Life as We Know It




by




86

Block by Block: The Historical and Theoretical Foundations of Thermodynamics




by




89

The Rise of the West: A History of the Human Community




by




90

A World History




by




90

The Origin and Evolution of Earth: From the Big Bang to the Future of Human Existence




by




92

Hypersea: Life on Land




by




93

Principles of Geology




by




93

Europe and the People Without History




by




93

At the Water's Edge: Fish with Fingers, Whales with Legs, and How Life Came Ashore but Then Went Back to Sea




by




96

The Origin of Continents and Oceans




by




96

First Peoples in a New World: Colonizing Ice Age America




by




96

The Story of Earth: The First 4.5 Billion Years, from Stardust to Living Planet




by




99

Turtle Island: The Story of North America's First People




by




100

The First North Americans: An Archaeological Journey




by



160 books · 91 voters · list created March 6th, 2014 by deleted user.
No comments have been added yet.
Related News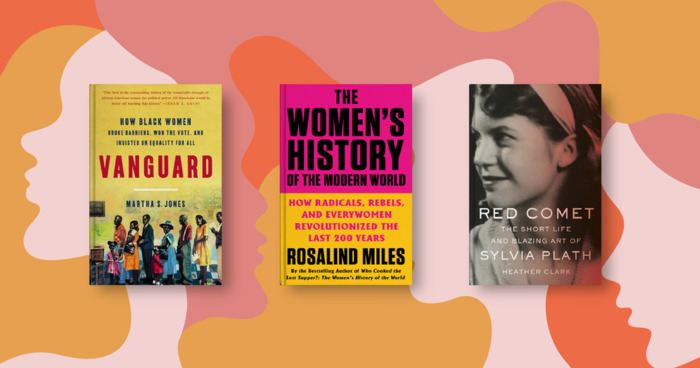 Happy Women's History Month! One of the undisputedly good things about modern scholarship is that women's history is finally getting its due....
Anyone can add books to this list.