Romance Featuring Trans Characters
A list of romance novels, novellas, and short stories featuring trans characters
1

The Burnt Toast B&B (Bluewater Bay #5)




by




2

Coffee Boy




by




3

Peter Darling




by




4

A Matter of Disagreement (Mechanical Universe #1)




by




5

If I Was Your Girl




by




6

A Boy Called Cin




by




7

Long Macchiatos and Monsters




by




8

Defying Convention




by




9

To Summon Nightmares




by




10

Static




by




11

Wallflower (Rear Entrance Video, #2)




by




12

The Girl For Me




by




13

Love In Transition (Hearts Not Parts Collection, #1)




by




14

The Errant Prince




by




15

Her Name is James




by




16

Roller Girl (Lake Lovelace, #3)




by




17

Documenting Light




by




18

Saviours of Oestend (Oestend, #2)




by




19

What It Looks Like




by




19

The Queer and the Restless (Queers of La Vista, #3)




by




21

A Lady for a Duke




by




22

Song of the Spring Moon Waning




by




23

Cinder Ella




by




24

Starting from Scratch (Housemates, #5)




by




25

Caroline's Heart




by




26

The Doctor's Discretion




by




27

Hold Me (Cyclone, #2)




by




28

Chasing Death Metal Dreams




by




29

A Rose is a Rose




by




30

Potato Surprise (Brimstone #1)




by




31

Darkling (Port Lewis Witches, #1)




by




32

Amaranth & Ash




by




33

Cemetery Boys (Cemetery Boys #1)




by




34

Witch, Cat, and Cobb




by




35

Woman as a Foreign Language




by




36

For the Love of April French




by




37

Cloudy Climes and Starless Skies (Prosperity, #4)




by




37

Stripped Raw: Coffin Nails MC California (Sex & Mayhem, #3)




by




39

His Fair Lady (Exception to the Rule #2)




by




39

Two Boys Kissing




by




41

Windows in Time




by




42

Sex in C Major




by




43

Be My Queen




by




44

Horse Crazy




by




44

The Broken Forest




by




46

Hawk's Landing (Cattle Valley, #23)




by




46

Coffee Date




by




46

Flaunt (The F-Word, #1)




by




46

Second Chance




by




50

Parrotfish




by




51

Pearl




by




52

Not Your Villain (Sidekick Squad, #2)




by




53

Love Rampage




by




54

The Heart of the Lost Star (Tales of the High Court, #3)




by




55

Little Ms. Who?




by




56

The Wolf in the Whale




by




57

I am J




by




57

Memories




by




59

Crush (The House on Glass Beach #1)




by




59

Vintage Toys for Lucky Boys (Randy and Max, #1)




by




61

Perihelion (Queenships, #1)




by




61

Georgie




by




61

Spy Stuff




by




64

Bad Boy




by




64

Fringe Contender (Baum's Boxing #3)




by




66

Forever (The F-Word, #4)




by




67

No Rulebook for Flirting




by




68

His Kind of Woman




by




68

Incomplete Short Stories and Essays




by




70

Grind (The Riley Brothers #6)




by




71

Second Skin




by




72

The Good Guys




by




73

Finding Your Feet (Toronto Connections, #2)




by




74

The Rat-Catcher's Daughter (Lilywhite Boys, #0.5)




by




75

Circle of Change




by




75

The Sweetest Scent (Senses and Sensations, #4)




by




75

Lips Like Ice




by




75

Junk (Vintage Toys for Lucky Boys Book 2)




by




75

Cold Feet (Sussex Border Stories Book 3)




by




75

The Danish Girl




by




75

Behrouz Gets Lucky: A Novel




by




75

A Safe Girl to Love




by




75

Robins in the Night




by




75

Space Vacation




by




75

Grounded




by




75

Gadarene




by




75

Dreadnought (Nemesis #1)




by




75

Weekend




by




75

Werebears and Water




by




75

A Muse to Live For




by




75

Transpire Together




by




75

Kinship and Kindness (A Paranormal Society Romance #1)




by




75

Unknown Depths




by




75

Lessons in Love: A Transgender Romance Novel




by




75

Always the Almost




by




96

Eynhallow




by




96

Chyna Doll (Horizons, #4)




by




96

Almost Perfect




by




96

Ride On




by




96

Lizzy & Annie




by



215 books · 133 voters · list created February 17th, 2014 by deleted user.
No comments have been added yet.
Related News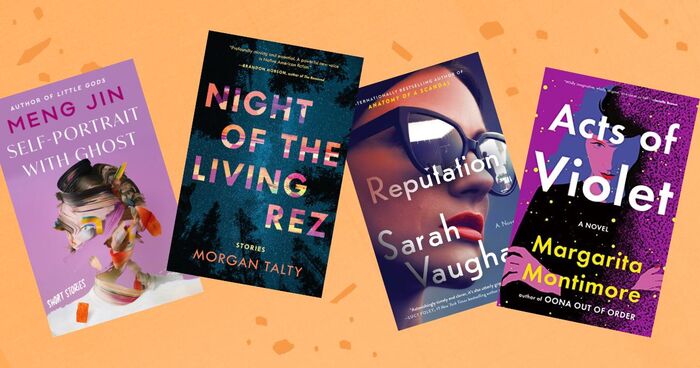 Need another excuse to treat yourself to a new book this week? We've got you covered with the buzziest new releases of the day. To create our...
Anyone can add books to this list.