Books that are about books
1

The Book Thief




by




2

Fahrenheit 451




by




3

The Shadow of the Wind (The Cemetery of Forgotten Books, #1)




by




4

Inkheart (Inkworld, #1)




by




5

The Eyre Affair (Thursday Next, #1)




by




6

Reading Lolita in Tehran: A Memoir in Books




by




7

Booked to Die (Cliff Janeway, #1)




by




8

The Name of the Rose




by




9

The Angel's Game (The Cemetery of Forgotten Books, #2)




by




10

The Body in the Library (Miss Marple, #3)




by




11

The Night Bookmobile




by




12

The Thirteenth Tale




by




13

The Prisoner of Heaven




by




14

Dewey: The Small-Town Library Cat Who Touched the World




by




15

The Bookshop




by




16

The Historian




by




17

A Passion for Books: A Book Lover's Treasury of Stories, Essays, Humor, Love and Lists on Collecting, Reading, Borrowing, Lending, Caring for, and Appreciating Books




by




18

Mr. Penumbra's 24-Hour Bookstore (Mr. Penumbra's 24-Hour Bookstore, #1)




by




18

A Gentle Madness: Bibliophiles, Bibliomanes, and the Eternal Passion for Books




by




18

The Man Who Loved Books Too Much: The True Story of a Thief, a Detective, and a World of Literary Obsession




by




21

Sixpence House: Lost in a Town of Books




by




22

Forgotten Bookmarks: A Bookseller's Collection of Odd Things Lost Between the Pages




by




23

People of the Book




by




24

The Uncommon Reader




by




25

At Home with Books: How Booklovers Live with and Care for Their Libraries




by




26

The Lost Art of Reading: Why Books Matter in a Distracted Time




by




27

Howards End Is on the Landing: A Year of Reading from Home




by




28

The Physick Book of Deliverance Dane (The Physick Book, #1)




by




28

The Storied Life of A.J. Fikry




by




30

The Bookshop on the Corner (Scottish Bookshop, #1)




by




31

Leave Me Alone, I'm Reading: Finding and Losing Myself in Books




by




32

The City of Dreaming Books (Zamonia, #4)




by




33

Censoring an Iranian Love Story




by




34

The Library at Night




by




35

The Camel Bookmobile




by




36

The Book of Flying




by




36

Dog Loves Books




by




36

How to Read a Book: The Classic Guide to Intelligent Reading




by




36

The Journal of Dora Damage




by




36

Dining Out Around the Solar System (Dining Out Around The Solar System, #1)




by




36

Days of Reading




by




36

The Translation of Dr Apelles: A Love Story




by




43

The Book of Story Beginnings




by




43

Literary Wonderlands: A Journey Through the Greatest Fictional Worlds Ever Created




by




45

Twenty-five Books That Shaped America: How White Whales, Green Lights, and Restless Spirits Forged Our National Identity




by




45

The Bookshop That Floated Away




by




45

The Whisper




by




48

Booksurfers: Treasure Island




by




48

The Railwayman's Wife




by




48

Bizarre Books




by




48

The Libraries of Thought and Imagination: An Anthology of Bookshelves




by




52

Unpacking My Library: Writers and Their Books




by




52

The Bookstore




by




52

Sam Zabel and the Magic Pen




by




55

The Borrower




by




55

A Reader on Reading




by




55

Banned Books (Calling Anthony Parker #1)




by




58

Under the Covers and between the Sheets: Facts and Trivia about the World's Greatest Books




by




58

Every Book Its Reader: The Power of the Printed Word to Stir the World




by




58

The Book of Lost Things




by




58

Library Life for Deborah (Career Novel)




by




62

The Secret of Lost Things




by




62

The Pleasures of Reading in an Age of Distraction




by




62

Written Lives




by




65

Living With Books




by




65

Book Lover




by




65

The Body in the Library




by




65

Books




by




69

The Library of Lost Books




by




69

Book Was There: Reading in Electronic Times




by




69

Death Sentences: Stories of Deathly Books, Murderous Booksellers and Lethal Literature




by




72

The Stopping Place




by




72

Weird Things Customers Say in Bookshops




by




74

The Book of Imaginary Beings




by




74

Buried in Books: A Reader's Anthology




by




76

The Library of Babel




by




76

The Smithsonian Book of Books




by




78

The Exception




by




78

The Book of Lost Books: An Incomplete History of All the Great Books You'll Never Read




by




78

A Pound of Paper




by




81

On Literature




by




81

Where Books Fall Open




by




83

The Anatomy of Bibliomania




by




83

So Many Books, So Little Time: A Year of Passionate Reading




by




85

Documentation: A History and Critique of Attribution, Commentary, Glosses, Marginalia, Notes, Bibliographies, Works-Cited Lists, and Citation Indexing and Analysis




by




86

The Books That Mattered: A Reader's Memoir




by




87

The Reader




by




87

The Shelf: From LEQ to LES: Adventures in Extreme Reading




by




89

In the Stacks: Short Stories about Libraries and Librarians




by




89

The Book on the Bookshelf




by




89

Christmas at The Mysterious Bookshop




by




92

Stoker's Manuscript




by




92

The Crime of Sylvestre Bonnard




by




94

Here and Now: Letters (2008-2011)




by




95

Librarian (Lenna's Arc, #1)




by




96

Mr Penumbra's 24-Hour Bookstore (Mr. Penumbra's 24-Hour Bookstore, #1)




by




96

The Little Paris Bookshop




by




98

Library Looking-Glass: A Personal Anthology




by




98

Words in Deep Blue




by




100

The Eyre Affair (Thursday Next, #1)




by



127 books · 33 voters · list created August 5th, 2013 by deleted user.
No comments have been added yet.
Related News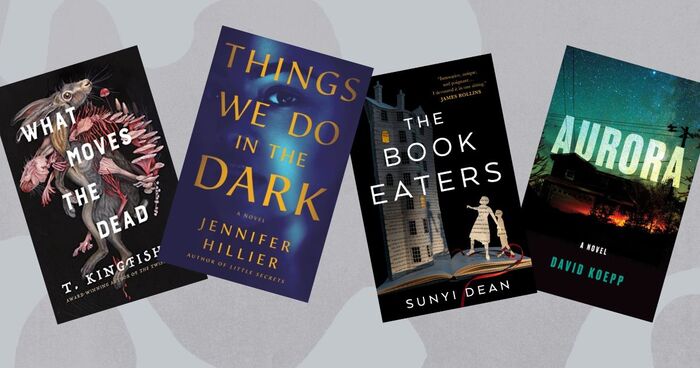 If summer book releases are any indication, and they are, then we've been in a rather dark mood of late, collectively. But, you know, dark in a...
Anyone can add books to this list.