Christian Mystery/Suspense Books
1

This Present Darkness (Darkness, #1)




by




2

Against All Odds (Heroes of Quantico, #1)




by




3

An Eye for an Eye (Heroes of Quantico, #2)




by




4

Sister Dear




by




5

Submerged (Alaskan Courage, #1)




by




6

In Harm's Way (Heroes of Quantico, #3)




by




7

Fatal Judgment (Guardians of Justice, #1)




by




8

Piercing the Darkness (Darkness, #2)




by




9

Danger in the Shadows (O'Malley, #0)




by




10

Deadly Pursuit (Guardians of Justice, #2)




by




11

The Pawn (The Patrick Bowers Files, #1)




by




12

Sister Eve and the Blue Nun (A Divine Private Detective Agency Mystery #3)




by




13

Abomination (Rock Harbor, #4)




by




14

The Guardian (O'Malley #2)




by




15

Airborne




by




16

The Truth Seeker (O'Malley #3)




by




17

The Protector (O'Malley, #4)




by




18

Thr3e




by




19

Secrets at Cedar Cabin (Lavender Tides, #3)




by




20

Breach of Trust (Call of Duty, #1)




by




21

Kiss




by




22

The Healer (O'Malley #5)




by




23

Hangman's Curse (Veritas Project, #1)




by




24

Invisible (Ivy Malone Mysteries, #1)




by




25

Still Life (Chesapeake Valor, #2)




by




26

First the Dead (Bug Man Series #3)




by




27

The Rescuer (O'Malley #6)




by




28

Saving Brooksie




by




29

Cold Shot (Chesapeake Valor, #1)




by




30

One Crazy Summer




by




31

Mommy's Choice




by




32

Deep Cover (Undercover Cops #1)




by




33

Intervention (Intervention, #1)




by




34

Assumed Identity




by




35

Predator




by




36

Word of Honor (Newpointe 911 #3)




by




37

Private Justice (Newpointe 911, #1)




by




38

Elder




by




39

Elusive December




by




40

Expect the Sunrise (Team Hope, #3)




by




41

Daylight in Blossom




by




42

Evidence of Mercy (Sun Coast Chronicles, #1)




by




43

Escape to Morning (Team Hope, #2)




by




44

Exposure




by




44

When the Smoke Clears (Deadly Reunions, #1)




by




46

Talking To The Moon




by




47

Last Light (Restoration, #1)




by




48

Line of Duty (Newpointe 911, #5)




by




49

Cape Refuge (Cape Refuge, #1)




by




50

Trial by Fire (Newpointe 911 #4)




by




51

Shadow of Doubt (Newpointe 911, #2)




by




52

Too Close to Home (Women of Justice, #1)




by




53

Flee the Night (Team Hope, #1)




by




54

The Witness




by




55

Shadows of Lancaster County




by




56

Under the Cajun Moon




by




57

Cry in the Night (Rock Harbor Series #5)




by




58

Silenced (Alaskan Courage, #4)




by




59

Stranded (Alaskan Courage, #3)




by




60

Shattered (Alaskan Courage, #2)




by




61

Beguiled




by




62

Saint Peter Killed God




by




62

Cleansed by Death (A Jo Oliver Thriller, #1)




by




64

Falling to Pieces (Shipshewana Amish Mystery #1)




by




65

The Bishop (The Patrick Bowers Files, #4)




by




66

The Rook (The Patrick Bowers Files, #2)




by




67

Secrets of Harmony Grove




by




68

The Splitting Storm (Storm #2)




by




69

Abduction (A Shefford-Johnson Case, #1)




by




70

Sabotaged (Alaskan Courage, #5)




by




71

Blink of an Eye




by




72

Whispers of the Bayou




by




73

Dead Drift (Chesapeake Valor, #4)




by




74

Transylvania Detective Squad




by




75

The Oath




by




76

Adam




by




77

The Knight (The Patrick Bowers Files, #3)




by




78

A Dime a Dozen (The Million Dollar Mysteries, #3)




by




79

The Bride Collector




by




80

Deadly Disclosures (Dinah Harris Mystery, #1)




by




81

Lion of Babylon (Marc Royce #1)




by




82

Accused (Pacific Coast Justice #1)




by




83

Trace of Doubt




by




84

The Edge of Recall




by




85

Soul Raging (The Book of the Wars #3)




by




86

The Rivers Run Dry (Raleigh Harmon Mysteries, #2)




by




87

The Mountains Bow Down (Raleigh Harmon Mysteries, #4)




by




88

Justifiable Means ( Sun Coast Chronicles, #2)




by




89

BoneMan's Daughters




by




90

Back on Murder (A Roland March Mystery, #1)




by




91

False Pretenses (Secrets of Roux River Bayou, #1)




by




91

Southern Storm (Cape Refuge, #2)




by




93

The Queen (Patrick Bowers Files, #5)




by




94

Proof (Bloodline Trilogy, #1)




by




95

The Trouble with Tulip (Smart Chick Mysteries #1)




by




96

Plague Maker




by




97

Gone to Ground




by




98

Dark Pursuit




by




99

A Conspiracy of Ravens (Lady Trent Mysteries #2)




by




100

Over the Edge




by



612 books · 371 voters · list created January 17th, 2010 by deleted user.
date
newest »
back to top
Related News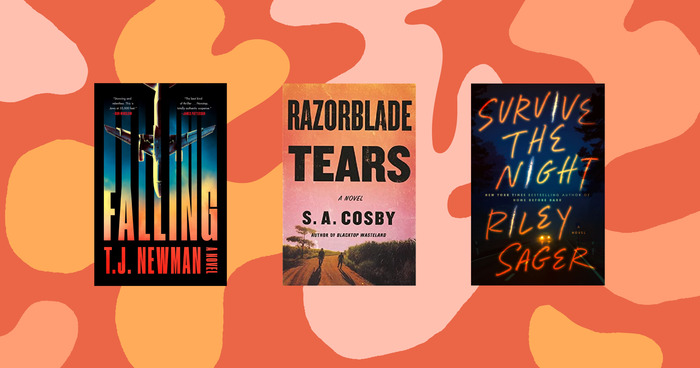 It's always the perfect time to lose yourself in a mystery or thriller...but there's nothing like summer to curl poolside with a...
Anyone can add books to this list.