The Best of 'R'
my favorite romance reads so far
1

Dark Lover (Black Dagger Brotherhood, #1)




by




2

Halfway to the Grave (Night Huntress, #1)




by




3

Lover Awakened (Black Dagger Brotherhood, #3)




by




4

Lover Eternal (Black Dagger Brotherhood, #2)




by




5

Pride and Prejudice




by




6

Acheron (Dark-Hunter, #14)




by




7

Twilight (Twilight, #1)




by




8

Dreaming of You (The Gamblers of Craven's, #2)




by




9

Lover Unbound (Black Dagger Brotherhood, #5)




by




10

Eclipse (The Twilight Saga, #3)




by




11

One Foot in the Grave (Night Huntress, #2)




by




12

Outlander (Outlander, #1)




by




13

Lover Avenged (Black Dagger Brotherhood, #7)




by




14

A Hunger Like No Other (Immortals After Dark, #1)




by




15

It Happened One Autumn (Wallflowers, #2)




by




16

Then Came You (The Gamblers of Craven's, #1)




by




17

Devil May Cry (Dark-Hunter, #11)




by




18

The Viscount Who Loved Me (Bridgertons, #2)




by




19

It Had to Be You (Chicago Stars, #1)




by




19

Jane Eyre




by




21

Lover Mine (Black Dagger Brotherhood, #8)




by




22

Lover Revealed (Black Dagger Brotherhood, #4)




by




23

New Moon (Twilight, #2)




by




24

Night Pleasures (Dark-Hunter #1)




by




25

Scandal in Spring (Wallflowers, #4)




by




26

An Offer From a Gentleman (Bridgertons, #3)




by




27

Night Embrace (Dark-Hunter #2)




by




28

Lover Enshrined (Black Dagger Brotherhood, #6)




by




29

Seduce Me at Sunrise (The Hathaways, #2)




by




30

Tempt Me at Twilight (The Hathaways, #3)




by




31

Dreamfever (Fever, #4)




by




32

Devil in Winter (Wallflowers, #3)




by




33

Blue-Eyed Devil (Travises, #2)




by




34

Again the Magic (Wallflowers, #0.5)




by




35

Warprize (Chronicles of the Warlands, #1)




by




36

Angels' Blood (Guild Hunter, #1)




by




37

Remember Me?




by




38

Slightly Dangerous (Bedwyn Saga, #6)




by




39

Warrior's Woman (Ly-San-Ter, #1)




by




40

Sugar Daddy (Travises, #1)




by




41

Texas Destiny (Texas Trilogy, #1)




by




42

Wuthering Heights




by




43

Pleasure Unbound (Demonica, #1)




by




44

When He Was Wicked (Bridgertons, #6)




by




45

Nobody's Baby But Mine (Chicago Stars, #3)




by




46

The Madness of Lord Ian Mackenzie (Mackenzies & McBrides, #1)




by




47

Comanche Moon (Comanche, #1)




by




47

Passion Unleashed (Demonica #3)




by




49

The Duke and I (Bridgertons, #1)




by




50

Spell of the Highlander (Highlander, #7)




by




51

Emma




by




52

Dark Prince (Dark, #1)




by




53

Once and Always (Sequels, #1)




by




54

To Sir Phillip, With Love (Bridgertons, #5)




by




55

Annie's Song




by




56

All Together Dead (Sookie Stackhouse, #7)




by




57

The Time Traveler's Wife




by




58

Lord of Scoundrels (Scoundrels, #3)




by




58

The Undomestic Goddess




by




60

A Kiss of Shadows (Merry Gentry, #1)




by




61

Dark Needs at Night's Edge (Immortals After Dark, #4)




by




62

Slave to Sensation (Psy-Changeling, #1)




by




63

Silver Borne (Mercy Thompson, #5)




by




64

Whitney, My Love (Westmoreland, #2)




by




65

Bone Crossed (Mercy Thompson, #4)




by




66

Blood Bound (Mercy Thompson, #2)




by




67

Embrace the Night (Cassandra Palmer, #3)




by




68

On the Way to the Wedding (Bridgertons, #8)




by




69

The Warlord Wants Forever (Immortals After Dark, #0.5)




by




70

Heaven, Texas (Chicago Stars, #2)




by




70

Mine Till Midnight (The Hathaways, #1)




by




72

Soulless (Parasol Protectorate, #1)




by




73

How to Marry a Millionaire Vampire (Love at Stake, #1)




by




74

Virgin River (Virgin River, #1)




by




75

Caressed by Ice (Psy-Changeling #3)




by




76

The Scribe (Irin Chronicles, #1)




by




77

Duchess By Night (Desperate Duchesses, #3)




by




78

The Host




by




78

Frostbite (Vampire Academy, #2)




by




80

Ecstasy Unveiled (Demonica #4)




by




81

Desire Unchained (Demonica #2)




by




82

Suddenly You




by




83

Mercury's War (Breeds, #12; Feline Breeds, #10)




by




84

A Tale of Two Cities




by




85

Definitely Dead (Sookie Stackhouse #6)




by




86

Great Expectations




by




86

Married By Morning (The Hathaways, #4)




by




88

Dead as a Doornail (Sookie Stackhouse #5)




by




89

Club Dead (Sookie Stackhouse, #3)




by




90

Magic Strikes (Kate Daniels, #3)




by




91

Smooth Talking Stranger (Travises, #3)




by




92

Ain't She Sweet?




by




92

Romancing Mister Bridgerton (Bridgertons, #4)




by




94

Welcome to Temptation (Dempseys, #1)




by




95

Morning Glory




by




96

The Naphil's Kiss




by




97

Guilty Pleasures (Anita Blake, Vampire Hunter, #1)




by




98

Radiance (Wraith Kings, #1)




by




99

All the Stars Look Down (Elemental Mysteries, #4.5)




by




100

The Book of Life (All Souls Trilogy, #3)




by



178 books · 109 voters · list created December 13th, 2009 by deleted user.
No comments have been added yet.
Related News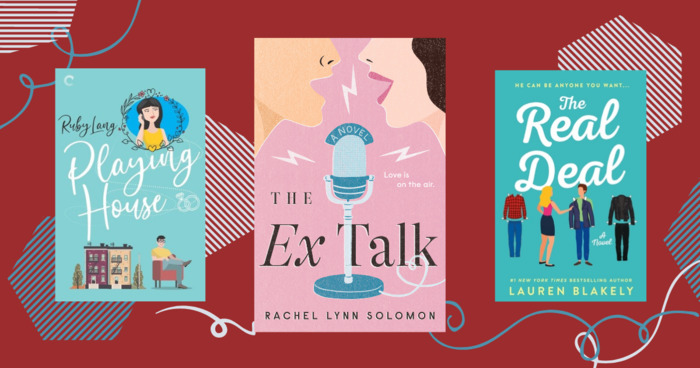 Rachel Lynn Solomon is best known to her fans for writing heartfelt contemporary YA novels like 2020's Today Tonight Tomorrow and her 2018...
Anyone can add books to this list.