Triumph books
These are the books where balance is restored either with a happy ending or the classic good triumphs over evil
1

Don't Close Your Eyes




by




2

Complicated Moonlight (DCYE, #2)




by




3

Mad Love (DCYE, #3)




by




4

Pride and Prejudice




by




5

The Count of Monte Cristo




by




6

Gone with the Wind




by




7

Breaking Dawn (The Twilight Saga, #4)




by




7

Pernicious: True Evil




by




9

Eclipse (The Twilight Saga, #3)




by




10

New Moon (The Twilight Saga, #2)




by




11

Strange Candy (Anita Blake, Vampire Hunter #0.5)




by




12

Micah (Anita Blake, Vampire Hunter, #13)




by




13

The Harlequin (Anita Blake, Vampire Hunter #15)




by




14

Danse Macabre (Anita Blake, Vampire Hunter, #14)




by




15

Incubus Dreams (Anita Blake, Vampire Hunter, #12)




by




16

Cerulean Sins (Anita Blake, Vampire Hunter, #11)




by




17

Narcissus in Chains (Anita Blake, Vampire Hunter, #10)




by




18

Obsidian Butterfly (Anita Blake, Vampire Hunter, #9)




by




19

Blue Moon (Anita Blake, Vampire Hunter, #8)




by




20

Burnt Offerings (Anita Blake, Vampire Hunter, #7)




by




21

The Killing Dance (Anita Blake, Vampire Hunter, #6)




by




22

Bloody Bones (Anita Blake, Vampire Hunter #5)




by




23

The Lunatic Cafe (Anita Blake, Vampire Hunter #4)




by




24

Circus of the Damned (Anita Blake, Vampire Hunter, #3)




by




25

The Laughing Corpse (Anita Blake, Vampire Hunter, #2)




by




26

Guilty Pleasures (Anita Blake, Vampire Hunter, #1)




by




27

Harry Potter and the Sorcerer's Stone (Harry Potter, #1)




by




28

Ella Enchanted (Ella Enchanted #1)




by




29

Just Ella (The Palace Chronicles, #1)




by




30

Memoirs of a Geisha




by




31

The Princess Bride




by




32

Twilight (The Twilight Saga, #1)




by




33

The Knight and the Dove (Kensington Chronicles, #4)




by



Like
Lists are re-scored approximately every 5 minutes.
People Who Voted On This List (5)
No comments have been added yet.
Related News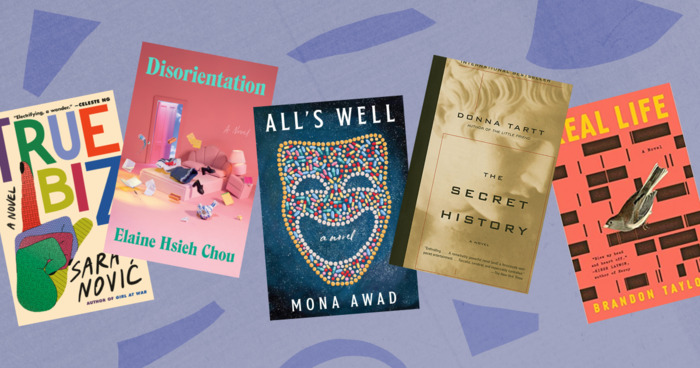 The college campus has been a popular setting for books since the days of ancient Greece. In fact, Aristotle once wrote a dark academic...
Anyone can add books to this list.