Best Epic Indie Fantasy/Adventure
1

The Stonegate Sword (Stonegate #1)




by




2

The False Prophet (Stonegate, #2)




by




3

I Am Lilith




by




4

A Story of River




by




5

Eve of Snows (Sundering the Gods, #1)




by




6

Lord of Fire (Fire Chronicles, #1)




by




7

The Last Dragon Slayer (Deathsworn Arc, #1)




by




8

A Threat of Shadows (The Keeper Chronicles, #1)




by




9

Hell Broke Loose (The Ouiums Journey, #1)




by




10

Deliverance




by




10

Haunted Tree (The Magus Family Chronicles, #1)




by




10

Atlantis: On the Shores of Forever (Atlantis: The Antediluvian Chronicles, #1)




by




13

The Crimson Queen (The Raveling, #1)




by




14

Trail of Pyres (Sundering the Gods #2)




by




15

Unleash (Spellhounds, #1)




by




15

The Time Before the Moon




by




15

Journey To Osm




by




15

Kissing Magic (Portals to Whyland #2)




by




19

The Call of Agon (The Children of Telm, #1)




by




20

The Axe and the Throne (Bounds of Redemption, #1)




by




21

Grey (Covenant of Shadows, #1)




by




22

The Moon Dwellers (The Dwellers, #1)




by




22

The Chains of War (The Children of Telm, #3)




by




24

Crux




by




24

A New Age (The Book of One, #1)




by




24

The Slayer and the Sphinx (The Slayer and the Sphinx, #1)




by




24

The Magic Shop (Shadow Magic #1)




by




24

Fractured Fairy Tales of the Twilight Zone




by




24

The Inner World Adventure




by




24

Mace of the Apocalypse (Mace of the Apocalypse #1)




by




24

The Chosen One (Sword of the Gods Saga, #1)




by




24

Blackbirds and Sparrows (Chronicles of Rhianna, #1)




by




24

Genetically Altered (Genetically Modified, #1)




by




24

The Staff of Tzaddi: Their love was born from centuries of hatred... will it be enough to save their world?




by




24

Epic Unearthed




by




24

Journey of Shadows (The Palâdnith Chronicles, #1)




by




24

Reaper: Awakening




by




24

Organic Chemistry [with WebConnect]




by




24

Lily of Lamoranth (The Legend of Lamoranth, #1)




by




24

The Bow of Destiny




by




24

Born of Water (The Rise of the Fifth Order, #1)




by




24

For the Empire's Throne




by




24

Parallel




by




24

The Salamander's Smile (Three Wells of the Sea #2)




by




24

The Right Hand of Velachaz




by




24

Dragon Essence (Dark Age Trilogy, #0)




by




24

The Secret of the Zipacna Dragons: A Tale of Adijari




by




24

The School for Humans: (The Book of Lost Caleans, part 1)




by




24

Firestone: The Dragon's Blood Prophecy (A Tale of the Eternal Stones Book 1)




by




24

War Academy: Teen Recruits




by




24

Metroplex Fantasy: The New Black Knight




by




24

Book of Elansia: Tale of the Hapless Child and the Forlorn God




by




24

A Leaf and Pebble




by




24

Untoward Awakening (Amethysta Trilogy, #2)




by




24

Tempest Fyreheart and the Sapphire Oculus: The Chronicles of Mahamaya




by




24

The Kingdom of Socks




by




24

Awaken: An Azien Realm Series




by




24

Path of the Guardian




by




24

Age of Endorsement: Age Series Book II




by




24

Vow Unbroken: Faerie Tales 3




by




24

They Came By Night: Book I of the Icor Tales




by




24

Rise of the Forgotten Sun (The Sun and the Raven #1)




by




24

Errant (Chronicle of the Seer #1)




by




24

The Rattler




by




65

Call of the Sea




by




65

A Stolen Crown (Book of One, #2)




by




65

The Road to Rebirth (The Children of Telm, #2)




by




65

Prince of Tyre (Sword of the Gods Saga, #2)




by




65

The Citadel of Lies (The Palâdnith Chronicles, #2)




by




65

A Question of Power (The Fire Chronicles, #2)




by




65

Shalmar- A Tale of Lifetimes II




by




65

Our New Friends, the Dragons




by




65

Infinit. The last bridge of Sam.




by




65

The Impending Night (The Sun and the Raven Book 2)




by




65

Sustain




by




65

Elder Blood (The Epimetheus Trial #1)




by




65

Experimental Magics: The Transfer of Souls




by




78

Reaper




by




78

A Dragon Born (Book of One, #3)




by




78

Knightmare Arcanist (Frith Chronicles, #1)




by




78

Found (The Conduit Chronicles #1)




by




78

The Return (The Sun and the Raven Book 3)




by




78

Into Antiquity (The Epimetheus Trial #2)




by




84

Five (Elemental Enmity, #1)




by




84

The Prince of Ravens (The Exile Series, #1)




by




84

Beyond the Veil (The Epimetheus Trial #3)




by




87

Lacrimosa (Requiem, #1)




by




87

The Verkreath Horror (Deathsworn Arc, #2)




by




87

The Sea of Lucidity: Book 1 of The Eldormaar




by




90

Greta and the Goblin King (Mylena Chronicles, #1)




by




91

Eye of the Soul (Pool of Souls #1)




by




92

Resistance (Saga of the Setti, #2)




by




93

Angelfall (Penryn & the End of Days, #1)




by




94

After Dark (The 19th Year, #1)




by




94

The Blood Queen (Deathsworn Arc, #3)




by




96

The Trouble with Nightingale




by




97

Blue Moon (Holloway Pack, #2)




by




98

Caged (Holloway Pack, #3)




by




99

Sempre (Sempre, #1)




by




100

Rise of the Magi (Lila Gray, #3)




by



100 books · 112 voters · list created March 21st, 2013 by deleted user.
No comments have been added yet.
Related News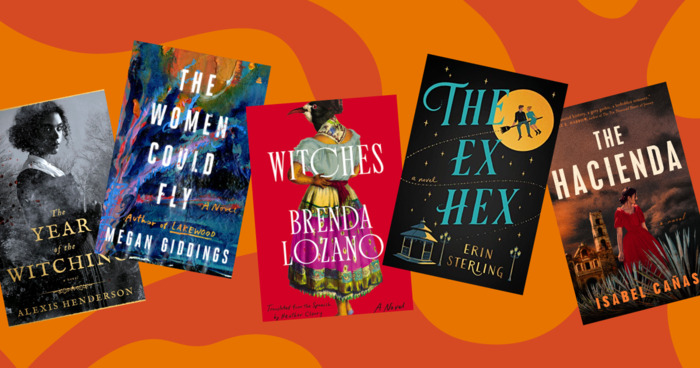 In the world of books, witches have been enjoying something of a moment lately. Stories about witches go waaaay back, of course. But in the...
Anyone can add books to this list.