Great Christian Fiction for Children and Young Adults
1

The Chronicles of Narnia (Chronicles of Narnia, #1-7)




by




2

The Horse and His Boy (Chronicles of Narnia, #5)




by




3

The Lion, the Witch and the Wardrobe (Chronicles of Narnia, #1)




by




4

The Magician's Nephew (Chronicles of Narnia, #6)




by




5

The Door Within (The Door Within, #1)




by




6

Curse of the Black Avenger (Caribbean Chronicles #1)




by




7

The End of Calico Jack (Caribbean Chronicles Book 3)




by




8

Dead Low Tide (The Caden Chronicles #3)




by




9

Dead Man's Hand (The Caden Chronicles #1)




by




10

Skull Creek Stakeout (The Caden Chronicles #2)




by




11

Dead Calm, Bone Dry (Caribbean Chronicles #2)




by




12

The Last Battle (Chronicles of Narnia, #7)




by




13

Prince Caspian (Chronicles of Narnia, #2)




by




14

Sir Bentley and Holbrook Court (The Knights of Arrethtrae, #2)




by




15

Mammoth Trouble (Noah Zarc #1)




by




15

Love Into Eternity




by




17

The Rise of the Wyrm Lord (The Door Within, #2)




by




17

The Hobbit, or There and Back Again




by




19

The Final Storm (The Door Within, #3)




by




20

Lady Carliss and the Waters of Moorue (The Knights of Arrethtrae, #4)




by




21

Sir Dalton and the Shadow Heart (The Knights of Arrethtrae, #3)




by




22

Sir Kendrick and the Castle of Bel Lione (The Knights of Arrethtrae, #1)




by




23

Escape from the Island of Aquarius (The Cooper Kids Adventures, #2)




by




24

Rumor of a Werewolf (Monster Mysteries Book 4)




by




25

Infidel (The Lost Books, #2)




by




26

Kingdom's Call (Kingdom, #4)




by




27

Kingdom's Quest (Kingdom, #5)




by




28

Kingdom's Dawn (Kingdom, #1)




by




29

Living It Up to Live It Down




by




30

The Tombs of Anak (The Cooper Kids Adventures, #3)




by




31

The Heart of Arcrea (The Arcrean Conquest, #1)




by




32

The Door in the Dragon's Throat (The Cooper Kids Adventures, #1)




by




33

The Zenia Wood




by




34

Something I Am Not




by




35

Cry of Courage (Between Two Flags, #1)




by




36

Auralia's Colors (The Auralia Thread, #1)




by




37

DragonSpell (DragonKeeper Chronicles, #1)




by




38

Taliesin (The Pendragon Cycle #1)




by




39

DragonLight (DragonKeeper Chronicles, #5)




by




40

DragonQuest (DragonKeeper Chronicles, #2)




by




41

On the Edge of the Dark Sea of Darkness (The Wingfeather Saga, #1)




by




41

DragonFire (DragonKeeper Chronicles, #4)




by




43

DragonKnight (DragonKeeper Chronicles, #3)




by




43

Kingdom's Reign (Kingdom, #6)




by




45

Kingdom's Hope (Kingdom, #2)




by




46

Kingdom's Edge (Kingdom, #3)




by




47

Jacob and Sylvia




by




47

The Lost and Found Journal of a Miner 49er: Vol. 1




by




49

The Prince Warriors (The Prince Warriors, #1)




by




50

Redwall (Redwall, #1)




by




51

Chosen (The Lost Books, #1)




by




51

The Prince Warriors and the Swords of Rhema (The Prince Warriors, #3)




by




51

The Prince Warriors and the Unseen Invasion (The Prince Warriors, #2)




by




54

Faerie Wars




by




55

The Deadly Curse of Toco-Rey (The Cooper Kids Adventures, #6)




by




56

Faerie Lord




by




57

The Warden and the Wolf King (The Wingfeather Saga #4)




by




58

Ruler of the Realm




by




58

Glennall's Betrayal (Adventures in Odyssey: Passages, #4)




by




60

The Purple Emperor




by




61

Curse of the Spider King (The Berinfell Prophecies, #1)




by




61

Stuart Little




by




63

The Legend of Annie Murphy (The Cooper Kids Adventures, #7)




by




64

Draven's Defiance (Adventures in Odyssey: Passages, #5)




by




64

Fallen Leaves




by




64

Purple Moon




by




64

Mind of Mine




by




68

The Secret of the Desert Stone (The Cooper Kids Adventures, #5)




by




68

Into The Druid's Lair (The Scepter and Tower #2)




by




68

Quest For The Scepter (The Scepter and Tower, #1)




by




68

The Medallion




by




72

Darien's Rise (Adventures In Odyssey: Passages, #1)




by




72

Blaze (Blaze, #1)




by




74

Cyndere's Midnight (The Auralia Thread, #2)




by




75

Raven's Ladder (The Auralia Thread, #3)




by




76

Raising Dragons (Dragons in Our Midst, #1)




by




77

The Candlestone (Dragons in Our Midst, #2)




by




78

Circles of Seven (Dragons in Our Midst, #3)




by




79

Tears of a Dragon (Dragons in Our Midst, #4)




by




80

Starlighter (Dragons of Starlight, #1)




by




81

Return to Alastair (Tahn Dorn #2)




by




82

Tahn (Tahn Dorn #1)




by




83

Whirl of the Wheel




by




83

Scars




by




83

The Infinite Day (The Lamb among the Stars, #4)




by




83

Blade Silver: Color Me Scarred (TrueColors, #7)




by




83

A Matter of Honor (Knife of Truth, #1)




by




83

One Splendid Tree




by




83

Saving Elizabeth




by




83

A Journey of Faith (Son of Mine, #2)




by




83

Reach the Beach




by




83

Traphis: A Wizard's Tale




by




83

The Great Majestic Fortress




by




83

Toxic (Trap #1)




by




83

Hafren: A Fantasy for the Young at Heart




by




83

Under a Fairy Moon




by




83

Called




by




83

Please Don't Remove Margreat's Glasses!




by




83

Foster Fox (A 10,000 Lakes Tale)




by




83

The Mentor




by



253 books · 133 voters · list created October 21st, 2009 by deleted user.
date
newest »
back to top
Related News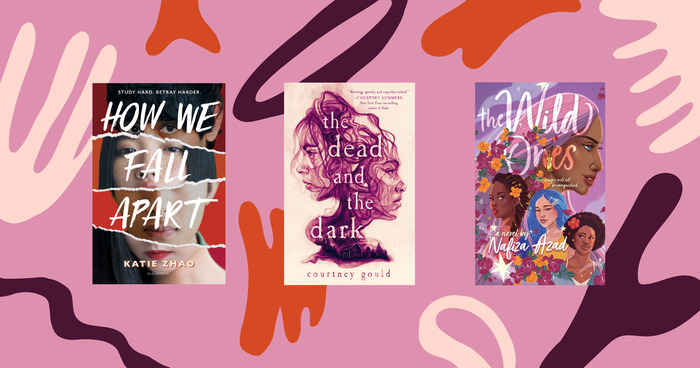 As dedicated readers already know, some of the best and most innovative stories on the shelves come from the constantly evolving realm of...
Anyone can add books to this list.