Best historical fiction novels
Best historical fiction novels (non real)
1

Memoirs of a Geisha




by




2

Outlander (Outlander, #1)




by




3

Gone with the Wind




by




4

Shōgun (Asian Saga, #1)




by




5

The Pillars of the Earth (Kingsbridge, #1)




by




6

The Clan of the Cave Bear (Earth's Children, #1)




by




7

I, Claudius (Claudius, #1)




by




8

The Book Thief




by




9

War and Peace




by




10

Katherine




by




11

World Without End (Kingsbridge, #2)




by




12

The Historian




by




13

A Scarlet Woman (The Fitzgeralds of Dublin, #1)




by




14

Dragonfly in Amber (Outlander, #2)




by




15

The Red Tent




by




16

Anna Karenina




by




17

Voyager (Outlander, #3)




by




18

Drums of Autumn (Outlander, #4)




by




19

Sarum: The Novel of England




by




20

Claudius the God and His Wife Messalina (Claudius, #2)




by




21

The Fiery Cross (Outlander, #5)




by




22

The Valley of Horses (Earth's Children, #2)




by




23

The Alienist (Dr. Laszlo Kreizler, #1)




by




24

A Breath of Snow and Ashes (Outlander, #6)




by




25

The Shadow of the Wind (The Cemetery of Forgotten Books, #1)




by




26

The First Man in Rome (Masters of Rome, #1)




by




27

Tai-Pan (Asian Saga, #2)




by




28

A Suitable Wife (The Fitzgeralds of Dublin, #2)




by




29

The Far Pavilions




by




29

Water for Elephants




by




31

The Crystal Cave (Arthurian Saga, #1)




by




32

The Mammoth Hunters (Earth's Children #3)




by




33

The Sunne in Splendour




by




34

Wolf Hall




by




35

River God (Ancient Egypt, #1)




by




36

The Guernsey Literary and Potato Peel Pie Society




by




37

The Kite Runner




by




38

Fall of Giants (The Century Trilogy, #1)




by




39

The Grass Crown (Masters of Rome, #2)




by




40

Dissolution (Matthew Shardlake, #1)




by




41

All the Light We Cannot See




by




42

Fortune's Favorites (Masters of Rome, #3)




by




43

Agincourt




by




44

A Discarded Son (The Fitzgeralds of Dublin, #3)




by




45

The Boleyn Inheritance (The Plantagenet and Tudor Novels, #10)




by




46

Caesar (Masters of Rome, #5)




by




47

The Bronze Horseman (The Bronze Horseman, #1)




by




48

Sovereign (Matthew Shardlake, #3)




by




49

The Plains of Passage (Earth's Children #4)




by




50

La catedral del mar (La catedral del mar, #1)




by




51

One Day in the Life of Ivan Denisovich




by




52

Winter of the World (The Century Trilogy #2)




by




53

Innocent Traitor




by




54

The Remains of the Day




by




55

The White Queen




by




56

Perfume: The Story of a Murderer




by




57

Dark Fire (Matthew Shardlake, #2)




by




58

Year of Wonders




by




59

Daughter of Fortune




by




60

All Quiet on the Western Front




by




61

Lonesome Dove (Lonesome Dove #1)




by




62

Russka: The Novel of Russia




by




63

The October Horse (Masters of Rome #6)




by




64

Exodus




by




65

The Last Kingdom (The Saxon Stories, #1)




by




66

Revelation (Matthew Shardlake, #4)




by




67

Maus: A Survivor's Tale: My Father Bleeds History (Maus, #1)




by




68

Caesar's Women (Masters of Rome, #4)




by




69

Bring Up the Bodies (Thomas Cromwell #2)




by




70

Gates of Fire




by




71

The Color Purple




by




72

An Echo in the Bone (Outlander, #7)




by




73

Deep Creek




by




74

Mila 18




by




75

A Thousand Splendid Suns




by




76

The Killer Angels (The Civil War Trilogy, #2)




by




77

Lincoln




by




78

The Other Boleyn Girl (The Plantagenet and Tudor Novels, #9)




by




79

Lost Love's Return




by




80

London




by




81

Edge of Eternity (The Century Trilogy, #3)




by




82

Pompeii




by




83

Lady of Hay




by




84

Mistress of the Art of Death (Mistress of the Art of Death, #1)




by




85

The Boy in the Striped Pajamas




by




86

One Corpse Too Many (Chronicles of Brother Cadfael, #2)




by




87

The Thin Red Line




by




88

Sword Song (The Saxon Stories, #4)




by




89

The Burning Land (The Saxon Stories, #5)




by




90

The Winds of War (The Henry Family, #1)




by




91

Shadow on the Sun (The Mound Builders Book 1)




by




92

Lords of the North (The Saxon Stories, #3)




by




93

The Secret River




by




94

Cold Mountain




by




95

The Thorn Birds




by




95

Girl with a Pearl Earring




by




97

The Pale Horseman (The Saxon Stories, #2)




by




98

The Secret Life of Bees




by




99

Death of Kings (The Saxon Stories, #6)




by




100

Beauty and the Beastly Earl (A Fairytale Retelling #2)




by



928 books · 672 voters · list created September 23rd, 2009 by deleted user.
date
newest »
back to top
Related News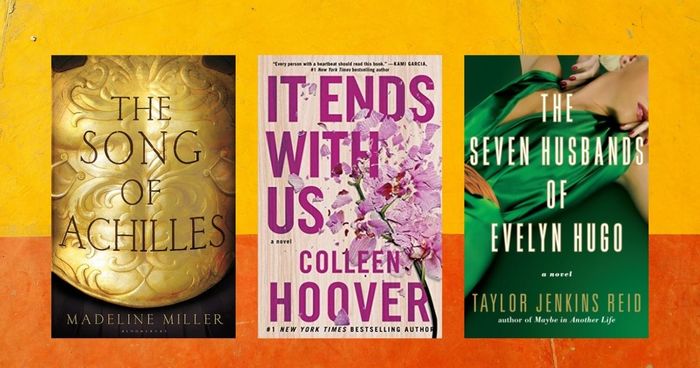 These twelve books are so consistently adored, they have become regulars month after month in our data of most popular and most read books on...
Anyone can add books to this list.