2013 New Adult Releases
New Adult Releases in 2013 (plus some non-NA and non 2013, so check before you add to your TBR list)
1

Walking Disaster (Beautiful, #2)




by




2

Never Too Far (Rosemary Beach, #2; Too Far, #2)




by




3

Entwined with You (Crossfire, #3)




by




4

Reckless (Thoughtless, #3)




by




5

Beautiful Disaster (Beautiful, #1)




by




6

The Redemption of Callie & Kayden (The Coincidence, #2)




by




7

This Girl (Slammed, #3)




by




8

The Forever of Ella and Micha (The Secret, #2)




by




9

Down London Road (On Dublin Street, #2)




by




10

Tragic (Rook and Ronin, #1)




by




11

Fifty Shades of Grey (Fifty Shades, #1)




by




12

Dare You To (Pushing the Limits, #2)




by




13

Crush (Crash, #3)




by




14

The Coincidence of Callie & Kayden (The Coincidence, #1)




by




15

Beautiful Bastard (Beautiful Bastard, #1)




by




16

Out of Breath (Breathing, #3)




by




17

Hopeless (Hopeless, #1)




by




18

Bared to You (Crossfire, #1)




by




19

Fifty Shades Darker (Fifty Shades, #2)




by




20

Easy (Contours of the Heart, #1)




by




21

The Edge of Never (The Edge of Never, #1)




by




22

Reflected in You (Crossfire, #2)




by




23

Fifty Shades Freed (Fifty Shades, #3)




by




24

Rule (Marked Men, #1)




by




25

Wethering the Storm (The Storm, #2)




by




26

Sometimes It Lasts (Sea Breeze, #5)




by




27

Wait for You (Wait for You, #1)




by




28

Gabriel's Inferno (Gabriel's Inferno, #1)




by




29

Wallbanger (Cocktail, #1)




by




30

Up to Me (The Bad Boys, #2)




by




31

Thoughtless (Thoughtless, #1)




by




32

Fallen Too Far (Rosemary Beach, #1; Too Far, #1)




by




33

Consumed (Devoured, #2)




by




34

The Destiny of Violet & Luke (The Coincidence, #3)




by




35

The Temptation of Lila and Ethan (The Secret, #3)




by




36

Frigid (Frigid, #1)




by




37

The Game Changer (The Perfect Game, #2)




by




38

Façade (Games, #2)




by




39

The Edge of Always (The Edge of Never, #2)




by




40

Allegiant (Divergent, #3)




by




41

Lover at Last (Black Dagger Brotherhood, #11)




by




42

Point of Retreat (Slammed, #2)




by




43

Game. Set. Match. (Outer Banks Tennis Academy, #1)




by




44

Unbeautifully (Undeniable, #2)




by




45

Beautiful Stranger (Beautiful Bastard, #2)




by




46

The Proposal (The Proposition, #2)




by




47

Slammed (Slammed, #1)




by




48

Hard to Love (Hard to Love, #1)




by




49

Fallen Crest Family (Fallen Crest High, #2)




by




50

Requiem (Delirium, #3)




by




51

Resisting Her




by




52

The Mighty Storm (The Storm, #1)




by




53

Grounded (Up in the Air, #3)




by




54

Hush, Hush (Hush, Hush, #1)




by




55

If You Stay (Beautifully Broken, #1)




by




56

Real (Real, #1)




by




57

All over You (Devoured, #0.5)




by




58

Twisted Perfection (Rosemary Beach, #5; Perfection, #1)




by




59

Crash (Crash, #1)




by




60

Just One Day (Just One Day, #1)




by




61

Fight with Me (With Me in Seattle, #2)




by




62

The Indigo Spell (Bloodlines, #3)




by




63

Love Unrehearsed (Love, #2)




by




64

Options




by




65

Gameboard of the Gods (Age of X, #1)




by




66

Losing It (Losing It, #1)




by




67

Pushing the Limits (Pushing the Limits, #1)




by




68

Just One Year (Just One Day, #2)




by




69

The Dysfunctional Test




by




70

Forever My Girl (Beaumont Series, #1)




by




71

Gabriel's Redemption (Gabriel's Inferno, #3)




by




72

Losing Hope (Hopeless, #2)




by




73

The Secret of Ella and Micha (The Secret, #1)




by




74

On the Plus Side (Chubby Girl Chronicles, #1)




by




75

One Week Girlfriend (One Week Girlfriend, #1)




by




76

The Marriage Bargain (Marriage to a Billionaire, #1)




by




77

Obsidian (Lux, #1)




by




78

Unattainable (Undeniable, #3)




by




79

Onyx (Lux, #2)




by




80

This Man (This Man, #1)




by




81

Rock My Bed (Black Falcon, #2)




by




82

Finale (Hush, Hush, #4)




by




83

Blue Lines (Assassins, #5)




by




84

King Hall (Forever Evermore, #1)




by




85

Beneath This Man (This Man, #2)




by




86

Strength (Mark of Nexus, #1)




by




87

Deeper We Fall (Fall and Rise, #1)




by




88

The Moon and More




by




89

Cautious (Disastrous, #2)




by




90

For the Love of a God




by




91

Shattered Promises (Shattered Promises, #1)




by




92

Honor & Betray (Honor, #4)




by




93

A Night to Forget (A Night to Forget, #1)




by




94

Happenstance (A Second Chance, #1)




by




95

Denali Skies




by




96

Love Unscripted (Love, #1)




by




97

A Change of Plans (Safe Harbors, #1)




by




98

Things I Can't Forget




by




99

World After (Penryn & the End of Days, #2)




by




100

Seduced by Innocence (The Seduced Saga, #1)




by



1,140 books · 3,093 voters · list created December 17th, 2012 by deleted user.
date
newest »
back to top
Related News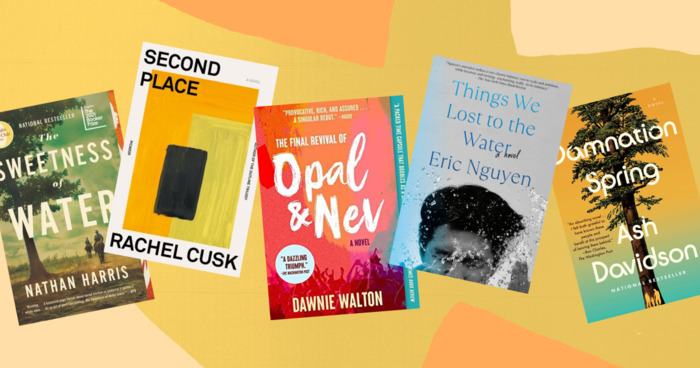 The book gods, in their infinite kindness, have built second chances into the very structure of the modern distribution business. If you miss...
Anyone can add books to this list.