Best Superhero Graphic Novels
superhero classics
1

Watchmen




by




2

Batman: The Dark Knight Returns




by




3

Batman: The Killing Joke




by




4

Batman: Year One




by




5

Batman: The Long Halloween




by




6

V for Vendetta




by




7

Kingdom Come




by




8

Superman: Red Son




by




9

Marvels




by




10

The League of Extraordinary Gentlemen, Vol. 1




by




11

Civil War: A Marvel Comics Event




by




12

Arkham Asylum




by




13

Identity Crisis




by




14

Batman: Hush




by




15

Astonishing X-Men, Volume 1: Gifted




by




16

All-Star Superman, Vol. 1




by




17

Preludes & Nocturnes (The Sandman, #1)




by




18

Batman, Volume 1: The Court of Owls




by




19

Marvel 1602




by




20

Astro City, Vol. 1: Life in the Big City




by




21

X-Men: The Dark Phoenix Saga




by




22

Batman: Dark Victory




by




23

Batman, Volume 3: Death of the Family




by




24

Hawkeye, Volume 1: My Life as a Weapon




by




25

Batman: The Black Mirror




by




26

The Umbrella Academy, Vol. 1: The Apocalypse Suite




by




27

The Amazing Spider-Man: Kraven's Last Hunt




by




28

X-Men: Days of Future Past




by




29

Runaways: The Complete Collection, Vol. 1




by




30

Ms. Marvel, Vol. 1: No Normal




by




31

Swamp Thing, Vol. 1: Saga of the Swamp Thing




by




32

Absolute DC: The New Frontier




by




33

Planetary, Volume 1: All Over the World and Other Stories




by




34

Promethea, Vol. 1




by




35

House of M




by




36

Top 10, Vol. 1




by




37

Batman: Hush, Vol. 1




by




38

Daredevil: Born Again




by




39

Daredevil: The Man Without Fear




by




40

Invincible: Ultimate Collection, Vol. 1




by




41

Superman: Whatever Happened to the Man of Tomorrow?




by




42

Ultimate Spider-Man, Volume 1: Power and Responsibility




by




43

Wolverine: Old Man Logan




by




44

Superman for All Seasons




by




45

Infinity Gauntlet




by




46

Absolute All-Star Superman




by




47

Miracleman, Book One: A Dream of Flying




by




48

Alias, Vol. 1




by




49

Captain America: Winter Soldier




by




50

Astro City, Vol. 2: Confession




by




51

Batman: Whatever Happened to the Caped Crusader?




by




52

Powers, Vol. 1: Who Killed Retro Girl?




by




53

Crisis on Infinite Earths




by




54

The Ultimates




by




55

Ex Machina, Vol. 1: The First Hundred Days (Ex Machina, #1)




by




56

The Starman Omnibus, Vol. 1




by




57

Hawkeye, Volume 2: Little Hits




by




58

Flashpoint




by




59

Superman: Secret Identity




by




60

Black Orchid




by




61

The City of Owls




by




62

Moon Knight, Vol. 1: From the Dead




by




63

Gotham Central, Vol. 1: In the Line of Duty




by




64

The Batman Adventures: Mad Love and Other Stories




by




65

Green Arrow: Year One




by




66

Green Lantern/Green Arrow: The Collection




by




67

Iron Man: Extremis




by




68

Kick-Ass




by




69

Batman & Robin, Vol. 2: Batman vs. Robin




by




70

The Planetary Omnibus




by




71

Daredevil by Mark Waid, Volume 1




by




72

Joker




by




73

Marvel Zombies




by




74

Astonishing X-Men, Volume 4: Unstoppable




by




75

Batman: Hush, Vol. 2




by




76

The Death of Superman (The Death and Return of Superman, #1)




by




77

Astonishing X-Men: Ultimate Collection, Volume 1




by




78

The Death of Captain Marvel




by




79

The Amazing Spider-Man: The Death of Gwen Stacy




by




80

Catwoman, Volume 1: Trail of the Catwoman




by




81

Avengers: Disassembled




by




82

Animal Man, Vol. 1




by




83

Astonishing X-Men, Volume 3: Torn




by




84

Secret Wars




by




84

Gotham Central Omnibus




by




86

B.P.R.D.: Plague of Frogs 1




by




87

Tom Strong, Book 1




by




88

Justice League International, Vol. 1




by




89

Black Widow, Volume 1: The Finely Woven Thread




by




90

Seven Soldiers of Victory, Volume 1




by




91

JSA: The Golden Age




by




92

I Shall Destroy All the Civilized Planets! (The Complete Works of Fletcher Hanks, #1)




by




93

Batman: The Man Who Laughs




by




94

Astonishing X-Men, Volume 2: Dangerous




by




95

Green Lantern: Rebirth




by




96

Ultimate Comics Spider-Man by Brian Michael Bendis, Volume 1




by




97

Batwoman, Volume 1: Hydrology




by




98

Hawkeye, Volume 3: L.A. Woman




by




99

Miracleman, Book Three: Olympus




by




100

Astonishing X-Men: Ultimate Collection, Volume 2




by



564 books · 420 voters · list created July 15th, 2008 by deleted user.
date
newest »
back to top
Related News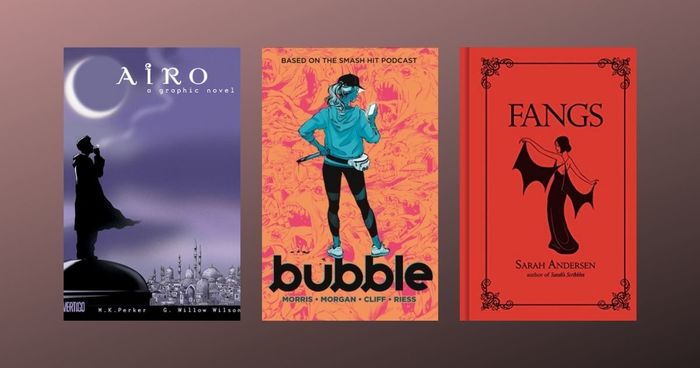 Jordan Morris is a comedy writer and podcaster whose credits include @Midnight, Unikitty! and Earth to Ned.  The sci-fi comedy Bubble is his...
Anyone can add books to this list.