Best Books for Teenagers
1

Hush, Hush (Hush, Hush, #1)




by




2

The Lovely Bones




by




3

Uglies (Uglies, #1)




by




4

Divergent (Divergent, #1)




by




5

The Hunger Games (The Hunger Games, #1)




by




6

Shiver (The Wolves of Mercy Falls, #1)




by




7

The Knife of Never Letting Go (Chaos Walking, #1)




by




7

Fairytales for Wilde Girls




by




9

Thirteen Reasons Why




by




9

The Sky Is Everywhere




by




9

The Devil Wears Prada (The Devil Wears Prada, #1)




by




9

Captivate (Submerged Sun, #1)




by




13

Impulse (Submerged Sun, #2)




by




14

The Host (The Host, #1)




by




14

Anna and the French Kiss (Anna and the French Kiss, #1)




by




14

Monstrous Beauty




by




17

The Vinyl Princess




by




17

That Stranger Next Door




by




19

Bittersweet




by




19

Heroes Of Tobruk




by




21

Five Flavors of Dumb




by




21

Lorali




by




23

What Happened to Goodbye




by




23

Love Letters to the Dead




by




25

Pretty Crooked (Pretty Crooked, #1)




by




25

Into That Forest




by




27

New Girl




by




27

The Last of the Spirits




by




29

North of Beautiful




by




29

Sea Hearts




by




31

The Summer I Learned to Fly




by




31

Hannah (Daughters of the Sea, #1)




by




33

Sean Griswold's Head




by




33

May (Daughters of the Sea, #2)




by




35

A Blue So Dark




by




35

Lucy (Daughters of the Sea, #3)




by




37

Amy & Roger's Epic Detour




by




37

Princess of the Midnight Ball (The Princesses of Westfalin Trilogy, #1)




by




39

Define "Normal"




by




39

Princess of Glass (The Princesses of Westfalin Trilogy, #2)




by




41

Luna




by




41

Princess of the Silver Woods (The Princesses of Westfalin Trilogy, #3)




by




43

Runaway




by




43

Merrow




by




45

Rosebush




by




45

Between Shades of Gray




by




47

Perfect




by




47

Falling to Ash (Moth, #1)




by




49

Cracked Up to Be




by




49

The Foreshadowing




by




51

Pretend You Love Me




by




51

My Lady Jane: The Not Entirely True Story (The Lady Janies #1)




by




53

She Loves You, She Loves You Not...




by




53

The Bone Sparrow




by




55

Some Girls Are




by




55

The World Within: A Novel of Emily Brontë




by




57

Stolen (Stolen, #1)




by




57

Salt to the Sea




by




59

The Center of the Universe: Yep, That Would Be Me




by




59

Hexenhaus




by




61

By the Time You Read This, I'll Be Dead




by




61

Everything is Changed




by




63

Go Ask Alice




by




63

Speak




by




65

Undone




by




65

Moon at Nine




by




67

Willow




by




67

Romanov




by




69

Kissed by an Angel/The Power of Love/Soulmates (Kissed by an Angel, #1-3)




by




70

Perfect You




by




71

A Match Made in High School




by



71 books · 8 voters · list created August 5th, 2012 by deleted user.
Like
Lists are re-scored approximately every 5 minutes.
People Who Voted On This List (8)
No comments have been added yet.
Related News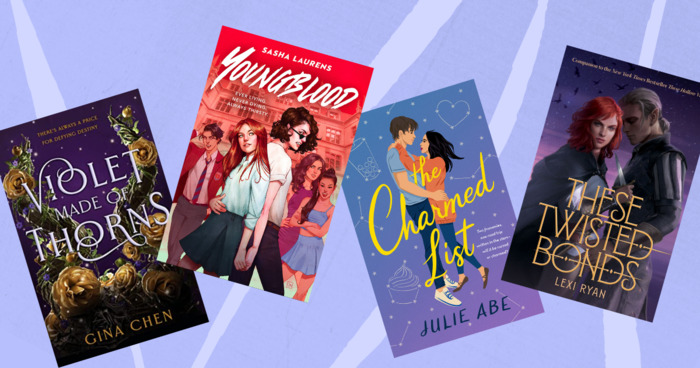 As dedicated readers already know, some of the best and most innovative stories on the shelves come from the constantly evolving realm of...
Anyone can add books to this list.