Young Adult Vampire Romance
Kakari from Amazon here! Feel free to add your own books. =]
1

Vampire Academy (Vampire Academy, #1)




by




2

Shadow Kiss (Vampire Academy, #3)




by




3

Frostbite (Vampire Academy, #2)




by




4

Twilight (The Twilight Saga, #1)




by




5

Blood Promise (Vampire Academy, #4)




by




6

Breaking Dawn (The Twilight Saga, #4)




by




7

Spirit Bound (Vampire Academy, #5)




by




8

Eclipse (The Twilight Saga, #3)




by




9

New Moon (The Twilight Saga, #2)




by




10

Marked (House of Night, #1)




by




11

Betrayed (House of Night, #2)




by




12

Chosen (House of Night, #3)




by




13

Hunted (House of Night, #5)




by




14

Untamed (House of Night, #4)




by




15

Last Sacrifice (Vampire Academy, #6)




by




16

Glass Houses (The Morganville Vampires, #1)




by




17

The Awakening / The Struggle (The Vampire Diaries, #1-2)




by




18

Tempted (House of Night, #6)




by




19

Evernight (Evernight, #1)




by




20

The Fury / Dark Reunion (The Vampire Diaries, #3-4)




by




21

Vampire Kisses: The Beginning (Vampire Kisses, #1-3)




by




22

Night World, No. 1 (Night World, #1-3)




by




23

Masquerade (Blue Bloods, #2)




by




24

Blue Bloods (Blue Bloods, #1)




by




25

Immortal Embrace (Embrace, #1)




by




26

Revelations (Blue Bloods, #3)




by




27

Stargazer (Evernight, #2)




by




28

Evermore (The Immortals, #1)




by




29

Dance with a Vampire (Vampire Kisses, #4)




by




30

The Dead Girls' Dance (The Morganville Vampires, #2)




by




31

The Coffin Club (Vampire Kisses, #5)




by




32

Midnight Sun [2008 Draft]




by




33

The Van Alen Legacy (Blue Bloods, #4)




by




34

Night World, No. 2 (Night World, #4-6)




by




35

Nightfall (The Vampire Diaries: The Return, #1)




by




36

Feast of Fools (The Morganville Vampires, #4)




by




37

Midnight Alley (The Morganville Vampires, #3)




by




38

Thirst No. 1: The Last Vampire, Black Blood, and Red Dice (Thirst, #1)




by




39

Hourglass (Evernight, #3)




by




40

Royal Blood (Vampire Kisses, #6)




by




41

Lord of Misrule (The Morganville Vampires, #5)




by




42

Carpe Corpus (The Morganville Vampires, #6)




by




43

Jessica's Guide to Dating on the Dark Side (Jessica, #1)




by




44

Night World, No. 3 (Night World, #7-9)




by




45

The Aureate Spectacles




by




46

The Silver Kiss




by




47

Tantalize (Tantalize, #1)




by




48

Shattered Mirror




by




49

Born at Midnight (Shadow Falls, #1)




by




50

Hidden (Marchwood Vampires, #1)




by




51

Eternal (Tantalize, #2)




by




52

Fade Out (The Morganville Vampires, #7)




by




53

Demon in My View




by




54

In the Forests of the Night




by




55

A Job From Hell (Ancient Legends, #1)




by




56

Vampire Knight, Vol. 1 (Vampire Knight, #1)




by




57

Uninvited




by




58

Shadow Souls (The Vampire Diaries: The Return, #2)




by




59

Midnight Predator




by




60

The Vampire's Assistant (Cirque du Freak #2)




by




60

Tunnels of Blood (Cirque du Freak #3)




by




62

Allies of the Night (Cirque du Freak, #8)




by




63

Burned (House of Night, #7)




by




64

Awakened (House of Night, #8)




by




65

You Suck (A Love Story, #2)




by




66

Misguided Angel (Blue Bloods, #5)




by




67

Peeps (Peeps, #1)




by




68

Kiss of Death (The Morganville Vampires, #8)




by




69

TASTE: Vampire Magic (Kingdom of Blood and Ash, #1)




by




70

Ghost Town (The Morganville Vampires, #9)




by




71

Dark Visions (Dark Visions, #1-3)




by




71

The Coldest Girl in Coldtown




by




73

My Blood Approves (My Blood Approves, #1)




by




74

Vampire Mountain (Cirque Du Freak, #4)




by




75

The Vampire Prince (Cirque Du Freak, #6)




by




76

Keys to the Repository (Blue Bloods, #4.5)




by




76

Bloody Valentine (Blue Bloods, #5.5)




by




78

Sons of Destiny (Cirque Du Freak, #12)




by




79

Persistence of Memory




by




80

The Lake of Souls (Cirque du Freak #10)




by




81

Laney (The Brookehaven Vampires, #1)




by




82

Turned (The Vampire Journals, #1)




by




83

Forbidden Embrace (Embrace, #2)




by




84

A Living Nightmare (Cirque Du Freak, #1)




by




85

Secret Vampire (Night World, #1)




by




86

Daughters of Darkness (Night World, #2)




by




87

Soulmate (Night World, #6)




by




88

Trials of Death (Cirque Du Freak, #5)




by




89

Boys that Bite (Blood Coven Vampire, #1)




by




89

Huntress (Night World, #7)




by




91

Stake That (Blood Coven Vampire, #2)




by




92

Fate (My Blood Approves, #2)




by




93

Flutter (My Blood Approves, #3)




by




94

Blessed (Tantalize, #3)




by




95

Hunters of the Dusk (Cirque Du Freak, #7)




by




96

Blood Drunk: Faded Blue




by




96

Cloak & Dagger (Stuck In 2 Worlds, #1)




by




98

Fairy Circle (Fairy Circle, #1)




by




99

Doomed (Ancient Legends, #2)




by




100

The Emerald Talisman (Talisman, #1)




by



156 books · 332 voters · list created May 31st, 2009 by deleted user.
date
newest »
back to top
Related News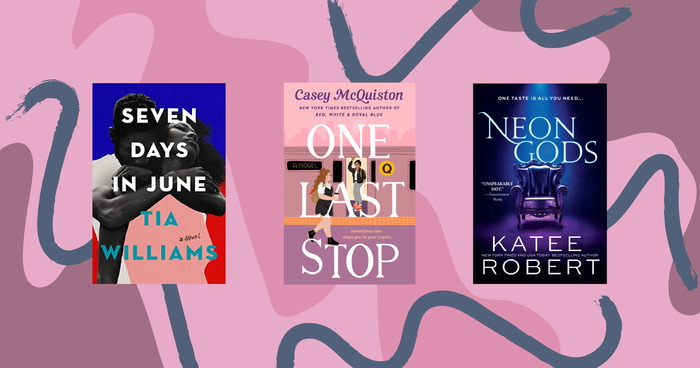 Summer is perfect for plenty of things: mojitos, sleeping with the window fan on, and sprawling out with a hot romance novel (in a heavily...
Anyone can add books to this list.