You're Crazy if You Haven't Read This Yet
These are books everyone needs to read
1

Harry Potter and the Sorcerer's Stone (Harry Potter, #1)




by




2

The Hunger Games (The Hunger Games, #1)




by




3

Catching Fire (The Hunger Games, #2)




by




4

Divergent (Divergent, #1)




by




5

Mockingjay (The Hunger Games, #3)




by




6

Harry Potter and the Deathly Hallows (Harry Potter, #7)




by




7

The Fault in Our Stars




by




8

Harry Potter Series Box Set (Harry Potter, #1-7)




by




9

The Giver (The Giver, #1)




by




10

To Kill a Mockingbird




by




11

The Lightning Thief (Percy Jackson and the Olympians, #1)




by




12

City of Bones (The Mortal Instruments, #1)




by




13

Insurgent (Divergent, #2)




by




14

Harry Potter and the Chamber of Secrets (Harry Potter, #2)




by




15

Vampire Academy (Vampire Academy, #1)




by




16

The Diary of a Young Girl




by




17

The Host




by




18

Harry Potter and the Half-Blood Prince (Harry Potter, #6)




by




19

Legend (Legend, #1)




by




20

Harry Potter and the Prisoner of Azkaban (Harry Potter, #3)




by




21

The Hobbit, or There and Back Again




by




22

The Book Thief




by




23

Harry Potter and the Goblet of Fire (Harry Potter, #4)




by




24

The Little Prince




by




25

J.R.R. Tolkien 4-Book Boxed Set: The Hobbit and The Lord of the Rings




by




26

1984




by




27

Harry Potter and the Order of the Phoenix (Harry Potter, #5)




by




28

Fahrenheit 451




by




29

The Outsiders




by




30

The Lion, the Witch and the Wardrobe (Chronicles of Narnia, #1)




by




31

Hush, Hush (Hush, Hush, #1)




by




32

Delirium (Delirium, #1)




by




33

The Selection (The Selection, #1)




by




34

Eclipse (The Twilight Saga, #3)




by




35

Breaking Dawn (Twilight, #4)




by




36

The Twilight Saga (Twilight, #1-4)




by




37

Clockwork Angel (The Infernal Devices, #1)




by




38

Matched (Matched, #1)




by




39

City of Ashes (The Mortal Instruments, #2)




by




40

Pride and Prejudice




by




41

Number the Stars




by




42

Graceling (Graceling Realm, #1)




by




43

Animal Farm




by




44

Ella Enchanted (Ella Enchanted #1)




by




45

Looking for Alaska




by




46

Fallen (Fallen, #1)




by




47

Lord of the Flies




by




48

A Wrinkle in Time (A Wrinkle in Time Quintet, #1)




by




49

Outlander (Outlander, #1)




by




50

City of Glass (The Mortal Instruments, #3)




by




51

City of Fallen Angels (The Mortal Instruments, #4)




by




52

Obsidian (Lux, #1)




by




53

And Then There Were None




by




54

Allegiant (Divergent, #3)




by




55

Memoirs of a Geisha




by




56

Twilight (Twilight, #1)




by




57

The Girl with the Dragon Tattoo (Millennium, #1)




by




58

The Millennium Trilogy (Millennium Trilogy, #1-3)




by




59

Gone with the Wind




by




60

Jane Eyre




by




61

The Lost Hero (The Heroes of Olympus, #1)




by




62

Crescendo (Hush, Hush, #2)




by




63

The Angel Experiement (Maximum Ride #1)




by




64

If I Stay (If I Stay, #1)




by




65

Cinder (The Lunar Chronicles, #1)




by




66

The Grapes of Wrath




by




67

The Help




by




68

The Maze Runner (The Maze Runner, #1)




by




69

Gone Girl




by




70

The Stand




by




71

Under the Never Sky (Under the Never Sky, #1)




by




72

The Da Vinci Code (Robert Langdon, #2)




by




73

Perfect Timing (Kendrick/Coulter/Harrigan, #11)




by




74

Anne of Green Gables




by




75

The Chronicles of Narnia (Chronicles of Narnia, #1-7)




by




76

Infinity (Chronicles of Nick, #1)




by




77

Hex Hall (Hex Hall, #1)




by




78

The Hitchhiker's Guide to the Galaxy (Hitchhiker's Guide to the Galaxy, #1)




by




79

The Call of the Wild




by




80

The Fellowship of the Ring (The Lord of the Rings, #1)




by




81

Prodigy (Legend, #2)




by




82

Before I Fall




by




83

The Two Towers (The Lord of the Rings, #2)




by




84

Shadow and Bone (The Shadow and Bone Trilogy, #1)




by




85

Marked (House of Night, #1)




by




86

Uglies (Uglies, #1)




by




87

Storm Front (The Dresden Files, #1)




by




88

The Daughter Of Kurdland: A Life Dedicated to Humankind




by




89

Brave New World / Brave New World Revisited




by




90

The Handmaid's Tale (The Handmaid's Tale, #1)




by




91

Brave New World




by




92

Peter Pan




by




93

Hatchet (Brian's Saga, #1)




by




94

Life of Pi




by




94

Angelfall (Penryn & the End of Days, #1)




by




96

The Alchemist




by




97

Eragon (The Inheritance Cycle, #1)




by




97

The Curious Incident of the Dog in the Night-Time




by




99

The Mysterious Affair at Styles (Hercule Poirot #1)




by




100

Beastly (Beastly, #1; Kendra Chronicles, #1)




by



1,600 books · 1,362 voters · list created March 20th, 2012 by deleted user.
date
newest »
back to top
Related News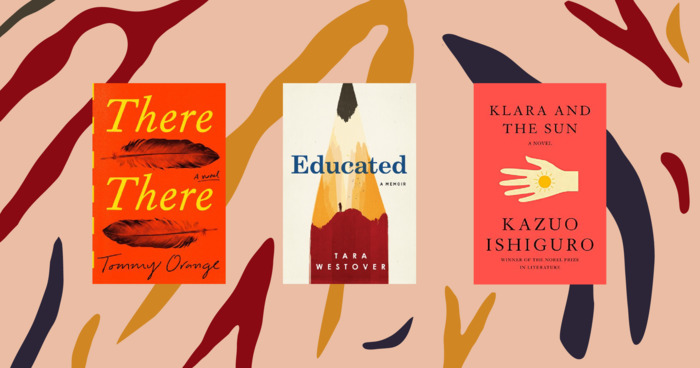 What will you do when it's your turn to pick your book club's next read? Well, this is what you won't do: panic. Why not? Because we've dug...
Anyone can add books to this list.