Greatest Teen Books
1

The Hunger Games (The Hunger Games, #1)




by




2

Catching Fire (The Hunger Games, #2)




by




3

Divergent (Divergent, #1)




by




4

Harry Potter and the Sorcerer's Stone (Harry Potter, #1)




by




5

Harry Potter and the Deathly Hallows (Harry Potter, #7)




by




6

Delirium (Delirium, #1)




by




7

Hush, Hush (Hush, Hush, #1)




by




8

Shiver (The Wolves of Mercy Falls, #1)




by




9

City of Glass (The Mortal Instruments, #3)




by




10

City of Bones (The Mortal Instruments, #1)




by




11

Clockwork Angel (The Infernal Devices, #1)




by




11

Jane Eyre




by




13

Clockwork Prince (The Infernal Devices, #2)




by




14

Wuthering Heights




by




15

The Hobbit




by




16

Nevermore (Nevermore, #1)




by




16

The Host (The Host, #1)




by




16

Captivate (Submerged Sun, #1)




by




19

Impulse (Submerged Sun, #2)




by




20

Matched (Matched, #1)




by




20

Crux




by




20

The Fault in Our Stars




by




20

Fairytales for Wilde Girls




by




24

Angel (Maximum Ride, #7)




by




24

After Dark (The 19th Year, #1)




by




24

Daughter of Smoke & Bone (Daughter of Smoke & Bone, #1)




by




24

Sea Hearts




by




28

Leviathan (Leviathan, #1)




by




28

Days of Blood & Starlight (Daughter of Smoke & Bone, #2)




by




28

Hannah (Daughters of the Sea, #1)




by




31

The Goose Girl (The Books of Bayern, #1)




by




31

May (Daughters of the Sea, #2)




by




33

Lucy (Daughters of the Sea, #3)




by




34

Intertwined (Intertwined, #1)




by




34

Beastly (Beastly, #1; Kendra Chronicles, #1)




by




34

That Stranger Next Door




by




37

Beauty: A Retelling of the Story of Beauty and the Beast




by




37

Into That Forest




by




39

A Great and Terrible Beauty (Gemma Doyle, #1)




by




39

Princess of the Midnight Ball (The Princesses of Westfalin Trilogy, #1)




by




41

Princess of Glass (The Princesses of Westfalin Trilogy, #2)




by




42

Graceling (Graceling Realm, #1)




by




42

Princess of the Silver Woods (The Princesses of Westfalin Trilogy, #3)




by




44

Foundling (Monster Blood Tattoo, #1)




by




44

Merrow




by




46

Lorali




by




47

The Scorpio Races




by




47

The Last of the Spirits




by




49

The Lightning Thief (Percy Jackson and the Olympians, #1)




by




49

Falling to Ash (Moth, #1)




by




51

Perfect Chemistry (Perfect Chemistry, #1)




by




51

The Dead I Know




by




53

Princess Academy (Princess Academy, #1)




by




53

Love Letters to the Dead




by




55

Miss Peregrine's Home for Peculiar Children (Miss Peregrine, #1)




by




56

Hollow City (Miss Peregrine's Peculiar Children, #2)




by




57

Library of Souls (Miss Peregrine's Peculiar Children, #3)




by




58

Salt to the Sea




by




59

Between Shades of Gray




by




60

Flora's War




by




61

A Rose for the ANZAC Boys




by




62

The Watch That Ends the Night: Voices from the Titanic




by




63

The Foreshadowing




by



63 books · 12 voters · list created March 16th, 2012 by deleted user.
Like
Lists are re-scored approximately every 5 minutes.
date
newest »
back to top
Related News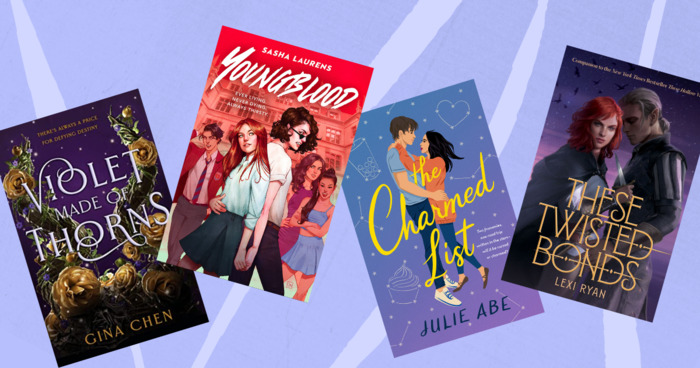 As dedicated readers already know, some of the best and most innovative stories on the shelves come from the constantly evolving realm of...
Anyone can add books to this list.