Best Young Teen Books
best books for ages 13-15
1

Twilight (Twilight, #1)




by




2

The Lion, The Witch and the Wardrobe (Chronicles of Narnia, #2)




by




3

Ella Enchanted




by




4

To Kill a Mockingbird




by




5

Harry Potter and the Sorcerer's Stone (Harry Potter, #1)




by




6

Harry Potter and the Half-Blood Prince (Harry Potter, #6)




by




7

Harry Potter Series Box Set (Harry Potter, #1-7)




by




8

Truly, Madly, Deeply




by




9

Breaking Dawn (Twilight, #4)




by




10

The Two Towers (The Lord of the Rings, #2)




by




11

Harry Potter and the Prisoner of Azkaban (Harry Potter, #3)




by




12

Harry Potter and the Order of the Phoenix (Harry Potter, #5)




by




13

Inkheart (Inkworld, #1)




by




14

Harry Potter and the Deathly Hallows (Harry Potter, #7)




by




15

The Return of the King (The Lord of the Rings, #3)




by




16

Witch Song (Witch Song, #1)




by




17

Treasure Island




by




18

The Fellowship of the Ring (The Lord of the Rings, #1)




by




19

Harry Potter and the Goblet of Fire (Harry Potter, #4)




by




20

Harry Potter and the Chamber of Secrets (Harry Potter, #2)




by




21

Island of the Blue Dolphins




by




22

The Magician's Nephew (The Chronicles of Narnia, #6)




by




23

The Hobbit, or There and Back Again




by




24

Undeadly (The Reaper Diaries, #1)




by




25

The Last Olympian (Percy Jackson and the Olympians, #5)




by




26

The Tales of Beedle the Bard




by




27

Spirit Bound (Vampire Academy, #5)




by




28

Fallen (Fallen, #1)




by




29

Inkspell (Inkworld, #2)




by




30

Artemis Fowl (Artemis Fowl, #1)




by




31

The Last Battle (The Chronicles of Narnia, #7)




by




32

The Host




by




33

The Silver Chair (The Chronicles of Narnia, #6)




by




34

The Voyage of the Dawn Treader (The Chronicles of Narnia, #3)




by




35

The Red Pyramid (The Kane Chronicles, #1)




by




36

Prince Caspian (The Chronicles of Narnia, #4)




by




37

Inkdeath (Inkworld, #3)




by




38

At First Blush




by




39

Vampire Academy (Vampire Academy, #1)




by




40

Holes (Holes, #1)




by




41

The Count of Monte Cristo




by




42

The Three Musketeers (The D'Artagnan Romances, #1)




by




43

Fateful




by




44

Night World, No. 3 (Night World, #7-9)




by




44

Night World, No. 2 (Night World, #4-6)




by




46

The Lost Hero (The Heroes of Olympus, #1)




by




47

Night World, No. 1 (Night World, #1-3)




by




48

The Horse and His Boy (The Chronicles of Narnia, #3)




by




49

The Lightning Thief (Percy Jackson and the Olympians, #1)




by




50

The Sea of Monsters (Percy Jackson and the Olympians #2)




by




51

The Battle of the Labyrinth (Percy Jackson and the Olympians, #4)




by




52

The Chronicles of the Virago--The Novus: Book I




by




52

Royal Blood




by




52

The Finding (The Legend of Oescienne #1)




by




52

Shelby & Shauna Kitt and the Dimensional Holes




by




52

Indelible (The Yara Silva Trilogy, #2)




by




52

Road to Megara (Knife of Truth, #2)




by




52

Solid (Solid, #1)




by




52

Neophyte (The Wiccan Diaries, #2)




by




52

Fast-Trapped (Fast-Track Trilogy, #2)




by




52

The Fallout From Finding Emily (Kelsey O'Brien #1)




by




52

Into That Forest




by




52

The Greenest Valley




by




52

De brief voor de koning




by




52

Redwall (Redwall, #1)




by




52

Are Men the Weaker Sex?




by




52

Switch




by




68

The Beginning (The Legend of Oescienne, #2)




by




68

Intrinsical (The Yara Silva Trilogy, #1)




by




68

A Matter of Honor (Knife of Truth, #1)




by




68

Settling (Solid, #2)




by




68

The Wiccan Diaries (The Wiccan Diaries, #1)




by




68

Concisus (Verita, #2)




by




68

Princess of the Midnight Ball (The Princesses of Westfalin Trilogy, #1)




by




68

Geheimen van het Wilde Woud




by




68

A Bite's Tale




by




68

Mossflower (Redwall, #2)




by




68

Forsaken: Switch 2 (Volume 2)




by




79

Verita (Verita, #1)




by




79

The Darkangel




by




79

Tanja




by




79

Mattimeo (Redwall, #3)




by




79

RETURN: Switch Book 3




by




84

Fast-Tracked (Fast-Track Trilogy, #1)




by




84

Hannah (Daughters of the Sea, #1)




by




84

Zo'n klas als wij!




by




84

Single-Handed (Single Girls, #1)




by




84

Martin the Warrior (Redwall, #6)




by




89

The Martian Chronicles




by




89

May (Daughters of the Sea, #2)




by




89

Kruistocht in spijkerbroek




by




89

The Dark Portal (The Deptford Mice, #1)




by




93

Lucy (Daughters of the Sea, #3)




by




93

Stad in de storm




by




93

The Crystal Prison (The Deptford Mice, #2)




by




96

Merrow




by




96

Wij, twee jongens




by




96

The Final Reckoning (The Deptford Mice, #3)




by




99

The Oaken Throne (The Deptford Histories, #2)




by




100

Behemoth (Leviathan, #2)




by



Like
Lists are re-scored approximately every 5 minutes.
date
newest »
back to top
Related News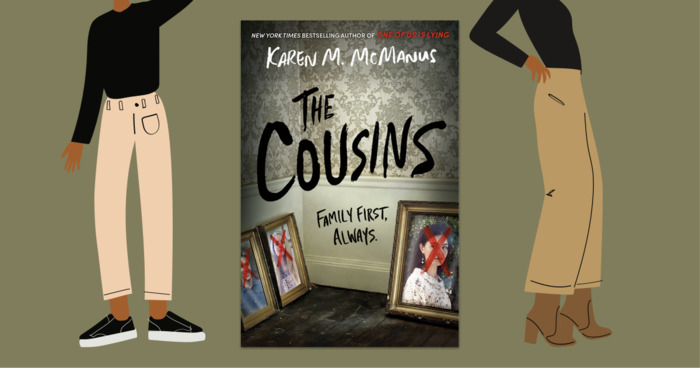 Karen M. McManus, the bestselling author of One of Us Is Lying, Two Can Keep a Secret, and One of Us Is Next, doesn't shy away from secrets and...
Anyone can add books to this list.