Up Close and Personal
1

Remembrance (Transcend Time, #1)




by




2

Vengeance (Transcend Time, #1.5)




by




3

Incarnate (Newsoul, #1)




by




4

Blood Promise (Vampire Academy, #4)




by




5

Shadow Kiss (Vampire Academy, #3)




by




6

The Calling (Darkness Rising, #2)




by




7

Vanish (Firelight, #2)




by




8

Firelight (Firelight, #1)




by




9

Deadly Cool (Deadly Cool, #1)




by




10

Evermore (The Immortals, #1)




by




11

Everblue (Mer Tales, #1)




by




12

The Gathering (Darkness Rising, #1)




by




13

Need (Need, #1)




by




14

Across the Universe (Across the Universe, #1)




by




15

Shadows (Dark Touch, #1)




by




16

The Summoning (Darkest Powers, #1)




by




17

The Awakening (Darkest Powers, #2)




by




18

Captivated (Affliction, #1)




by




19

Evernight (Evernight, #1)




by




20

The Iron Queen (The Iron Fey, #3)




by




21

North of Beautiful




by




21

The Iron Knight (The Iron Fey, #4)




by




23

The Host (The Host, #1)




by




24

Charity Moon (Charity, #1)




by




25

Swoon (Swoon, #1)




by




26

Blood Ties (A Discovery of Vampires, #3)




by




27

Entangled




by




28

The Broken Destiny (Broken, #1)




by




29

The Iron King (The Iron Fey, #1)




by




30

Hush Money (Talent Chronicles, #1)




by




31

The Reckoning (Darkest Powers, #3)




by




31

Control (Control, #1)




by




33

Infinite Days (Vampire Queen, #1)




by




34

Firespell (The Dark Elite, #1)




by




35

Desired (The Vampire Journals #5)




by




36

Witch Song (Witch Song, #1)




by




37

Limerick (The Shimmer Trilogy, #2)




by




38

Misguided Angel (Blue Bloods, #5)




by




39

Forbidden Embrace (Embrace, #2)




by




40

Entice (Need, #3)




by




41

Social Suicide (Deadly Cool, #2)




by




42

Nightshade (Nightshade, #1; Nightshade World, #4)




by




43

Elemental: The First (Primord, #1)




by




44

Nevermore (Nevermore, #1)




by




45

Extras (Uglies, #4)




by




46

Fake An Injury Day (Spirit Week, #1)




by




46

Pucker Up (Damsels of Distress, #1)




by




46

Just Like Animals (Werelock Evolution #5)




by




49

The Fallen Star (Fallen Star, #1)




by




50

The Hunt (Dark Touch, #2)




by




51

Betrothed (The Vampire Journals #6)




by




52

Cupid's Mistake




by




53

Glimmerglass (Faeriewalker, #1)




by




53

Becoming (Daughters Of Saraqael, #1)




by




55

Once in a Full Moon (Full Moon, #1)




by




56

The Sharp Time




by




57

Betrayed (The Vampire Journals #3)




by




58

Loved (The Vampire Journals, #2)




by




59

Dazzle (Delaney's Gift, #1)




by




60

Afterlife (A Discovery of Vampires, #1)




by




61

Dark Frost (Mythos Academy, #3)




by




62

Daughter of Smoke & Bone (Daughter of Smoke & Bone, #1)




by




63

Specials (Uglies, #3)




by




64

Shattered (Desire, #2)




by




65

Captivate (Need, #2)




by




66

Night Star (The Immortals, #5)




by




67

Unforsaken (Banished, #2)




by




68

Awaken Me (Connected, #1)




by




69

Everlasting (The Immortals, #6)




by




70

Remembrance (Remembrance Series #1)




by




70

Legendary (Legendary Saga #1)




by




72

Heist Society (Heist Society, #1)




by




73

Runaway Girl (The Secrets of Avelina Chronicles, #1)




by




73

Fateful




by




75

Banished (Banished, #1)




by




76

Willow




by




77

Turned (The Vampire Journals, #1)




by




77

Existence (Existence, #1)




by




79

Are You There God? It's Me, Margaret




by




80

Lacrimosa (Requiem, #1)




by




81

A Job From Hell (Ancient Legends, #1)




by




81

Dragonfly (Dragonfly Trilogy, #1)




by




83

An Enchantment of Ravens




by




84

Soul Bound (Blood Coven Vampire, #7)




by




84

Luminous




by




86

ReVamped (Angel Creek, #1)




by




87

Stargazer (Evernight, #2)




by




87

Redhead




by




89

Torn




by




90

The Ruby Circle (Bloodlines, #6)




by




91

Hourglass (Evernight, #3)




by




92

Twined




by




93

Beneath the Glitter (Sophie and Ava London, #1)




by




94

Stolen Nights (Vampire Queen, #2)




by




95

After Dark (The 19th Year, #1)




by




96

Mercy Lily




by




97

Breathe (Sea Breeze, #1)




by




98

Shadow of the Moon (Dark Guardian, #4)




by




99

Familiar




by




100

You Are Mine (Mine, #1)




by



391 books · 102 voters · list created November 28th, 2011 by deleted user.
No comments have been added yet.
Related News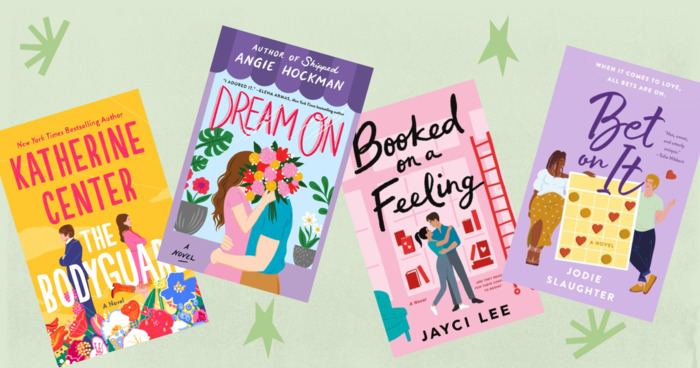 Some people love books. Some people fall in love. And some people love books about falling in love. Every month our team sorts through...
Anyone can add books to this list.