Best Teen Books Of Summer/Fall 2011
Add your favorite teen books that came out in Summer/Fall of 2011
1

Divergent (Divergent, #1)




by




2

Half-Blood (Covenant, #1)




by




3

Crossed (Matched, #2)




by




4

Silence (Hush, Hush, #3)




by




5

Death Bringer (Skulduggery Pleasant, #6)




by




6

Legend (Legend, #1)




by




7

Clockwork Prince (The Infernal Devices, #2)




by




8

Passion (Fallen, #3)




by




9

Sweet Venom (Medusa Girls, #1)




by




10

Song to Wake to (Levels, # 1)




by




11

Fins Are Forever (Fins, #2)




by




12

The Iron Knight (The Iron Fey, #4)




by




12

Juliet Immortal (Juliet Immortal, #1)




by




14

Beautiful Chaos (Caster Chronicles, #3)




by




15

The Death Cure (The Maze Runner, #3)




by




16

Vanish (Firelight, #2)




by




17

Burn (Celestra, #3)




by




18

Tiger's Voyage (The Tiger Saga, #3)




by




18

Soul Protector (Soul Protector #1)




by




20

Tiger's Quest (The Tiger Saga, #2)




by




21

Beckoning Light (The Afterglow Trilogy, #1)




by




22

Awake at Dawn (Shadow Falls, #2)




by




22

In Dreams (The Dream, #1)




by




22

Reckless (Mirrorworld, #1)




by




22

Goliath (Leviathan, #3)




by




26

Supernaturally (Paranormalcy, #2)




by




27

The Beginning of After




by




28

Tris & Izzie




by




29

Pure Red




by




30

Mastiff (Beka Cooper, #3)




by




31

Liar's Moon (Thief Errant, #2)




by




32

Ripple




by




32

Witch Song (Witch Song, #1)




by




34

The Girl of Fire and Thorns (Fire and Thorns, #1)




by




35

The Faerie Ring (The Faerie Ring, #1)




by




36

Touch of Frost (Mythos Academy, #1)




by




37

Wildefire (Wildefire, #1)




by




38

The Secret Prince (Knightley Academy, #2)




by




39

The Name of the Star (Shades of London, #1)




by




40

Daughter of Helaman (Stripling Warrior, #1)




by




41

Wayward Son




by




42

Lightbringer (Lightbringer, #1)




by




43

Dark Souls




by




44

Cinder and Ella




by




45

Grounded (The Airborne Saga, #2)




by




46

Anasazi (Sense of Truth, #2)




by




47

Bargains and Betrayals (13 to Life, #3)




by




48

The Gray Wolf Throne (Seven Realms, #3)




by




49

Torrent (River of Time, #3)




by




50

Silence (Wicked Woods, #4)




by




51

Deep Blue Secret (The Water Keepers, #1)




by




52

Cat O' Nine Tails




by




53

The Underworld (Fallen Star, #2)




by




54

PineLight (PineLight, #1)




by




55

Elemental (Soul Guardians, #2)




by




56

Wicked (Celestra, #4)




by




57

My Very UnFairy Tale Life (My Very UnFairy Tale Life, #1)




by




58

Deadly Cool (Deadly Cool, #1)




by




59

The Veil




by




60

Blood Warrior (The Alexa Montgomery Saga, #1)




by




61

The Discovery (Pyxis, #1)




by




62

A Marked Past (The Mercer Legacy, #1)




by




63

Descended by Blood (Vampire Born, #1)




by




64

The Academy (The Central, #1)




by




65

Hunting Lila (Lila, #1)




by




66

My Last Summer




by



66 books · 18 voters · list created October 12th, 2011 by deleted user.
No comments have been added yet.
Related News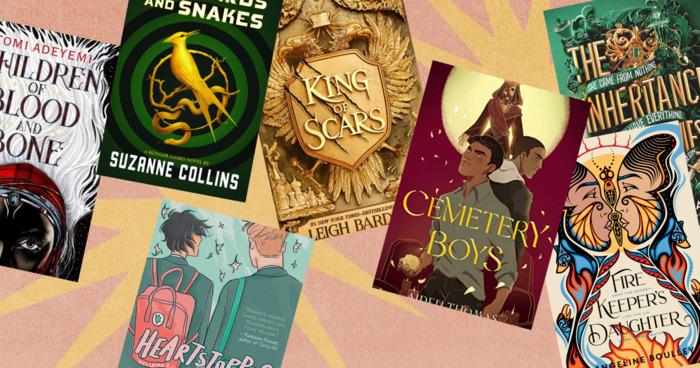 While it's hard to truly quantify what catches on in the realm of pop culture, it's often fun to try. Looking forward is basically...
Anyone can add books to this list.