Best Covers of YA Dystopian Novels
1

Divergent (Divergent, #1)




by




2

Matched (Matched, #1)




by




3

The Hunger Games (The Hunger Games, #1)




by




4

Wither (The Chemical Garden, #1)




by




5

Incarnate (Newsoul, #1)




by




6

Across the Universe (Across the Universe, #1)




by




7

A Million Suns (Across the Universe, #2)




by




8

Crossed (Matched, #2)




by




9

Mockingjay (The Hunger Games, #3)




by




10

Catching Fire (The Hunger Games, #2)




by




11

Cinder (The Lunar Chronicles, #1)




by




12

Shatter Me (Shatter Me, #1)




by




13

Delirium (Delirium, #1)




by




14

Fever (The Chemical Garden, #2)




by




15

Eden (The Eden Trilogy, #1)




by




16

Legend (Legend, #1)




by




17

Pandemonium (Delirium, #2)




by




18

Under the Never Sky (Under the Never Sky, #1)




by




19

Unwind (Unwind, #1)




by




20

Uglies (Uglies, #1)




by




21

The Maze Runner (The Maze Runner, #1)




by




22

Eve (Eve, #1)




by




23

Awaken (Awaken, #1)




by




24

The Pledge (The Pledge, #1)




by




25

The Dead and the Gone (Last Survivors, #2)




by




26

Specials (Uglies, #3)




by




27

Nightshade (Nightshade, #1; Nightshade World, #4)




by




28

The Selection (The Selection, #1)




by




29

Burn Bright (Night Creatures, #1)




by




30

The Scorch Trials (The Maze Runner, #2)




by




31

The Dead-Tossed Waves (The Forest of Hands and Teeth, #2)




by




32

The Dark and Hollow Places (The Forest of Hands and Teeth, #3)




by




33

Birthmarked (Birthmarked, #1)




by




34

The Death Cure (The Maze Runner, #3)




by




35

Inside Out (Insider, #1)




by




36

Ashfall (Ashfall, #1)




by




37

The Giver (The Giver, #1)




by




38

Gone (Gone, #1)




by




39

Extras (Uglies, #4)




by




40

Pretties (Uglies, #2)




by




41

XVI (XVI, #1)




by




42

Pure (Pure, #1)




by




43

The Forest of Hands and Teeth (The Forest of Hands and Teeth, #1)




by




44

Angelfall (Penryn & the End of Days, #1)




by




45

The Adoration of Jenna Fox (Jenna Fox Chronicles, #1)




by




46

Life As We Knew It (Last Survivors, #1)




by




47

The V Girl: a Coming of Age Story




by




48

The Knife of Never Letting Go (Chaos Walking, #1)




by




49

Article 5 (Article 5, #1)




by




50

Prized (Birthmarked, #2)




by




50

Masque of the Red Death (Masque of the Red Death, #1)




by




52

Ashes (Ashes Trilogy, #1)




by




53

Blood Red Road (Dust Lands, #1)




by




54

Genesis




by




55

Bumped (Bumped, #1)




by




56

The Heir (The Selection, #4)




by




57

The Queen of All that Dies (The Fallen World, #1)




by




58

The City of Ember (Book of Ember, #1)




by




59

The Other Life (The Other Life, #1)




by




60

This World We Live In (Last Survivors, #3)




by




61

Lockdown (Escape from Furnace, #1)




by




62

Ignite Me (Shatter Me, #3)




by




63

The Iron King (The Iron Fey, #1)




by




63

Unravel Me (Shatter Me, #2)




by




65

Numbers (Numbers, #1)




by




66

Wintergirls




by




67

Neva




by




68

Possession (Possession, #1)




by




69

The Fox Inheritance (Jenna Fox Chronicles, #2)




by




70

The One (The Selection, #3)




by




71

The Queen of All that Lives (The Fallen World, #3)




by




72

The Queen of Traitors (The Fallen World, #2)




by




73

Incarceron (Incarceron, #1)




by




74

Red Queen (Red Queen, #1)




by




75

Enclave (Razorland, #1)




by




76

The Initiation (The Initiation, #1)




by




77

Outside In (Insider, #2)




by




78

Ashes, Ashes (Ashes, Ashes, #1)




by




79

Hollow




by




80

Hunger (Gone, #2)




by




81

This is Not a Test (This is Not a Test, #1)




by




82

Partials (Partials Sequence, #1)




by




83

Lies (Gone, #3)




by




84

Angel Arias (Night Creatures, #2)




by




85

Defiance (Defiance, #1)




by




86

Revealing Eden (Save the Pearls, #1)




by




87

Drought




by




88

Plague (Gone, #4)




by




89

Fear (Gone, #5)




by




90

Memento Nora (Memento Nora, #1)




by




91

Deception (Defiance, #2)




by




92

The Iron Thorn (Iron Codex, #1)




by




93

Survivors (Aftertime, #1.5)




by




94

The Compound (The Compound, #1)




by




95

The Unidentified




by




96

Naturals (The Lost Souls, #2)




by




97

Dark Inside (Dark Inside, #1)




by




98

The Host (The Host, #1)




by




99

Into the Unknown (Hunting Freedom, #1)




by




99

Antuna's Story (The Antunites Chronicles, #1)




by



177 books · 413 voters · list created October 2nd, 2011 by deleted user.
date
newest »
back to top
Related News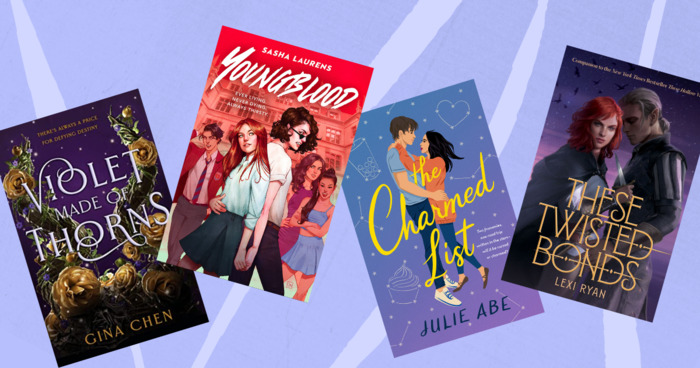 As dedicated readers already know, some of the best and most innovative stories on the shelves come from the constantly evolving realm of...
Anyone can add books to this list.