Memoir Published in Year: 2019
1

Maybe You Should Talk to Someone




by




2

Our Symphony with Animals: On Health, Empathy, and Our Shared Destinies




by




3

Long Live the Tribe of Fatherless Girls




by




4

Maid: Hard Work, Low Pay, and a Mother's Will to Survive




by




5

Rock Needs River: A Memoir About a Very Open Adoption




by




6

The Friend (It's Just Us Here #1)




by




7

The Threat: How the FBI Protects America in the Age of Terror and Trump




by




8

Lessons From Lucy: The Simple Joys of an Old, Happy Dog




by




9

Go, Gwen, Go: A Family's Journey to Olympic Gold




by




10

Inheritance: A Memoir of Genealogy, Paternity, and Love




by




11

The Collected Schizophrenias: Essays




by




12

Me




by




13

Trailblazer: A Pioneering Journalist's Fight to Make the Media Look More Like America




by




13

From Scratch: A Memoir of Love, Sicily, and Finding Home




by




15

The Cost of Living




by




16

Save Me the Plums: My Gourmet Memoir




by




17

Toil & Trouble




by




18

The Moment of Lift: How Empowering Women Changes the World




by




19

The Honey Bus: A Memoir of Loss, Courage and a Girl Saved by Bees




by




20

Brave Face




by




21

You're Not Special: A (Sort-of) Memoir




by




22

I Miss You When I Blink: Essays




by




23

Shortest Way Home: One Mayor's Challenge and a Model for America's Future




by




24

Stay Sexy & Don't Get Murdered: The Definitive How-To Guide




by




25

Ordinary Girls




by




25

Inconvenient Memories: A Personal Account of the Tiananmen Square Incident and China Before and After




by




25

Squeaky Wheels: Travels with My Daughter by Train, Plane, Metro, Tuk-tuk and Wheelchair




by




25

The Fear of Doing Nothing: Notes of a Young Therapist




by




29

The Companion (It's Just Us Here, #2)




by




29

With All Due Respect: Defending America With Grit and Grace




by




31

The Targeter: My Life in the CIA, Hunting Terrorists and Challenging the White House




by




31

Ladies, Upstairs!: My Life in Politics and After




by




31

The Partner (It's Just Us Here, #3)




by




31

Hollywood's Eve: Eve Babitz and the Secret History of L.A.




by




35

Grateful American: A Journey from Self to Service




by




36

Taking Cover: One Girl's Story of Growing Up During the Iranian Revolution




by




37

Survival Math: Notes on an All-American Family




by




38

How to Die Young: A Memoir




by




38

The Lady's Handbook for Her Mysterious Illness




by




38

Shout




by




41

What My Mother and I Don't Talk About: Fifteen Writers Break the Silence




by




42

Inside Out: A Memoir




by




43

Wham! George & Me




by




44

The Wrong End of the Table: A Mostly Comic Memoir of a Muslim Arab American Woman Just Trying to Fit in




by




45

The Truths We Hold: An American Journey




by




46

The Lady from the Black Lagoon: Hollywood Monsters and the Lost Legacy of Milicent Patrick




by




47

Mr. President, How Long Must We Wait?: Alice Paul, Woodrow Wilson, and the Fight for the Right to Vote




by




48

Ten Steps to Nanette




by




49

Fearless Females: The Fight for Freedom, Equality, and Sisterhood




by




50

Renegade Women in Film and TV




by




51

Sounds Like Titanic




by




52

On Being Human: A Memoir of Waking Up, Living Real, and Listening Hard




by




53

Jackie, Janet & Lee: The Secret Lives of Janet Auchincloss and Her Daughters Jacqueline Kennedy Onassis and Lee Radziwill




by




53

Go Ahead in the Rain: Notes to A Tribe Called Quest (American Music Series)




by




53

Life Will Be the Death of Me: . . . and you too!




by




53

Out East: Memoir of a Montauk Summer




by




53

Soldier On




by




53

Sorted: Growing Up, Coming Out, and Finding My Place




by




53

High School




by




53

Sorry I'm Late, I Didn't Want to Come: An Introvert's Year of Living Dangerously




by




53

Going All City: Struggle and Survival in LA's Graffiti Subculture




by




53

Mercedes Sosa - More than a Song, A tribute to "La Negra", the voice of Latin America, (1935-2009)




by




53

Year 1 - Fur Babies in France: From Wage Slaves to Living the Dream (Adventure Caravanning with Dogs Book 1)




by




53

Things We Didn't Talk About When I Was a Girl: A Memoir




by




53

What Do We Need Men For?: A Modest Proposal




by




53

The Story Keeper




by




53

Depression Hates a Moving Target: How Running With My Dog Brought Me Back From the Brink




by




68

Ten Years a Nomad: A Traveler's Journey Home




by




68

A Serial Killer's Daughter: My Story of Faith, Love, and Overcoming




by




68

Resilience Road: Exploring Your Authentic Life Path




by




68

The Book of Delights: Essays




by




68

Depression Hates a Moving Target: How Running With My Dog Brought Me Back From the Brink




by




73

Fifty Things That Aren't My Fault: Essays from the Grown-up Years




by




73

The Other Side of the Coin: The Queen, the Dresser and the Wardrobe




by




75

The Lover (It's Just Us Here, #4)




by




75

Unveiled: How Western Liberals Empower Radical Islam




by




77

The Stud (It's Just Us Here, #5)




by




77

Out of the Gobi: My Story of China and America




by




77

The World According to Fannie Davis: My Mother's Life in the Detroit Numbers




by




77

Bookworm: A Memoir of Childhood Reading




by




81

My Life as Eva: The Struggle is Real




by




81

I.M.: A Memoir




by




81

Lady in Waiting: My Extraordinary Life in the Shadow of the Crown




by




84

Doing Justice: A Prosecutor's Thoughts on Crime, Punishment, and the Rule of Law




by




84

In the Dream House: A Memoir




by




86

Foucault in California [A True Story—Wherein the Great French Philosopher Drops Acid in the Valley of Death]




by




87

The Matriarch: Barbara Bush and the Making of an American Dynasty




by




88

Lake of the Ozarks: My Surreal Summers in a Vanishing America




by




89

Trials and Error




by




89

Naturally Tan




by




91

The Life and Loves of Edith Nesbit: Victorian Iconoclast, Children's Author, and Creator of The Railway Children




by




92

Captive: A Mother's Crusade to Save Her Daughter from the Terrifying Cult Nxivm




by




93

Dutch Girl: Audrey Hepburn and World War II




by




94

Fay Wray and Robert Riskin: A Hollywood Memoir




by




95

The Pianist from Syria: A Memoir




by




96

The Coitus Chronicles: My Quest for Sex, Love, and Orgasms




by




97

The Bold World: A Memoir of Family and Transformation




by




98

Becoming Boston Strong: One Woman's Race to Run and Conquer the World's Greatest Marathon




by




99

Backroads Boss Lady: Happiness Ain't a Side Hustle--Straight Talk on Creating the Life You Deserve




by




100

Rabi'a: The Many Faces of Islam's Most Famous Woman Saint, Rabi'a al-'Adawiyya (ca. 717–801 CE)




by



108 books · 89 voters · list created June 25th, 2018 by deleted user.
date
newest »
back to top
Related News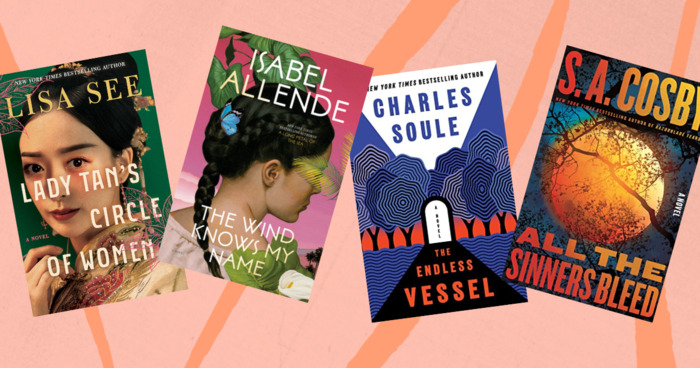 Need another excuse to treat yourself to a new book this week? We've got you covered with the buzziest new releases of the day, according to early...
Anyone can add books to this list.