Most Anticipated Romance Novels of 2019
RULES:
- Books MUST be published in 2019
- Books must be a ROMANCE novel (Any age group - YA, NA or Adult or Any subgenre - Contemporary Romance, Romantic Suspense, Historical Romance, Erotica, Dark Romance etc.)
- Any books NOT published in 2019 will be removed on this list.
- Kindly inform on the comments if there is any inaccuracies or changes of publication date. This way, we won't be confused.

Feel free to add books to help fellow romance readers find their most anticipated romances. Thank you! 😊
- Please double check the list before adding the book to avoid duplicates.
- ONLY ADD BOOKS PUBLISHED IN 2019
1

Beard Necessities (Winston Brothers, #7)




by




2

99 Percent Mine




by




3

The Bride Test (The Kiss Quotient, #2)




by




4

Beard with Me (Winston Brothers, #6)




by




5

The Kiss Thief




by




6

Pretty Reckless (All Saints High, #1)




by




7

Angry God (All Saints High, #3)




by




8

Meet Cute




by




9

The Risk (Briar U, #2)




by




10

The Unhoneymooners (Unhoneymooners, #1)




by




11

Laws of Physics (Hypothesis, #4-6)




by




12

Devil's Daughter (The Ravenels, #5)




by




13

We Shouldn't




by




14

Make Me Yours




by




15

Kissing Galileo (Dear Professor, #2)




by




16

The Savior (Black Dagger Brotherhood, #17)




by




17

The Hookup Handbook (Escorts, Inc., #2)




by




18

Free (Chaos, #6)




by




19

Hook Shot (Hoops #3)




by




20

House of Earth and Blood (Crescent City, #1)




by




21

Kill Switch (Devil's Night, #3)




by




22

Faking It




by




23

Again, But Better




by




24

The Slow Burn (Moonlight and Motor Oil, #2)




by




25

Storm Cursed (Mercy Thompson, #11)




by




26

Broken Knight (All Saints High, #2)




by




27

King of Scars (King of Scars, #1)




by




28

Nightfall (Devil's Night, #4)




by




29

Dirty Charmer (The Bodyguards, #1)




by




30

Tinsel (Lark Cove, #4)




by




31

The Last Letter




by




32

Overnight Sensation (Brooklyn, #2)




by




33

Boyfriend for Hire (Escorts, Inc., #1)




by




34

Falls Boys (Hellbent, #1)




by




35

War (The Four Horsemen, #2)




by




36

The Wallflower Wager (Girl Meets Duke, #3)




by




37

If I Only Knew (Second Time Around, #4)




by




38

Jules




by




39

Letters to Molly (Maysen Jar, #2)




by




40

Birthday Suit (The Guys Who Got Away, #1)




by




41

The Devil's Advocate (Devil's Playground, #2)




by




42

The Wicked King (The Folk of the Air, #2)




by




43

Deal with the Devil (Forge Trilogy, #1)




by




44

A Place Without You




by




45

Motion (Laws of Physics, #1; Hypothesis, #2.1)




by




46

Quiet Man (Dream Team, #0.5; Dream Man, #4.5)




by




47

Fix Her Up (Hot & Hammered, #1)




by




48

Tangled Like Us (Like Us, #4)




by




49

Cruel Prince (Royal Hearts Academy, #1)




by




50

Choosing Us (Pierced Hearts Duet, #1)




by




51

Gentleman Sinner




by




52

Finding Alexei




by




53

Repeat (Larsen Bros, #1)




by




54

Legend (Arizona Vengeance, #3)




by




55

War of Hearts (Storm MC Reloaded, #2)




by




56

The Girl He Used to Know




by




57

The Two Week Arrangement (Penthouse Affair, #1)




by




58

Rich Boys Don't Have Hearts (American Gods, #1)




by




59

Battle of the Bulge (OHellNo, #4)




by




60

Space (Laws of Physics, #2; Hypothesis, #2.2)




by




61

Getting Hot with the Scot (Sometimes in Love, #1)




by




62

Luck of the Devil (Forge Trilogy, #2)




by




63

A Curse So Dark and Lonely (Cursebreakers, #1)




by




64

Nightchaser (Endeavor, #1)




by




65

Boyfriend Bargain (Hawthorne University, #1)




by




66

Darkness Embraced (Hades Hangmen, #7)




by




67

The Secret to Dating Your Best Friend's Sister (The Bromance Club, #1)




by




68

Be the Girl




by




69

Hook (Men of Inked: Southside, #3)




by




70

Heart of the Devil (Forge Trilogy, #3)




by




71

Smitten by the Brit (Sometimes in Love, #2)




by




72

Time (Laws of Physics, #3; Hypothesis, #2.3)




by




73

Getting Played (Getting Some, #2)




by




74

Rebirth (RAW Family, #3)




by




75

Red, White & Royal Blue




by




76

Once Upon a Bad Boy (Sometimes in Love, #3)




by




77

I Owe You One




by




78

In the Unlikely Event




by




79

The One Real Regret (Bachelor #3)




by




80

Prisoner of Night (Black Dagger Brotherhood, #16.5)




by




81

The Princess (Filthy Trilogy #2)




by




82

Wild Country (The World of the Others, #2; The Others, #7)




by




83

Tumble (Dogwood Lane, #1)




by




84

Sinful Like Us (Like Us, #5)




by




85

Hollywood Playboy




by




86

The World of Throne of Glass




by




87

Drawn into Love (Fluke My Life, #4)




by




88

Sapphire Flames (Hidden Legacy, #4)




by




89

When August Ends




by




90

Bad Boy Blues (St. Mary's Rebels #0)




by




91

Million Dollar Devil (Million Dollar, #1)




by




92

The One You Fight For (The Ones Who Got Away, #3)




by




93

To the Stars and Back (First Comes Love, #4)




by




94

Ruthless King (Kings of Rittenhouse, #3)




by




95

Wolf Rain (Psy-Changeling Trinity, #3; Psy-Changeling, #18)




by




96

Fumbled (Playbook, #2)




by




97

Rockstar (Morgan Brothers, #5)




by




98

Risky Play (Red Card, #1)




by




99

Nothing But Trouble (Malibu University Series, #1)




by




100

Vortex Visions (Air Awakens: Vortex Chronicles, #1)




by



Like
Lists are re-scored approximately every 5 minutes.
Showing 1-31 of 31
(31 new)
date
newest »
back to top
Related News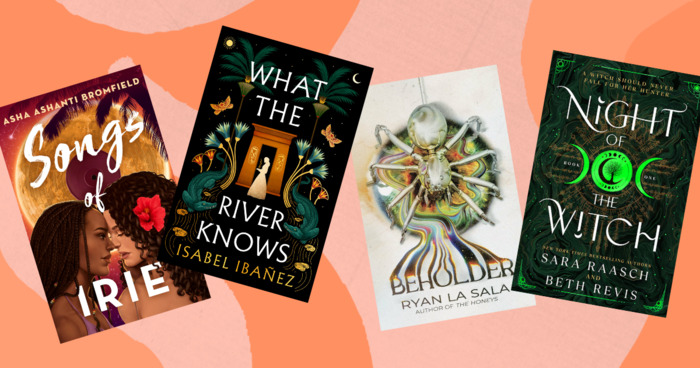 Hey, YA readers! Heads up! We've found the hottest and most popular new book titles of the month!   As dedicated Goodreaders already...
Anyone can add books to this list.