Christian Historical Fiction (Mainly Romance)
1

Redeeming Love




by




2

A Tailor-Made Bride




by




3

To Win Her Heart




by




4

Head in the Clouds




by




5

A Voice in the Wind (Mark of the Lion, #1)




by




6

Fairer Than Morning (Saddler's Legacy, #1)




by




7

A Bride in the Bargain




by




8

An Echo in the Darkness (Mark of the Lion, #2)




by




9

Maid to Match




by




10

A Bride Most Begrudging




by




11

Stealing the Preacher (Archer Brothers, #2)




by




12

As Sure as the Dawn (Mark of the Lion, #3)




by




13

Courting Morrow Little




by




14

The Girl in the Gatehouse




by




15

A Lasting Impression (Belmont Mansion, #1)




by




16

Fancy Pants (Only in Gooding, #1)




by




17

From a Distance (Timber Ridge Reflections, #1)




by




18

A Passion Most Pure (The Daughters of Boston, #1)




by




19

Love on the Line




by




20

The Silent Governess




by




21

She Walks in Beauty




by




22

The Healer's Apprentice (Hagenheim, #1)




by




23

The Maid of Fairbourne Hall




by




24

The Measure of a Lady




by




25

Candle in the Darkness (Refiner's Fire, #1)




by




26

Devyn's Dilemma (Thousand Islands Gilded #2)




by




27

The Inheritance




by




28

Rekindled (Fountain Creek Chronicles, #1)




by




29

The Colonel's Lady




by




30

Remembered (Fountain Creek Chronicles, #3)




by




31

Short-Straw Bride (Archer Brothers, #1)




by




32

With You Always (Orphan Train, #1)




by




33

Searching for You (Orphan Train, #3)




by




34

The Frontiersman's Daughter




by




35

Whirlwind (Only in Gooding, #3)




by




36

Letter Perfect (California Historical, #1)




by




37

Mail Order Man (Ladies of Larkspur, #1)




by




38

Until the Mountains Fall (Cities of Refuge, #3)




by




39

A Hope Undaunted (Winds of Change, #1)




by




40

That Certain Spark (Only in Gooding, #4)




by




41

A Heart Revealed (Winds of Change, #2)




by




42

Beyond This Moment (Timber Ridge Reflections, #2)




by




43

Between the Wild Branches (The Covenant House, #2)




by




44

Into the Whirlwind




by




45

Fire by Night (Refiner's Fire, #2)




by




46

Deep in the Heart of Trouble




by




47

Together Forever (Orphan Train, #2)




by




48

Unending Devotion (Michigan Brides, #1)




by




49

Forevermore (Only in Gooding, #2)




by




50

To Win Her Favor (Belle Meade Plantation, #2)




by




51

Be Still My Soul (The Cadence of Grace, #1)




by




52

Serendipity (Only in Gooding, #5)




by




53

Revealed (Fountain Creek Chronicles, #2)




by




54

The Rose of Winslow Street




by




55

High Desert Haven (The Shepherd's Heart, #2)




by




56

Within My Heart (Timber Ridge Reflections, #3)




by




57

Luther and Katharina: A Novel of Love and Rebellion




by




58

A Constant Heart




by




59

The Rose Legacy (Diamond of the Rockies, #1)




by




60

The Preacher's Bride




by




61

Love Unexpected (Beacons of Hope, #1)




by




62

Thorn in My Heart (Lowlands of Scotland, #1)




by




63

The Heiress of Winterwood (Whispers on the Moors, #1)




by




64

A Passion Redeemed (The Daughters of Boston, #2)




by




65

A Passion Denied (The Daughters of Boston, #3)




by




66

Love's Awakening (The Ballantyne Legacy, #2)




by




67

The Lady and the Lionheart




by




68

Like Flames in the Night (Cities of Refuge, #4)




by




69

Forever Safe (Beacons of Hope, #4)




by




70

More Than Meets the Eye (Patchwork Family, #1)




by




71

Sweet Boundless (The Diamond of the Rockies #2)




by




72

The Tender Vine (The Diamond of the Rockies #3)




by




73

A Hopeful Heart (Heart of the Prairie #5)




by




74

Edenbrooke (Edenbrooke, #1)




by




75

Mine Is the Night (Here Burns My Candle, #2)




by




76

Bittersweet (California Historical Series, #2)




by




77

A Life Once Dreamed




by




78

Out of Control (Kincaid Brides, #1)




by




79

Pretending to Wed (Frontier Vows, #2)




by




80

The Kiss of a Stranger (The Jonquil Brothers, #0)




by




81

Grace in Thine Eyes (Lowlands of Scotland, #4)




by




82

A Change of Fortune (Ladies of Distinction, #1)




by




83

Full Steam Ahead (Full Steam Ahead, #1)




by




84

In Too Deep (Kincaid Brides, #2)




by




85

Consolations




by




85

The Union of the North and the South




by




87

Here Burns My Candle (Here Burns My Candle, #1)




by




87

The Hope of Azure Springs




by




89

A Heart Most Certain (Teaville Moral Society, #1)




by




90

The Quaker and the Rebel (Civil War Heroines, #1)




by




90

A Lady in Disguise (Daughters of Hampshire, #3)




by




92

Over the Edge (Kincaid Brides, #3)




by




92

To Dwell Among Cedars (The Covenant House, #1)




by




94

Until That Distant Day




by




95

To Tame a Cowboy (Colorado Cowboys, #3)




by




96

Courting Miss Amsel (Heart of the Prairie #6)




by




97

Across the Blue




by




98

My Heart Remembers




by




98

The Lady of Bolton Hill




by




100

Out of the Storm (Beacons of Hope, #0.5)




by



386 books · 232 voters · list created July 25th, 2011 by deleted user.
No comments have been added yet.
Related News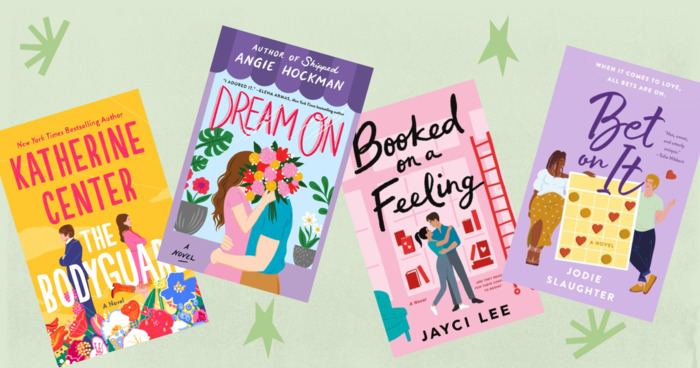 Some people love books. Some people fall in love. And some people love books about falling in love. Every month our team sorts through...
Anyone can add books to this list.