Books for Vegans, Vegetarians, and those interested in Animal Rights
1

Eating Animals




by




2

The China Study: The Most Comprehensive Study of Nutrition Ever Conducted and the Startling Implications for Diet, Weight Loss, and Long-term Health




by




3

Animal Liberation




by




4

Becoming Vegan: The Complete Guide to Adopting a Healthy Plant-Based Diet




by




5

Veganomicon: The Ultimate Vegan Cookbook




by




6

Why We Love Dogs, Eat Pigs, and Wear Cows: An Introduction to Carnism: The Belief System That Enables Us to Eat Some Animals and Not Others




by




7

Vegan Freak: Being Vegan in a Non-Vegan World




by




8

Fast Food Nation: The Dark Side of the All-American Meal




by




9

Vegan with a Vengeance: Over 150 Delicious, Cheap, Animal-Free Recipes That Rock




by




10

The Kind Diet: A Simple Guide to Feeling Great, Losing Weight, and Saving the Planet




by




11

How It All Vegan!: Irresistible Recipes for an Animal-Free Diet




by




12

The Food Revolution: How Your Diet Can Help Save Your Life and Our World




by




12

Diet for a New America: How Your Food Choices Affect Your Health, Happiness and the Future of Life on Earth




by




14

How Not to Die: Discover the Foods Scientifically Proven to Prevent and Reverse Disease




by




15

Vegan for Life: Everything You Need to Know to Be Healthy and Fit on a Plant-Based Diet




by




16

Death at Seaworld: Shamu and the Dark Side of Killer Whales in Captivity




by




17

The Sexual Politics of Meat: A Feminist-Vegetarian Critical Theory




by




18

Farm Sanctuary: Changing Hearts and Minds about Animals and Food




by




19

Whole: Rethinking the Science of Nutrition




by




20

Slaughterhouse: The Shocking Story of Greed, Neglect, And Inhumane Treatment Inside the U.S. Meat Industry




by




21

Mad Cowboy: Plain Truth from the Cattle Rancher Who Won't Eat Meat




by




22

Vegan: The New Ethics of Eating




by




23

Main Street Vegan: Everything You Need to Know to Eat Healthfully and Live Compassionately in the Real World




by




24

Diary of a Dieting Madhouse




by




25

Being Vegan




by




26

The Vegan Sourcebook




by




27

Bear Boy: The True Story of a Boy, Two Bears, and the Fight to Be Free




by




28

Thrive: The Vegan Nutrition Guide to Optimal Performance in Sports and Life




by




29

The Way We Eat: Why Our Food Choices Matter




by




30

Sistah Vegan: Food, Identity, Health, and Society: Black Female Vegans Speak




by




31

Dominion: The Power of Man, the Suffering of Animals, and the Call to Mercy




by




32

Crazy Sexy Diet: Eat Your Veggies, Ignite Your Spark, and Live Like You Mean It!




by




33

Veganist: Lose Weight, Get Healthy, Change the World




by




34

The Pig Who Sang to the Moon: The Emotional World of Farm Animals




by




35

Eat to Live: The Revolutionary Formula for Fast and Sustained Weight Loss




by




36

Beneath the Surface: Killer Whales, SeaWorld, and the Truth Beyond Blackfish




by




37

Harvest for Hope: A Guide to Mindful Eating




by




38

The World Peace Diet: Eating for Spiritual Health and Social Harmony




by




39

Stuffed And Starved: Markets, Power And The Hidden Battle For The World Food System




by




40

The Animal Activist's Handbook: Maximizing Our Positive Impact in Today's World




by




41

Making A Killing: The Political Economy of Animal Rights




by




42

Meat Market: Animals, Ethics, & Money




by




43

The 30-Day Vegan Challenge: The Ultimate Guide to Eating Healthfully and Living Compassionately




by




44

Animal, Vegetable, Miracle: A Year of Food Life




by




45

The End of Animal Farming: How Scientists, Entrepreneurs, and Activists Are Building an Animal-Free Food System




by




46

Thanking the Monkey: Rethinking the Way We Treat Animals




by




47

The Inner World of Farm Animals: Their Amazing Intellectual, Emotional and Social Capacities




by




48

Introduction to Animal Rights: Your Child or the Dog?




by




49

Vegan's Daily Companion: 365 Days of Inspiration for Cooking, Eating, and Living Compassionately




by




50

The Joy of Vegan Baking: The Compassionate Cooks' Traditional Treats and Sinful Sweets




by




51

Rain Without Thunder: The Ideology of the Animal Rights Movement




by




52

Fear of the Animal Planet: The Hidden History of Animal Resistance




by




53

Animal Ingredients A to Z




by




53

When Elephants Weep: The Emotional Lives of Animals




by




55

The Engine 2 Diet: The Texas Firefighter's 28-Day Save-Your-Life Plan that Lowers Cholesterol and Burns Away the Pounds




by




56

Second Nature: The Inner Lives of Animals




by




57

The Emotional Lives of Animals: A Leading Scientist Explores Animal Joy, Sorrow, and Empathy - and Why They Matter




by




58

The Complete Guide to Vegan Food Substitutions: Veganize It! Foolproof Methods for Transforming Any Dish into a Delicious New Vegan Favorite




by




59

Eternal Treblinka: Our Treatment of Animals and the Holocaust




by




60

Isa Does It: Amazingly Easy, Wildly Delicious Vegan Recipes for Every Day of the Week




by




61

The Complete Idiot's Guide to Vegan Cooking (Complete Idiot's Guides




by




62

Animal Factory: The Looming Threat of Industrial Pig, Dairy, and Poultry Farms to Humans and the Environment




by




63

The Plague Dogs




by




64

21-Day Weight Loss Kickstart: Boost Metabolism, Lower Cholesterol, and Dramatically Improve Your Health




by




65

The Peta Practical Guide to Animal Rights: Simple Acts of Kindness to Help Animals in Trouble




by




66

Extremely Loud & Incredibly Close




by




67

That's Why We Don't Eat Animals: A Book About Vegans, Vegetarians, and All Living Things




by




68

The Complete Idiot's Guide to Vegan Living




by




69

Finding Ultra: Rejecting Middle Age, Becoming One of the World's Fittest Men, and Discovering Myself




by




70

Generation V: The Complete Guide to Going, Being, and Staying Vegan as a Teenager




by




71

Animal Wise: The Thoughts and Emotions of Our Fellow Creatures




by




72

The Pornography of Meat




by




73

Thug Kitchen: The Official Cookbook: Eat Like You Give a F*ck




by




74

Triumph of the Lentil: Soy-Free Vegan Wholefoods for all Appetites




by




74

Food Yoga: Nourishing the Body, Mind & Soul




by




76

Yum: A Horror Story




by




77

Everything Is Illuminated




by




77

Veganomics: The Surprising Science on What Motivates Vegetarians, from the Breakfast Table to the Bedroom




by




77

The Green and the Red




by




80

101 Reasons Why I'm a Vegetarian




by




80

The Single Vegan: Simple, Convenient and Appetizing Meals for One




by




82

Meathooked: The History and Science of Our 2.5-Million-Year Obsession with Meat




by




83

Vegan Brunch: Homestyle Recipes Worth Waking Up For—From Asparagus Omelets to Pumpkin Pancakes




by




84

Mindful Eating with delicious raw vegan recipes (AoL Mindfulness, #3)




by




85

Explorer's Guide to Wildlife Adventures




by




86

Skinny Bitch: Ultimate Everyday Cookbook: Crazy Delicious Recipes that Are Good to the Earth and Great for Your Bod




by




86

The 80/10/10 Diet: Balancing Your Health, Your Weight, and Your Life, One Luscious Bite at a Time




by




88

Esther the Wonder Pig




by




89

The Vegan Revolution... with Zombies




by




89

Empty Cages: Facing the Challenge of Animal Rights




by




91

La Dolce Vegan!: Vegan Livin' Made Easy




by




92

Animals and Women: Feminist Theoretical Explorations




by




93

Food Inc.: A Participant Guide: How Industrial Food is Making Us Sicker, Fatter, and Poorer-And What You Can Do About It




by




94

No More Bull!: The Mad Cowboy Targets America's Worst Enemy: Our Diet




by




94

Animals Make Us Human: Creating the Best Life for Animals




by




96

Obligate Carnivore: Cats, Dogs, and What it Really Means to be Vegan




by




97

Vegan Cookies Invade Your Cookie Jar: 100 Dairy-Free Recipes for Everyone's Favorite Treats




by




98

Chew on This: Everything You Don't Want to Know About Fast Food




by




98

Some We Love, Some We Hate, Some We Eat: Why It's So Hard to Think Straight About Animals




by




100

Appetite for Reduction: 125 Fast and Filling Low-Fat Vegan Recipes




by



429 books · 515 voters · list created December 4th, 2008 by deleted user.
date
newest »
back to top
Related News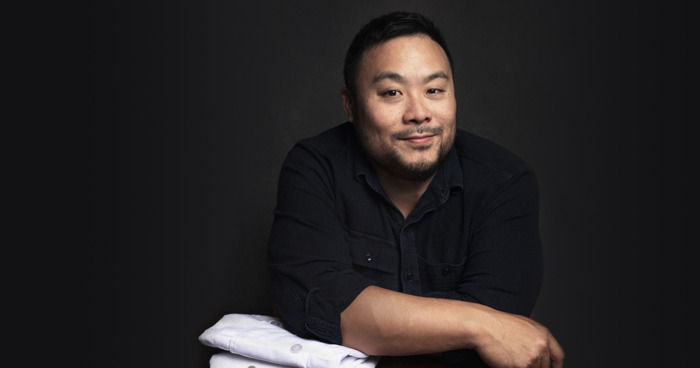 If you follow the world of food, chances are you've heard of David Chang. The founder of the Momofuku restaurant group, Chang is a chef, TV...
Anyone can add books to this list.