Best Graphic Novels and Comic Books
1

Watchmen




by




2

Maus I: A Survivor's Tale: My Father Bleeds History (Maus, #1)




by




3

V for Vendetta




by




4

Calvin and Hobbes (Calvin and Hobbes #1)




by




5

Batman: The Dark Knight Returns




by




6

Maus II: A Survivor's Tale: And Here My Troubles Began (Maus, #2)




by




7

Batman: The Killing Joke




by




8

The Absolute Sandman, Volume One




by




9

The Complete Maus




by




10

Saga, Vol. 1




by




11

Y: The Last Man - The Deluxe Edition Book One




by




12

Batman: The Long Halloween




by




13

The Complete Persepolis (Persepolis, #1-4)




by




14

Preacher, Volume 1: Gone to Texas




by




15

Preludes & Nocturnes (The Sandman, #1)




by




16

Akira, Vol. 1




by




17

Batman: Year One




by




18

The Walking Dead, Book One




by




19

Scott Pilgrim, Volume 1: Scott Pilgrim's Precious Little Life




by




20

The Hard Goodbye (Sin City, #1)




by




21

Bone, Vol, 1: Out from Boneville (Bone, #1)




by




22

Locke & Key, Volume 1: Welcome to Lovecraft




by




23

The League of Extraordinary Gentlemen, Vol. 1




by




24

The Doll's House (The Sandman, #2)




by




25

Fables, Vol. 1: Legends in Exile




by




26

Scientific Progress Goes "Boink" (Calvin and Hobbes #6)




by




27

From Hell




by




28

The Authoritative Calvin and Hobbes: A Calvin and Hobbes Treasury




by




29

Attack of the Deranged Mutant Killer Monster Snow Goons (Calvin and Hobbes #7)




by




30

Haven: A Graphic Novel




by




31

Blankets




by




32

The Arrival




by




33

The Revenge of the Baby-Sat (Calvin and Hobbes #5)




by




34

Marvels




by




35

Brief Lives (The Sandman, #7)




by




36

The Far Side Gallery




by




37

Something Under the Bed is Drooling (Calvin and Hobbes #2)




by




38

Season of Mists (The Sandman, #4)




by




39

Weirdos from Another Planet! (Calvin and Hobbes #4)




by




40

Fun Home: A Family Tragicomic




by




41

Kick-Ass




by




42

Locke & Key, Vol. 4: Keys to the Kingdom




by




43

Absolute Batman: Hush




by




44

The Calvin and Hobbes Tenth Anniversary Book




by




45

Habibi




by




46

Saga, Vol. 2




by




47

The Kindly Ones (The Sandman, #9)




by




48

Y: The Last Man - The Deluxe Edition Book Two




by




49

The Crow




by




50

Dream Country (The Sandman, #3)




by




51

Chew, Vol. 1: Taster's Choice




by




52

Batman: Arkham Asylum - A Serious House on Serious Earth




by




53

Preacher, Volume 3: Proud Americans




by




54

Bone, Vol. 2: The Great Cow Race (Bone, #2)




by




55

Pride of Baghdad




by




56

The Days Are Just Packed




by




57

Akira, Vol. 2




by




58

The Umbrella Academy, Vol. 1: The Apocalypse Suite




by




59

The Stonekeeper (Amulet, #1)




by




60

Superman: Red Son




by




61

Sin City, Vol. 2: A Dame to Kill For (Sin City, #2)




by




62

Y: The Last Man - The Deluxe Edition Book Five




by




63

Marvel 1602




by




64

Sin City, Vol. 4: That Yellow Bastard (Sin City, #4)




by




65

Kingdom Come




by




66

Preacher, Volume 2: Until the End of the World




by




67

Sweet Tooth, Volume 1: Out of the Deep Woods




by




68

X-Men: The Dark Phoenix Saga




by




69

The Sandman: Endless Nights




by




69

Transmetropolitan, Vol. 1: Back on the Street




by




71

Akira, Vol. 3




by




72

Y: The Last Man Vol. 3: One Small Step




by




73

Cartoon History of the Universe I, Vol. 1-7: From the Big Bang to Alexander the Great




by




74

American Born Chinese




by




75

The Absolute Death




by




76

Y: The Last Man - The Deluxe Edition Book Four




by




77

X-Men: God Loves, Man Kills




by




78

Y: The Last Man - The Deluxe Edition Book Three




by




79

It's a Magical World (Calvin and Hobbes #11)




by




80

The Walking Dead, Book Two




by




81

Preacher, Volume 5: Dixie Fried




by




82

Preacher, Volume 6: War in the Sun




by




83

The Ultimates




by




84

Absolute All-Star Superman




by




85

The Unwritten, Vol. 1: Tommy Taylor and the Bogus Identity




by




85

Preacher, Volume 9: Alamo




by




87

Runaways Deluxe, Vol. 1




by




88

Homicidal Psycho Jungle Cat (Calvin and Hobbes #9)




by




89

Fables: The Deluxe Edition, Book One (Fables: The Deluxe Edition, #1)




by




90

The Absolute Sandman, Volume Three




by




91

Yukon Ho! (Calvin and Hobbes #3)




by




92

Fables, Vol. 4: March of the Wooden Soldiers




by




93

The Umbrella Academy, Vol. 2: Dallas




by




94

Johnny the Homicidal Maniac: Director's Cut




by




95

Bone, Vol. 4: The Dragonslayer (Bone, #4)




by




95

Chew, Vol. 2: International Flavor




by




97

Preacher, Volume 8: All Hell's a-Coming




by




98

Preacher, Volume 7: Salvation




by




99

A Game of You (The Sandman, #5)




by




100

Bone, Vol. 3: Eyes of the Storm (Bone, #3)




by



791 books · 519 voters · list created November 22nd, 2008 by deleted user.
date
newest »
back to top
Related News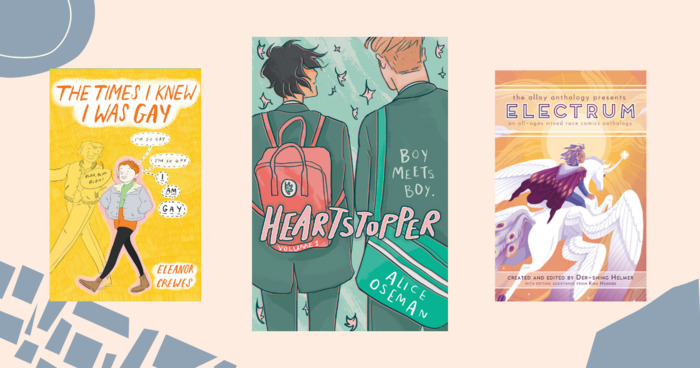 Author and illustrator Alice Oseman is known to her long-time fans for her young adult novels about—as she calls them—"teenage disasters,"...
Anyone can add books to this list.