Best Graphic Novels/manga
1

Library Wars: Love & War, Vol. 1 (Library Wars: Love & War, #1)




by




2

Captive Hearts, Vol. 01 (Captive Hearts, #1)




by




2

Wild Ones, Vol. 1 (Wild Ones, #1)




by




4

Sue & Tai-chan, Vol. 1




by




5

Rapunzel's Revenge (Rapunzel's Revenge, #1)




by




6

La Corda d'Oro, Volume 1




by




7

Beauty Pop, Vol. 1




by




7

Everyone's Getting Married, Vol. 1




by




9

Calamity Jack (Rapunzel's Revenge, #2)




by




9

媚薬カフェ 1 [Biyaku Café 1]




by




11

Crimson Hero, Vol. 1 (Crimson Hero, # 1)




by




11

Stolen Hearts Vol. 1




by




13

Strobe Edge, Vol. 1 (Strobe Edge, #1)




by




13

Time Guardian, The: Volume 1




by




15

Maximum Ride, Vol. 1 (Maximum Ride: The Manga, #1)




by




15

The Secret Notes of Lady Kanoko, Volume 1




by




17

The Sleepy Residents of Birdcage Manor, Vol. 01 (The Sleepy Residents of Birdcage Manor, #1)




by




18

Kitchen Palette Vol. 1




by




19

Sisters (Smile, #2)




by




19

Diamond Life (1-3)




by




21

いただきます 1 (Itadakimasu #1)




by




22

Butterflies, Flowers, Vol. 1 (Butterflies, Flowers, #1)




by




23

Her Majesty's Dog, Volume 1




by




24

Helter Skelter




by




25

SCM - Meine 23 Sklaven, Band 1




by




26

Honey So Sweet, Vol. 1 (Honey So Sweet, #1)




by




27

Idol Dreams, Vol. 1 (31☆Ai Dream, #1)




by




28

海月姫 1 [Kuragehime 1] (Princess Jellyfish #1)




by




29

Himeyuka & Rozione's Story




by




30

+Anima 1 (+Anima, #1)




by




31

Hibiki's Magic Volume 1




by




32

Beauty is the Beast, Vol. 1




by




33

Ludwig Revolution, Vol. 1




by




34

March Story, Vol. 1 (March Story #1)




by




35

Say I Love You, Vol. 1




by




36

Voice Over!: Seiyu Academy, Vol. 1 (Voice Over!, #1)




by




37

Demon Diary, Volume 01




by




38

Genkaku Picasso, Vol. 1




by




39

Flower in a Storm, Vol. 1 (Flower in a Storm, #1)




by




40

Absolute Boyfriend, Vol. 1




by




41

Angel Diary, Vol. 01




by




42

Hana-Kimi (3-in-1 Edition), Vol. 1




by




43

I Am Here! Omnibus Vol. 01




by




44

Yume Kira Dream Shoppe




by




45

Aishiteruze Baby, Volume 1




by




46

Mugen Spiral, Vol. 01




by




47

Imadoki!: Nowadays, Vol. 1 (Imadoki! Nowadays, #1)




by




48

Dramacon, Vol. 1




by




49

Rasetsu, Vol. 1




by




50

Immortal Rain, Vol. 1




by




51

Songs to Make You Smile




by




52

Tsubasa: Those with Wings, Omnibus 1




by




53

The Stellar Six of Gingacho (Kirameki Gingacho Shotengai) Volume 1




by




54

Dengeki Daisy, Vol. 01 (Dengeki Daisy, #1)




by




55

天使1/2方程式 [Tenshi 1/2 Houteishiki], Vol. 1




by




56

The Gentlemen's Alliance †, Vol. 1




by




57

I Hate You More Than Anyone Vol. 1 (I Hate You More Than Anyone, #1)




by




58

Tears of a Lamb Volume 1




by




59

Pita Ten, Vol. 01




by




60

Millennium Snow, Vol. 1 (Millennium Snow #1)




by




61

Tegami Bachi: Letter Bee, Volume 1




by




62

Alice in the Country of Hearts, Vol. 01 (Alice in the Country of Hearts, #1)




by




63

The Story of Saiunkoku, Vol. 1




by




64

Otomen, Vol. 1 (Otomen, #1)




by




65

Wanted




by




66

V.B. Rose, Volume 1 (V.B. Rose, #1)




by




67

Chibi Vampire, Vol. 01




by




68

Shugo Chara!, Vol. 1: Who Do You Want to Be? (Shugo Chara!, #1)




by




69

MeruPuri, Vol. 1 (MeruPuri, #1)




by




70

Magical X Miracle, Vol. 1




by




71

Mamotte! Lollipop, Vol. 01




by




72

Kamichama Karin, Vol. 01




by




73

Kitchen Princess, Vol. 01 (Kitchen Princess, #1)




by




74

Beast Master, Vol. 1 (Beast Master, #1)




by




75

Full Moon o Sagashite, Vol. 1




by




76

Kimi ni Todoke: From Me to You, Vol. 1




by




77

Kamisama Kiss, Vol. 1 (Kamisama Kiss, #1)




by




78

Happy Cafe, Vol. 1 (Happy Cafe, #1)




by




79

Skip Beat!, Vol. 01




by




80

Black Butler, Vol. 1 (Black Butler, #1)




by




81

Fruits Basket, Vol. 1




by




82

D.Gray-man, Vol. 1 (D.Gray-man, #1)




by



Like
Lists are re-scored approximately every 5 minutes.
People Who Voted On This List (3)
Sarah
176 books
0 friends
Angel
2168 books
5 friends
No comments have been added yet.
Related News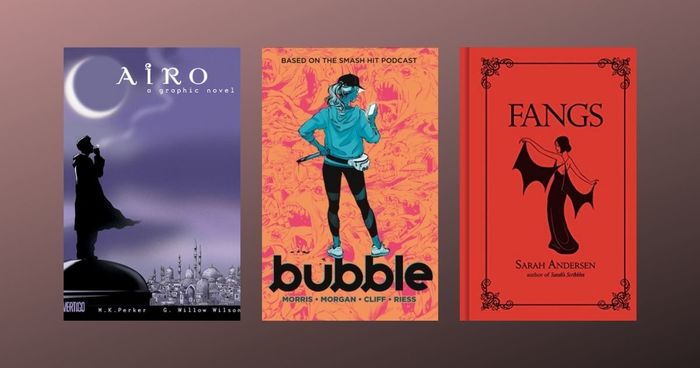 Jordan Morris is a comedy writer and podcaster whose credits include @Midnight, Unikitty! and Earth to Ned.  The sci-fi comedy Bubble is his...
Anyone can add books to this list.