Books I Recommend For Female Friends
Some great reads
1

The Midnight Plan of the Repo Man (Ruddy McCann #1)




by




2

Winter is Not Forever (Seasons of the Heart, #3)




by




2

David and the Philistine Woman




by




2

Sweet Vengeance (Duke of Rutland, #1)




by




2

The Strange Courtship of Abigail Bird




by




6

Spring's Gentle Promise (Seasons of the Heart, #4)




by




6

The Winds of Fate




by




8

Once Upon a Summer (Seasons of the Heart #1)




by




8

Surrender the Wind




by




10

The Winds of Autumn (Seasons Of The Heart, #2)




by




11

Divorced, Desperate and Dead (Divorced and Desperate #4)




by




12

Divorced, Desperate and Dangerous (Divorced and Desperate, #3.5)




by




13

Divorced, Desperate and Delicious (Divorced and Desperate, #1)




by




14

Divorced, Desperate And Dating (Divorced and Desperate, #2)




by




15

Divorced, Desperate and Deceived (Divorced and Desperate #3)




by




16

Torn Hearts (Hearts, #1.5)




by




17

Kaleidoscope Hearts (Hearts, #1)




by




18

The Wanderer (Thunder Point, #1)




by




19

The Newcomer (Thunder Point, #2)




by




20

The Hero (Thunder Point, #3)




by




21

The Chance (Thunder Point, #4)




by




22

The Promise (Thunder Point, #5)




by




23

The Homecoming (Thunder Point, #6)




by




24

One Wish (Thunder Point, #7)




by




25

A New Hope (Thunder Point, #8)




by




26

Wildest Dreams (Thunder Point, #9)




by




27

Four Friends




by




28

Walk By Faith




by




29

Follow Your Heart




by




30

Where Heaven Begins




by




31

Fireproof




by




32

Wild Rose




by




33

Lilac Spring: An Anthology




by




34

The Secret Keeper (The Secret Keeper, #1)




by




35

The Secret Keeper Confined (The Secret Keeper, #2)




by




36

The Secret Keeper Up All Night (The Secret Keeper, #3)




by




37

The Secret Keeper Holds On (The Secret Keeper, #4)




by




38

The Secret Keeper Lets Go (The Secret Keeper, #5)




by




39

The Secret Keeper Fulfilled (The Secret Keeper, #6)




by




40

Sunset at Keyhole Canyon (Mustang Ridge, #0.5)




by




41

Summer at Mustang Ridge (Mustang Ridge, #1)




by




42

Winter at Mustang Ridge (Mustang Ridge, #2)




by




43

Harvest at Mustang Ridge (Mustang Ridge, #3)




by




44

Firelight at Mustang Ridge (Mustang Ridge, #4)




by




45

Coming Home to Mustang Ridge (Mustang Ridge, #5)




by




46

Starting Over at Mustang Ridge




by




47

Change Your Life Daily Bible/change Your Life Daily Journal: New Living Translation




by




48

The Story: Read the Bible as One Seamless Story from Beginning to End




by




49

The Burning Heart Contract: A 21-Day Challenge to Ignite Your Passion and Fulfill Your Purpose




by




50

A Rocky Mountain Christmas (Christmas, #2)




by




51

A Lone Star Christmas (Christmas, #1)




by




52

The Bookshop on the Corner (Scottish Bookshop, #1)




by




53

Cinder & Ella (Cinder & Ella, #1)




by




54

Mrs. Mike (Mrs. Mike, #1)




by




55

The Rosie Project (Don Tillman, #1)




by




56

The Rosie Effect (Don Tillman, #2)




by




57

Mulberry Park




by




58

The House on Sugar Plum Lane




by




59

Entertaining Angels




by




60

Christmas On Nutcracker Court




by




61

On Mystic Lake




by




62

The Midnight Dog of the Repo Man




by




63

Repo Madness (Ruddy McCann #2)




by




64

Something Blue




by




65

Something Borrowed (Darcy & Rachel, #1)




by




66

The Witness




by




67

The Christmas Wedding




by




68

Sam's Letters to Jennifer




by




69

Lonestar Sanctuary (Lonestar, #1)




by




70

Lonestar Secrets (Lonestar, #2)




by




71

Lonestar Homecoming (Lonestar, #3)




by




72

Lonestar Angel (Lonestar, #4)




by



Like
Lists are re-scored approximately every 5 minutes.
People Who Voted On This List (5)
No comments have been added yet.
Related News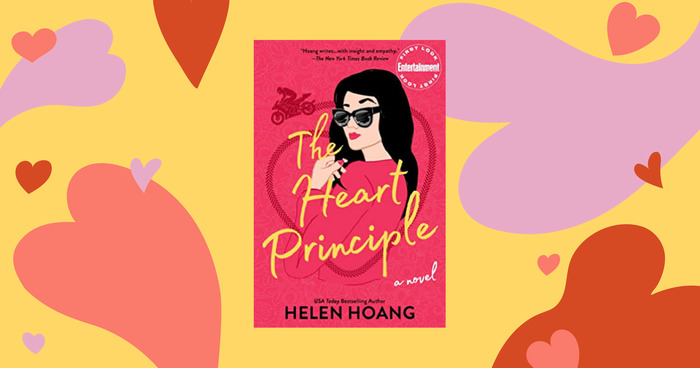 Helen Hoang, the bestselling author of The Kiss Quotient series, explores burnout, love, and what happens to a budding romance when family...
Anyone can add books to this list.