Favorite Mercedes Lackey
1

Magic's Pawn (The Last Herald-Mage #1)




by




2

Arrows of the Queen (Heralds of Valdemar, #1)




by




3

Magic's Price (The Last Herald-Mage #3)




by




4

Magic's Promise (The Last Herald-Mage #2)




by




5

Take a Thief (Valdemar #25)




by




6

Arrow's Fall (Heralds of Valdemar, #3)




by




7

Winds of Fate (Mage Winds #1)




by




8

Brightly Burning (Valdemar, #8)




by




9

Arrow's Flight (Heralds of Valdemar, #2)




by




10

The Fairy Godmother (Five Hundred Kingdoms, #1)




by




11

By the Sword (Valdemar, #9)




by




12

The Fire Rose (Elemental Masters, #0)




by




13

Storm Warning (Mage Storms #1)




by




14

The Oathbound (Vows and Honor, #1)




by




15

Exile's Honor (Alberich's Tale, #1)




by




16

The Serpent's Shadow (Elemental Masters, #1)




by




17

Foundation (Valdemar: Collegium Chronicles, #1)




by




18

Winds of Fury (Mage Winds #3)




by




19

The Black Gryphon (Mage Wars #1)




by




20

Oathbreakers (Vows and Honor, #2)




by




21

Winds of Change (Mage Winds, #2)




by




22

Exile's Valor (Alberich's Tale, #2)




by




23

Storm Rising (Mage Storms, #2)




by




23

Oathblood (Vows and Honor, #3)




by




25

One Good Knight (Five Hundred Kingdoms, #2)




by




26

Owlsight (Owl Mage Trilogy, #2)




by




27

Owlflight (Owl Mage Trilogy, #1)




by




28

Reserved for the Cat (Elemental Masters, #5)




by




29

Beauty and the Werewolf (Five Hundred Kingdoms, #6)




by




30

The White Gryphon (Mage Wars, #2)




by




31

Owlknight (Owl Mage Trilogy, #3)




by




32

The Last Herald-Mage (Valdemar: The Last Herald-Mage, #1-3)




by




33

The Lark and the Wren (Bardic Voices, #1)




by




34

Storm Breaking (Mage Storms, #3)




by




35

The Sleeping Beauty (Five Hundred Kingdoms, #5)




by




35

Fortune's Fool (Five Hundred Kingdoms, #3)




by




37

Changes (Valdemar: Collegium Chronicles, #3)




by




38

Intrigues (Valdemar: Collegium Chronicles, #2)




by




39

Phoenix and Ashes (Elemental Masters, #3)




by




40

Firebird (Fairy Tales #1)




by




41

The Silver Gryphon (Mage Wars, #3)




by




42

To Light a Candle (Obsidian Mountain, #2)




by




43

The Snow Queen (Five Hundred Kingdoms, #4)




by




44

Jinx High (Diana Tregarde, #3)




by




45

The Outstretched Shadow (Obsidian Mountain, #1)




by




46

Children of the Night (Diana Tregarde, #2)




by




47

Burning Water (Diana Tregarde, #1)




by




48

When Darkness Falls (Obsidian Mountain, #3)




by




49

The Gates of Sleep (Elemental Masters, #2)




by




50

Fiddler Fair




by




51

The Phoenix Unchained (Enduring Flame, #1)




by




52

Sun in Glory and Other Tales of Valdemar (Tales of Valdemar #2)




by




53

The Robin & The Kestrel (Bardic Voices, #2)




by




53

The Phoenix Endangered (Enduring Flame, #2)




by




55

Vows and Honor (Valdemar: Vows and Honor #1-2)




by




56

Four & Twenty Blackbirds (Bardic Voices, #4)




by




57

Tiger Burning Bright




by




58

The Chrome Borne (SERRAted Edge, #1&4)




by




59

Unnatural Issue (Elemental Masters, #6)




by




60

Aerie (Dragon Jousters, #4)




by




61

Changing the World (Tales of Valdemar, #5)




by




62

Joust (Dragon Jousters, #1)




by




63

Moving Targets and Other Tales of Valdemar (Tales of Valdemar #4)




by




64

Crossroads and Other Tales of Valdemar (Tales of Valdemar #3)




by




65

Sword of Ice and Other Tales of Valdemar (Tales of Valdemar #1)




by




66

The Valdemar Companion




by




67

Queen's Own (Valdemar: Arrows of the Queen #1-3)




by




68

Elemental Magic: All-New Tales of the Elemental Masters (Elemental Masters, #7.5)




by




69

The Wizard of London (Elemental Masters, #4)




by




70

The Black Swan (Fairy Tales, #2)




by




70

Sacred Ground (Jennifer Talldeer, #1)




by




72

The River's Gift




by




73

Sanctuary (Dragon Jousters, #3)




by




74

Beyond World's End (Bedlam's Bard, #4)




by




75

Alta (Dragon Jousters, #2)




by




76

Knight of Ghosts and Shadows (Bedlam's Bard, #1)




by




77

Born to Run (SERRAted Edge, #1)




by




78

Bastion (Valdemar: Collegium Chronicles, #5)




by




79

Werehunter




by




80

Closer to Home (The Herald Spy, #1)




by




81

Mad Maudlin (Bedlam's Bard, #6)




by




82

Closer to the Heart (The Herald Spy, #2)




by




83

Under the Vale and Other Tales of Valdemar (Tales of Valdemar, #7)




by




84

Home from the Sea (Elemental Masters, #7)




by




85

A Cast of Corbies (Bardic Choices, #1; Bardic Voices, #2.5)




by




85

Redoubt (Valdemar: Collegium Chronicles, #4)




by




87

Hunter (Hunter, #1)




by




88

Blood Red (Elemental Masters Book 10)




by




89

A Study in Sable (Elemental Masters #11)




by




90

Elementary: All-New Tales of the Elemental Masters (Elemental Masters, #8.5)




by




91

From a High Tower (Elemental Masters Book 11)




by




92

The House of the Four Winds (One Dozen Daughters, #1)




by




93

Chrome Circle (SERRAted Edge, #4)




by




94

Jolene (Elemental Masters, #15)




by




95

Bedlam's Edge (Bedlam's Bard, #8)




by




96

Music to My Sorrow (Bedlam's Bard, #7)




by




97

The Free Bards (Bardic Voices, #1-3)




by




98

Seasons (Tales of Valdemar, #13)




by




99

This Scepter'd Isle (Doubled Edge, #1)




by




99

No True Way (Tales of Valdemar, #8)




by



116 books · 85 voters · list created May 26th, 2011 by deleted user.
No comments have been added yet.
Related News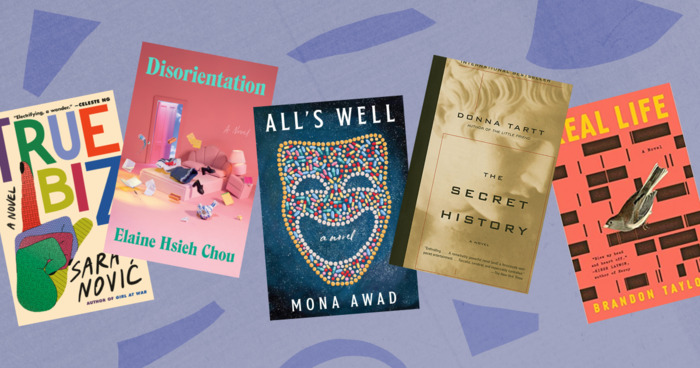 The college campus has been a popular setting for books since the days of ancient Greece. In fact, Aristotle once wrote a dark academic...
Anyone can add books to this list.