Romance Books 2017
Best romance books this year!
(So please don't add books that aren't published in 2017)
1

Shameless (White Lies Duet, #2)




by




2

Provocative (White Lies Duet, #1)




by




3

Ruckus (Sinners of Saint, #2)




by




4

Pucked Off (Pucked, #5)




by




5

Shacking Up (Shacking Up, #1)




by




6

Egomaniac




by




7

Dating-ish (Knitting in the City, #6)




by




8

The Unrequited




by




9

Something in the Way (Something in the Way, #1)




by




10

Full Package (Big Rock #4)




by




11

Somebody Else's Sky (Something in the Way, #2)




by




12

Dirty Filthy Rich Men (Dirty Duet, #1)




by




13

Royally Matched (Royally, #2)




by




14

American Prince (New Camelot Trilogy, #2)




by




15

The Player (The Player, #1)




by




16

The Cad and the Co-Ed (Rugby, #3)




by




17

The Gravity of Us (Elements, #4)




by




18

Mack Daddy




by




19

All About the D




by




20

Fake Fiancée




by




21

If You Were Mine (After We Fall, #3)




by




22

Truly, Madly, Whiskey (The Whiskeys: Dark Knights at Peaceful Harbor, #2)




by




23

Good Boy (WAGs, #1)




by




24

Twist (Dive Bar, #2)




by




25

The Hot One (One Love #2)




by




26

The Failing Hours (How to Date a Douchebag, #2)




by




27

Mister Moneybags




by




28

Wait for It




by




29

Hard Rules (Dirty Money, #1)




by




30

Duke of Manhattan (The Royals Collection, #3)




by




31

When Life Happened




by




32

Tru Blue (The Whiskeys: Dark Knights at Peaceful Harbor, #1)




by




33

Damage Control (Dirty Money, #2)




by




34

Whisper of Love (The Bradens at Peaceful Harbor, MD #5; The Bradens #21; Love in Bloom #36)




by




35

The Chosen (Black Dagger Brotherhood, #15)




by




36

Hot Cop




by




37

El Santo (Saint-Sinner, #1)




by




38

Bombshell (Hollywood A-List, #1)




by




39

Untouchable (Unexpected Love, #1)




by




40

Stand (Bleeding Stars, #6)




by




41

Swear (Landry Family, #4)




by




42

Stay (WAGs, #2)




by




43

Switch (Landry Family, #3)




by




44

Real Good Man (Real Duet, #1)




by




45

Love in Lingerie (Unzipped, #1)




by




46

Faking It (Book Boyfriend, #2)




by




47

Stay (Bleeding Stars, #5)




by




48

Real Good Love (Real Duet, #2)




by




49

The Play Mate (Roommates, #2)




by




50

Accidentally on Purpose (Heartbreaker Bay, #3)




by




51

Going in Deep (Billionaire Bad Boys, #4)




by




52

Bad Deeds (Dirty Money, #3)




by




53

Devil in Spring (The Ravenels, #3)




by




54

Park Avenue Prince (The Royals Collection, #2)




by




55

Painted On My Heart




by




56

Royally Endowed (Royally, #3)




by




57

Dating You / Hating You




by




58

Take Me Back




by




59

Before I Ever Met You




by




60

Goodbye Paradise (Hello Goodbye, #1)




by




61

Turning Back (Turning, #2)




by




62

Cheater (Curious Liaisons, #1)




by




63

Grievous (Scarlet Scars, #2)




by




64

Battle of the Sexes




by




65

The Deep End (Honey, #1)




by




65

Study Me (Sex Me, #2)




by




67

One is a Promise (Tangled Lies, #1)




by




68

Save Me (Sex Me, #3)




by




69

How We Fall




by




69

Eight (Love by Numbers, #6)




by




71

Blush for Me (Fusion, #3)




by




72

Co-Wrecker (Binghamton, #1)




by




73

The Rebellion




by




74

Like a Boss (Like a Boss, #1)




by




75

A War like Ours




by




76

A Thousand Letters (The Austens, #2)




by




77

The Brave Line




by




78

Every Little Thing (Hart's Boardwalk, #2)




by




79

Gifts (The Killers #3)




by




80

Finding Mr. Wrong




by




81

Second Draft (Men with Wood, #1)




by




82

Wild Irish (Wild Irish, #1)




by




83

His Alone (For Her, #2)




by




84

One with You (Crossfire, #5)




by




85

Revelry




by




86

Dr. OB (St. Luke's Docuseries, #1)




by




87

Ghostface Killer




by




88

Rock Chick Reawakening (Rock Chick, #0.5)




by




89

Chaser (Dive Bar, #3)




by




90

Sex in the Sticks (Love Hurts, #1)




by




91

Below Deck




by




91

Love a Boss (Like a Boss, #2)




by




93

Missing Grace




by




94

Real Deal (Single Dads Club, #1)




by




95

The Bartender (Modern Love, #1)




by




96

Date Me (Sex Me, #1)




by




97

Love My Way




by




98

Walk of Shame (Love Unexpectedly, #4)




by




99

Chasing Christmas Eve (Heartbreaker Bay, #4)




by




100

Unprofessional




by



573 books · 1,477 voters · list created January 6th, 2017 by deleted user.
date
newest »
back to top
Related News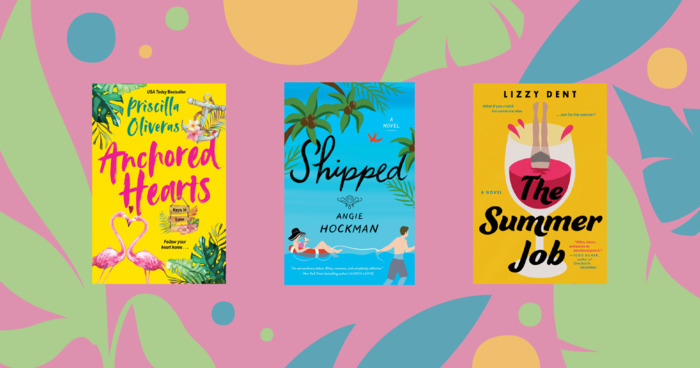 Haven't had a chance to pull out that passport in over a year? Yeah, we feel you. Luckily for all of us, these 15 new romances published since...
Anyone can add books to this list.