Exploring YA Fantasy and Sci Fi
1

Impossible Dreams




by




2

Story Thieves (Story Thieves, #1)




by




3

Heirs of Grace




by




4

Armada




by




5

The BFG




by




6

Gift of the Unmage (Worldweavers, #1)




by




7

The Time Roads




by




7

An Enchanting Time




by




9

The Clockwork Dagger (Clockwork Dagger, #1)




by




10

Across the Universe (Across the Universe, #1)




by




11

The Map to Everywhere (The Map to Everywhere, #1)




by




12

Un Lun Dun




by




13

Railsea




by




14

Akata Witch (Akata Witch, #1)




by




15

Coronets and Steel (Dobrenica, #1)




by




16

Dragonsbane (Enchanted Forest Chronicles, #1)




by




17

The Girl Who Circumnavigated Fairyland in a Ship of Her Own Making (Fairyland, #1)




by




18

Uprooted




by




19

His Majesty's Dragon (Temeraire, #1)




by




20

Afterworlds (Afterworlds #1)




by




21

The Cats of Tanglewood Forest (Newford, #18)




by




22

The Very Best of Charles de Lint




by




23

Changeling (Changeling, #1)




by




24

Rampant (Killer Unicorns, #1)




by




25

Omega City (Omega City, #1)




by




26

The Green Glass Sea (Green Glass, #1)




by




27

Fly by Night




by




28

The Lost Conspiracy




by




29

To Hold the Bridge




by




30

Newt's Emerald




by




31

The Iron Trial (Magisterium, #1)




by




32

Obernewtyn (The Obernewtyn Chronicles, #1)




by




33

The Memory Garden




by




34

The Brides of Rollrock Island




by




35

The Sleeper and the Spindle




by




36

The Forgotten Beasts of Eld




by




37

The Nex




by




38

Soulless (Parasol Protectorate, #1)




by




39

A Corner of White (The Colours of Madeleine, #1)




by




40

Time Machines Repaired While-U-Wait




by




41

Agatha H and the Airship City (Girl Genius Novels, #1)




by




42

Walk on Earth a Stranger (The Gold Seer Trilogy, #1)




by




43

Passenger (Passenger, #1)




by




44

The Forbidden Library (The Forbidden Library, #1)




by




45

Magonia (Magonia, #1)




by




46

Dreamhunter (The Dreamhunter Duet, #1)




by




47

The Castle Behind Thorns




by




48

A Pocket Full of Murder (Uncommon Magic, #1)




by




49

The Hotel Under the Sand




by




50

No True Echo




by




51

The Invisible Library (The Invisible Library, #1)




by




52

The Fog Diver (The Fog Diver, #1)




by




53

The Glass Sentence (The Mapmakers Trilogy, #1)




by




54

The Shadow Cipher (York, #1)




by




55

The Friday Society




by




56

Attica




by




57

The Hundred-Towered City




by




58

Super Powereds: Year 1 (Super Powereds, #1)




by




59

Magic or Madness (Magic or Madness, #1)




by




60

Greenglass House (Greenglass House #1)




by




61

The Well Between the Worlds (Lyonesse, #1)




by




62

Samuel Blink and the Forbidden Forest




by




63

The Owl Service




by




64

Borrowed Time




by




65

A Tale of Time City




by




66

Wizard's Hall




by




67

Centaur Rising




by




68

A Plague of Unicorns




by




69

The Marvelous Misadventures of Sebastian




by




70

The Young Unicorns (Austin Family Chronicles, #3)




by




71

The Last Unicorn (The Last Unicorn, #1)




by




72

King of Shadows




by




73

Black Unicorn (Unicorn, #1)




by




74

Piratica: Being a Daring Tale of a Singular Girl's Adventure Upon the High Seas (Piratica, #1)




by




75

Indigara




by




76

The Wee Free Men (Discworld, #30; Tiffany Aching, #1)




by




77

The Golden Dreydl




by




78

Sea of Shadows (Age of Legends, #1)




by




79

Voices of Dragons (Voices of Dragons, #1)




by




80

Steel




by




81

A Boy and His Bot




by




82

Of Mice and Magic (Ravenspell, #1)




by




83

The Dragons of Ordinary Farm (Ordinary Farm Adventures, # 1)




by




84

Hard Magic (Paranormal Scene Investigations #1)




by




85

The Camelot Spell (Grail Quest, #1)




by




86

Rot & Ruin (Rot & Ruin, #1)




by




87

Dragon and Thief (Dragonback, #1)




by




88

Pirate Cinema




by




89

Pretty Monsters: Stories




by




90

Zombie Baseball Beatdown




by




91

The Blue Sword (Damar, #1)




by




92

Fade




by




93

Well Wished




by




94

Arabella of Mars (Adventures of Arabella Ashby, #1)




by




95

The Strange Case of the Alchemist's Daughter (The Extraordinary Adventures of the Athena Club, #1)




by




96

The Underground Railroad




by




97

Central Station




by




98

The Sudden Appearance of Hope




by




99

Ararat (Ben Walker, #1)




by




100

Company Town




by



Like
Lists are re-scored approximately every 5 minutes.
People Who Voted On This List (5)
No comments have been added yet.
Related News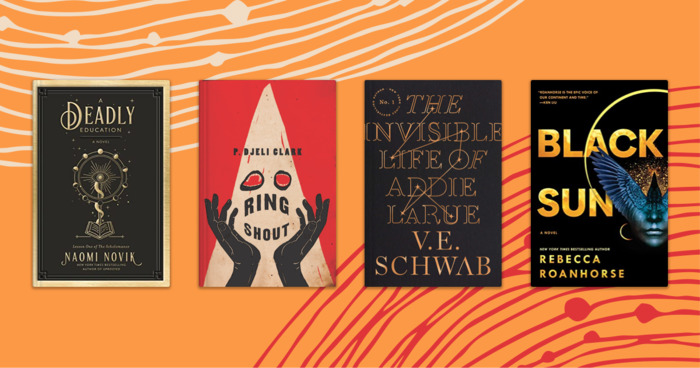 If you love the fantasy genre, this is the season for you! Some of the biggest books out this fall promise to be epics full of magic, adventure,...
Anyone can add books to this list.