YA/Children's Fantasy Waiting to Be Read 3
1

The Falconer (The Falconer, #1)




by




2

Lost Children of the Far Islands




by




3

The Archived (The Archived, #1)




by




4

The Castle Behind Thorns




by




5

Serafina and the Black Cloak (Serafina, #1)




by




6

Crown of Three (Crown of Three #1)




by




7

The Unnaturalists (The Unnaturalists, #1)




by




8

The Truth According to Us




by




9

The Fire Wish (The Jinni Wars, #1)




by




10

Dreamwood




by




11

Bliss (The Bliss Bakery, #1)




by




12

A Tangle of Knots (A Tangle of Knots, #1)




by




13

The Takers (The Oz Chronicles, #1)




by




14

Goblin Secrets (Zombay, #1)




by




15

Through the Skylight




by




16

The King in the Window




by




17

The Taking (The Taking, #1)




by




18

Dust Girl (The American Fairy, #1)




by




19

The Liminal People




by




20

Blythewood (Blythewood, #1)




by




21

Return to Exile (The Hunter Chronicles #1)




by




22

Gabriel Finley and the Raven's Riddle (Gabriel Finley #1)




by




23

Shadowfell (Shadowfell, #1)




by




24

Out of Sight, Out of Mind (Gifted, #1)




by




25

Darkbeast (Darkbeast, #1)




by




26

Hammer of Witches




by




27

The Book of the Wise (Countryside, #1)




by




28

Moving Target (Moving Target, #1)




by




29

26 Kisses




by




30

Anni Moon & The Elemental Artifact




by




31

The Lost Heir (The Gryphon Chronicles, #1)




by




32

The Little Doll Girl (The Wurtherington Diary #1)




by




33

Alistair Grim's Odditorium (Odditorium, #1)




by




34

Confessions of an Imaginary Friend




by




35

The Mosque Hill Fortune (The Sons of Masguard, #1)




by




36

Story Thieves (Story Thieves, #1)




by




37

The Power of Poppy Pendle




by




38

The Fog of Forgetting (Five Stones Trilogy #1)




by




39

Fiendish




by




40

The Zoo at the Edge of the World




by




41

Copper Magic




by




42

Hook's Revenge (Hook's Revenge, #1)




by




43

Man Made Boy (Man Made Boy #1)




by




44

The Marshmallow Incident




by




45

Hokey Pokey




by




46

Ophelia and the Marvelous Boy




by




47

The Princess Curse




by




48

The Isle of the Lost (Descendants, #1)




by




49

The Last Wild




by




50

The Master Mummer's Mummy




by




51

Green Rider (Green Rider, #1)




by




52

Kingdom Hearts: The Novel




by




53

Corydon and the Island of Monsters (Corydon, #1)




by




54

The True Blue Scouts of Sugar Man Swamp




by




55

The Twyning




by




56

The Green Ember (The Green Ember, #1)




by




57

The Invisible Tower (Otherworld Chronicles, #1)




by




58

Storm




by




59

Archie Greene and the Magician's Secret




by




60

Innocent Darkness (The Aether Chronicles, #1)




by




61

Handbook for Dragon Slayers




by




62

Broken Monsters




by




63

Escape from Hat




by




64

David v. God




by




65

Hello Ninja




by




66

Captive Mermaid




by




67

The Secret History of Mermaids and Creatures of the Deep




by




68

Ingo




by




69

Mermaids 13: Tales from the Sea




by




70

The Mermaid and the Shoe




by




71

Hannah (Daughters of the Sea, #1)




by




72

How to Catch a Bogle (City of Orphans, #1)




by




73

Sins & Shadows (Shadows Inquiries, #1)




by




74

The Twistrose Key (The Twistrose Key, #1)




by




75

The Marbury Lens (The Marbury Lens, #1)




by




76

One Realm Beyond (Realm Walkers, #1)




by




77

The Stonekeeper (Amulet, #1)




by




78

Definitely Not Kansas (Nocturnia, #1)




by




79

The Forgotten Door




by




80

A Curious Tale of the In-Between




by




81

The Girl With All the Gifts (The Girl With All the Gifts, #1)




by




82

Fair Coin (Coin, #1)




by




83

Summer of the Mariposas




by




84

Quad World




by




85

Ordinary Magic




by




86

Gooseberry Bluff Community College of Magic: The Thirteenth Rib




by




87

The Door




by




88

Texting the Underworld




by




89

Dying to Meet You (43 Old Cemetery Road, #1)




by




90

The Gates (Samuel Johnson vs. the Devil, #1)




by




91

The Skin Map (Bright Empires, #1)




by




92

Delirium (Delirium, #1)




by




93

Zita the Spacegirl (Zita the Spacegirl, #1)




by




94

The Girl of Ink and Stars




by




95

Wishing Day (Wishing Day #1)




by




96

Anyone But Ivy Pocket




by




97

Pip Bartlett's Guide to Magical Creatures (Pip Bartlett, #1)




by




98

The Girl Who Could Not Dream




by




99

Journey's End




by




100

The Peculiar Night of the Blue Heart




by



Like
Lists are re-scored approximately every 5 minutes.
People Who Voted On This List (4)
No comments have been added yet.
Related News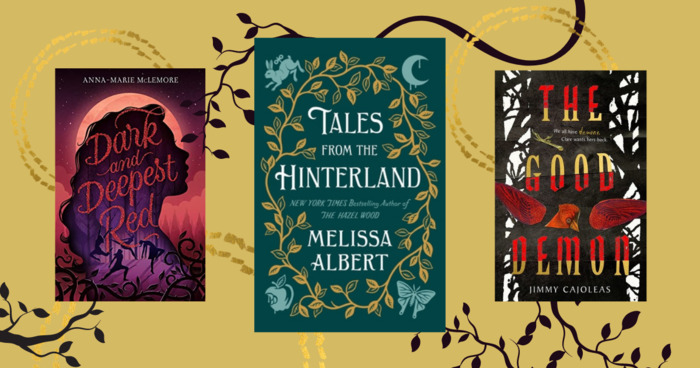 Melissa Albert burst onto the YA scene (and catapulted into readers' hearts) with her 2018 debut The Hazel Wood. This darkly fantastical...
Anyone can add books to this list.