Best Romance Novel Set in Denver
1

Rock Chick (Rock Chick, #1)




by




2

Mystery Man (Dream Man, #1)




by




3

Wild Man (Dream Man, #2)




by




4

Rock Chick Redemption (Rock Chick, #3)




by




5

Rock Chick Rescue (Rock Chick, #2)




by




6

Naked Edge (I-Team, #4)




by




7

Extreme Exposure (I-Team, #1)




by




8

Unlawful Contact (I-Team, #3)




by




9

Hard Evidence (I-Team, #2)




by




10

Motorcycle Man (Dream Man, #4)




by




11

Striking Distance (I-Team, #6)




by




12

Rock Chick Revolution (Rock Chick, #8)




by




13

Own the Wind (Chaos, #1)




by




14

Rock Chick Revenge (Rock Chick, #5)




by




15

Seduction Game (I-Team, #7)




by




16

Charged (Saints of Denver, #2)




by




16

Breaking Point (I-Team, #5)




by




18

Skin Deep (I-Team, #5.5)




by




19

Ride Steady (Chaos, #3)




by




20

The Taste Of Metal




by




21

Deadly Intent (I-Team, #8)




by




22

Soul Deep (I-Team, #6.5)




by




23

Leveled (Saints of Denver, #0.5)




by




23

Law Man (Dream Man, #3)




by




25

Katie In Denver (In Denver #3)




by




26

Dead By Midnight: An I-Team Christmas (I-Team #7.5)




by




27

Riveted (Saints of Denver, #3)




by




28

Rock Chick Reborn (Rock Chick, #9)




by




29

Kitty and the Midnight Hour (Kitty Norville #1)




by




30

Colters' Woman (Colters' Legacy, #1)




by




31

Echoes at Dawn (KGI, #5)




by




32

Shades of Gray (KGI, #6)




by




33

Talk Me Down (Tumble Creek, #1)




by




34

Start Me Up (Tumble Creek, #2)




by




35

Line of Scrimmage




by




36

Night Shift / Night Shadow (Night Tales #1-2)




by




37

Daughter of Joy (Brides of Culdee Creek, #1)




by




38

From a Distance (Timber Ridge Reflections, #1)




by




39

Out of Control (Kincaid Brides, #1)




by




40

Twin of Ice (Chandler Twins, #2)




by




41

Unclean Spirits (The Black Sun's Daughter, #1)




by




42

Silver Lining




by




43

Embattled Hearts (Lost and Found, #1)




by




44

Hummingbird




by




45

Delicate Ink (Montgomery Ink, #1)




by




46

The Invitation (includes Montgomery/Taggert, #19)




by




47

Cherish




by




48

Sweet Anger




by




49

What We Find (Sullivan's Crossing, #1)




by




50

Hot & Bothered (Marine, #3)




by




51

Only You (Only, #3)




by




52

Frostfire (Kyndred, #3)




by




53

Rugged and Relentless (Husbands for Hire, #1)




by




54

Wild West Boys (Wild West Boys #1-2)




by




55

Loose Ends (Steele Street, #11)




by




56

The Lawman Claims His Bride (Charity House, #4)




by




57

Forever Ink (Montgomery Ink, #1.5)




by




58

Mustang Wild (Wild, #1)




by




59

Violet (Seven Brides, #6)




by




60

The Heart's Pursuit




by




61

The Heart Breaker (Rocky Mountain, #2)




by




62

At Your Command




by




63

Dark Oracle (Oracle, #1)




by




64

Madame Mirabou's School of Love




by




65

Sean (The Cowboys, #5)




by




66

The Borrowed Bride (Seavers Brides, #1)




by




67

Forever In My Heart (Dennehy Sisters, #3)




by




68

Roman's Heart (The Justice Way, #2)




by




69

Wild Sweet Ecstasy (Dennehy Sisters, #1)




by




70

Bride of Shadow Canyon (Bride, #1)




by




71

The Bounty Hunter's Bride




by




72

Snowed in with the Boss (Kenner County Crime Unit, #3)




by




73

Song of My Soul (Silver Hills Trilogy, #2)




by




74

Anything for Love




by




75

The Horseman's Bride




by




76

The Man Most Likely (Crested Butte, #3)




by



Like
Lists are re-scored approximately every 5 minutes.
People Who Voted On This List (7)
No comments have been added yet.
Related News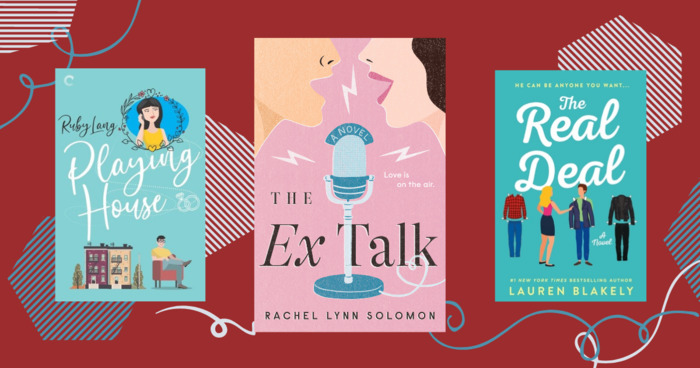 Rachel Lynn Solomon is best known to her fans for writing heartfelt contemporary YA novels like 2020's Today Tonight Tomorrow and her 2018...
Anyone can add books to this list.