News and Interviews
Debut Author Snapshot: Martha Woodroof
Posted by Goodreads on August 5, 2014
The novel Small Blessings begins by introducing an infectious character, "a woman who, rumor had it, risked being happy." Although debut author Martha Woodroof states that none of her characters are autobiographical, she is also a woman risking happiness—publishing her first work of fiction in her sixties. Retirement? Nope, time for a new career! A longtime storyteller, Woodroof was a regular NPR contributor; she often reported on books and publishing and continues to write for NPR.org. Set at an unnamed college in small-town Virginia, Small Blessings tells the hopeful tale of mild-mannered professor Tom Putnam, a man resigned to a loveless marriage with a neurotic wife. He receives a surprise letter from a former flame informing him that he has a ten-year-old son—a boy arriving on the Monday train.

From her home in the Shenandoah Valley of Virginia, Woodroof, now working on two more novels, shares some snapshots and says, "This whole late-blooming-novelist thing is such a complete please-don't-pinch-me-and-wake-me-up blast!"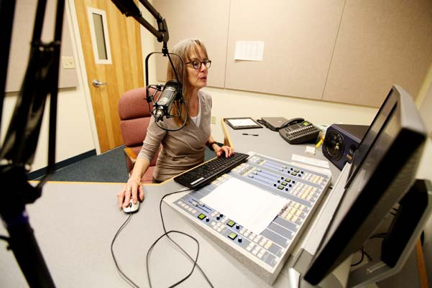 Woodroof working in the WMRA public radio studio. (Photo credit: Holly Marcus)
Goodreads: Writing is a central component of your career as a public radio reporter; yet this is your fiction debut. A change of pace in your sixties! Has publishing fiction been a long-term goal or is it something you've come to recently?

Martha Woodroof: Oh golly, I think I've led much too adventurous (haphazard? fun? chaotic? hippie-dippy?) a life to be able to claim long-term goals. I also went through a midlife crash-and-burn that led to my reinvention as a sober person—so one-day-at-a-time has pretty much overshadowed the long-term for the last couple of decades.

However...I have loved stories since my mother read them aloud to me as a tot, and my years freelancing for NPR convinced me that stories are essential to meaningful human communication. Take a news story: Assimilating its facts may change your thinking, but assimilating those same facts encased in a good story will expand your viewpoint as well.

I've written unpublished novels for years, having started in my mid-forties, when I began making the acquaintance of imaginary people whose stories needed telling. Characters simply started showing up in my head with lives that needed to be worked out on paper.

I was mostly freelancing back then, driving my pick-up around blue highways, trolling for Americana radio stories. I think I fell in love with people in general during that time. I know I started admiring how a lot of the people I met seemed to do the best they could with whatever they had to work with at the moment—which, when you think about it, is truly admirable.

I finished a draft of Small Blessings a couple of years ago and put it away in a cardboard box in my office closet. Sometime later—during an intense time in my nonfiction writing life—I pulled it out, reread it, and thought these people deserve better than life in my closet! At about the same time I made a bucket list, and as I've pretty much always done things that delighted me, I could only think of one thing to put on it: Publish a novel! And so—thanks to my agent, Kate Garrick (Defiore & Co.), and my editor, Hilary Teeman (St. Martin's Press), I have!

GR: What was your first moment of inspiration for Small Blessings? Where did the story begin?

MW: I wrote a piece for the Soapbox column in Publishers Weekly about how the only truly autobiographical element in Small Blessings is a place, not a person. My first job in sobriety was at the Sweet Briar College Book Shop [at the small liberal arts women's college in Sweet Briar, Virginia], at the time directed by the inimitable Skipper Fitts. I saw that bookstore as the heart, soul, and caffeine source for an entire community, offering equal-opportunity welcome to all comers, regardless of college pecking order.

I think Small Blessings began in my experience there, in watching that bookstore function as the one place where people could safely step outside their professional roles, relax, and be themselves. It was quite a magical place, and my experience there got me interested in the view of college life from behind an espresso machine.


Realistic optimist Woodroof takes a dance break while gardening. (Photo credit: Charles Woodroof)
GR: Despite a considerable amount of tragedy and serious issues discussed in Small Blessings, reviewers describe the novel as "heartwarming," "life affirming," and "optimistic." During your writing process, how did you establish the tone of the novel?

MW: I think the novel's tone is the same as my personal tone. It's been my experience that life is just one unmanageable situation after another. At some point, however, I finally got that although I can't control what happens, I can control both how I deal with what happens and how much I'm willing to learn from them.

Over the decades I've come to believe that if I keep going with enough courage to accept people as they are in the world as it actually is, I will have lots and lots of good days. And since I got sober, I no longer feel any obligation to talk myself out of enjoying a good day just because it isn't perfect.

This tone of—what? Realistic optimism, maybe?—is the tone I hope to convey in Small Blessings.

GR: Tom Putnam is a kind, upstanding kind of guy, although woefully unhappy when we first meet him. How did you develop this character?

MW: I would like to quibble just a bit about Tom's being woefully unhappy. Now please don't get me wrong; I certainly think that I, in similar circumstances, would probably consider myself woefully unhappy, but I do think that Tom does not. Or at least he doesn't focus on it. He's brave enough to accept his parched lot and still find pleasure in the small things a lot of us are too spoiled by general happiness to notice.

OK, then—back to your question about the development of Tom's character. I am in awe of the people I've met who are brave enough to lead difficult lives without succumbing to the dead-end of self-pity. I have also noticed that embracing change takes a great deal of courage, even when it is change for the better. In the midst of our ongoing societal romance with violence and aggression, I think we often forget to pay tribute to the quiet courage of good people. And that's what I wanted to do in Small Blessings. So here came Tom...

GR: What's next for you as a writer?

MW: I'm happily working on not one but two novels involving characters in Small Blessings. And no, I'm not saying which ones.



Showing 1-13 of 13
(13 new)
date
newest »
back to top