News and Interviews
Debut Author Snapshot: Celeste Ng
Posted by Goodreads on July 8, 2014
After 16-year-old Lydia Lee's body is found in a lake, her shocked family attempts to understand the circumstances that led to her death. Celeste Ng's lyrical debut novel, Everything I Never Told You, asks whether a parent can ever truly know a child's inner life as it reveals the Lees' secrets and delves into the private concerns of Lydia's college professor father, frustrated homemaker mother, Harvard-bound older brother, and quietly observant younger sister. Ng's book, set in 1970s small-town Ohio, filters the tragedy through each character's lens and presents a rich portrait of a mixed-race Chinese American family coping with a life that has not gone according to plan.

Winner of the Pushcart Prize for short fiction, Ng teaches fiction writing at Grub Street in Cambridge, Massachusetts. She shares the inspiration behind Everything I Never Told You.


"There are still more men in the sciences than women, which makes images like this—of a woman scientist in the 1950s—all the more striking. I like to think this could have been [Lydia's mother], Marilyn, in her college days."
Goodreads: What was the starting point for this novel?

Celeste Ng: The story had its roots in an anecdote my husband told me: When he was a boy, a schoolmate pushed his own little sister into a lake. She was rescued, but that image of a girl falling into the water stuck with me. I started thinking: What did she feel as she plunged under water? What was her relationship with her brother like—both before and after? And what would have happened in this family if she hadn't been rescued?

As the novel grew, the story morphed into something quite different: an older girl, with a troubled family full of secrets. When I write, I usually know I'm getting somewhere when the story and characters start to surprise me, as if they've taken on lives of their own. The past always shapes the present, so the parents' stories and struggles—due to gender roles, race, and their own upbringing—began to intertwine with Lydia's. Her brother's and sister's complicated feelings toward her became more clear. And there was this neighbor boy who kept showing up, who seemed oddly hostile to the family—yet oddly interested in them. I followed each of those strands to see how they all connected.

GR: Small-town life in the 1970s—why did you decide to locate a mixed-race family in this setting?

CN: My original idea was to set the story in Boston, where I'd gone to college and where I now live, but I soon realized that the setting had to be somewhere smaller, somewhere less cosmopolitan and less diverse, where a mixed-race family would really stand out. The same was true for the 1970s—that seemed like a time when the issues the Lees wrestle with were all thrown into relief. There weren't nearly as many mixed-race families then, for one thing. Asian Americans were less of a presence than they are now. And Marilyn's desire for a career as a doctor, in particular, felt most poignant at that moment. So much changed for women in the 1960s and 1970s, and mothers of that era must have had very mixed feelings, knowing that their daughters would have many more opportunities that they themselves would never have.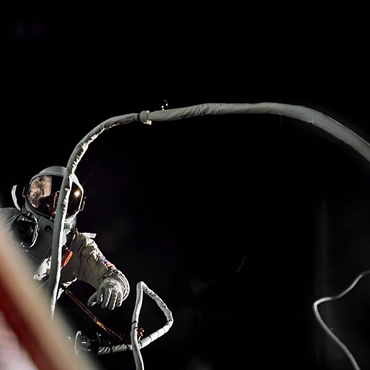 "Gene Cernan doing a spacewalk in 1966: [Lydia's brother] Nathan's interest in space grew out of my own—I wanted to be an astronaut as a kid—and meshed perfectly with the time period of the book. In the late 1960s, the space race was still on, and space missions like Gemini 9 were still huge news stories."
GR: The three Lee children keep different kinds of secrets and receive different kinds of attention from their parents. What compelled you to explore family secrets in this novel?

CN: Secrets are inherently fascinating: Who hasn't heard the people at the next table whispering and leaned in, trying to overhear? Within a family, secrets carry extra weight. Part of what drew me to this story was thinking about all the questions the family members would never have answered, and the ways that we often try to reconstruct—or reimagine—those we have lost. When you lose someone, especially suddenly or in complicated circumstances, it's almost impossible not to wonder if there was something you missed that could have changed everything.

GR: What's next for you as a writer?

CN: I'm always writing short stories, and I've started another novel. I don't want to say too much about it yet, but it's set in my hometown of Shaker Heights, Ohio, which is a suburb of Cleveland. Shaker Heights was a lovely place to grow up and is known for being racially diverse—but it's also quite focused on appearances, and it still struggles with issues of class and race and privilege. The plot will be quite different from my first novel, but there's definitely some thematic carryover between the novels.



Showing 1-26 of 26
(26 new)
date
newest »
back to top