News and Interviews
Interview with Julie Anne Peters
Posted by Goodreads on June 9, 2014
Though it's hard to believe now, there was a time when there were virtually no books about gay teens. Novelist Julie Anne Peters already had a successful career writing stories about middle school crushes and fights when she penned Keeping You a Secret. By the time this coming-out novel was published in 2003, Julie had received hundreds of messages from readers eager for a story that reflected their own experience. She has gone on to write about a transgender teen's struggle with identity (Luna), an abusive relationship (Rage: A Love Story), and planning an alternative prom (It's Our Prom).


Her latest book, Lies My Girlfriend Told Me, deals with a betrayal that is revealed after Alix's girlfriend, Swanee, dies. Read on for more details, plus Julie's thoughts on her writing process, favorite books, and changes in queer YA literature.

Danika at The Lesbrary: You're one of the founding authors of queer YA! How has the genre changed since you started writing? What are some of your favorite lesbian YA books—especially more recent ones?

I can't even spell revolutionary, so it was simply a matter of being at the right place at the right time. My editor and agent were both nagging me to write a lesbian love story. I thought they had a death wish for me to come out in such a public way. It took a year to get over my fear, but when I began to write the book, it was the most fun I'd ever had. All the emotions felt true and honest. And from the hundreds (maybe thousands) of letters I've received from young and young-at-heart people going through that coming-out process, I know how important Keeping You a Secret was and still is.

Today we've progressed beyond the coming-out experience—not that it isn't at the core of where we begin. But authors are writing about topics in the everyday life of a queer person—falling in and out of love, family and friend dynamics, and self-expression. Queer literature now spans the genres of fantasy, science fiction, and romance to picture and chapter books. It encompasses the entire spectrum of LGBTQI people as protagonists, antagonists, and minor characters who embrace us or don't.

Since I'm retired now (or semiretired), I work full-time as an early literacy tutor for the Colorado Reading Corps, and I don't get as much time to read as I'd like to. When I get home from school, I fall into a coma watching Judge Judy.

Three memorable books I've read in the last year are Openly Straight by Bill Konigsberg, October Mourning: A Song for Matthew Shepard by Lesléa Newman, and Kiss the Morning Star by Elissa Janine Hoole.

Johnp: You started off with standard YA fiction and transitioned to mature themes about sexuality and gender. I wondered how this change in theme was accepted (or not) by your publisher?

My publisher never asked me to tone down my writing or my themes, and one reason, I think, is because I never take my sex scenes to a graphic level. Readers' imaginations will do that for me. What I don't appreciate is the double standard of male versus female writers. Why do girls have to stop at kissing when guys can go "all the way"? So, yeah, my characters have gone all the way. Still, I've tried to be tasteful and sensitive to where young people are in their lives and not encourage them to just have sex without considering the consequences.

Vincenzo: Where did you get the idea for Lies My Girlfriend Told Me? Did you have some experience where your girlfriend cheated on you?

If I'd had a girlfriend who cheated on me, I'd kick her ass. (I'm so tough, huh?) Seriously, I think I deserve better, and I hope everyone has the self-esteem to feel worthy of being exclusively loved.

It's hard to know where ideas for books come from. Sometimes it takes years to figure it out. Then you have an aha moment and go, "Now I remember what happened in my past to inspire this book."

For Lies there were a string of news reports about young athletes who were dying inexplicably of sudden cardiac arrest. On the first page of this book the character around whom the story is focused is a track-and-field star who goes out to run early every morning. On this particular morning she collapses and dies. What pursues is the unraveling of her story, including all the secrets and lies she was keeping from her friends. With each new book I want to try something different, and this is my attempt at writing a mystery with an unexpected ending. There are both life and death lessons about loss and living.


"One of my many bookshelves."



Miss Panek: The school that I teach at in small-town Iowa is pretty conservative. We do not have a Gay Students Association, but the drama club has become a safe place for some. A student of mine had Luna checked out for the majority of the school year last year (until he was able to buy his own copy). I have no clue how many times he has read Luna. This year that particular student has changed into a dress on numerous occasions to attend drama club meetings that I supervise. He changes back to his clothes before going home. Are there any other books that you would recommend I add to my (unofficial GSA) classroom bookshelf?

I always refer people to the American Library Association's Rainbow Reads. These are selected books with summaries. Here's the website.

By the way, not only am I proud of the student who refuses to "fit in," but his friends and drama family are no doubt saving his/her life.

Charlien: Is there one thing you've learned from your previous works that helped you to improve your writing skills?

I'm always working to improve. A writer can never sit on his/her laurels because laurels are temporary and hang on a wall. The one thing I learned came from a reader's review, which said something along the lines of, "Her teenspeak really sounds fake." Ouch. After that, I just used natural dialogue and stayed in touch with pop culture. There's nothing worse than being accused of inauthenticity.

Clarissa: Which book took you the longest to write, and why was that so?

This is an easy one, Clarissa. Between Mom and Jo took me ten years to begin writing. I had the idea to write about a boy with two moms, and when the moms separate, the boy is left feeling like he's being pulled between them. Even though I didn't grow up with two moms, I am a child of divorce, so I felt I could capture that feeling perfectly.

I wanted readers to see how Nick (my main character) grows up with both moms, how he reacts with each individually, and how his life changes after the family split. Every month or so I'd write a scene: Nick with both moms. Nick with one mom. Nick with the other. A break in the middle where everything changes. But like a puzzle, I couldn't figure out how to assemble all the pieces.

Then one day I just spread all the stapled scenes out on the living room floor, stood up, and looked at them. And looked. And looked. "That's it!" I said. "I know what this is. It's a scrapbook of Nick's life."

Once I figured that out, it was easy to chronologically arrange and rearrange all the scenes into a whole.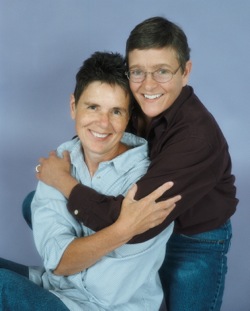 "Me and Sherry, my partner of 40 years."

Sara Pickell: I remember the first time I read Keeping You a Secret. When I was finished with it, I felt a distinct and powerful sense of catharsis. How do you emotionally handle writing about these issues? Have you achieved a state of emotional distance from the subject or perhaps is it the opposite, and you submerge yourself in the emotions you desire to convey?

Thank you for this question, Sara. You've hit my method on the nose about immersing myself emotionally, physically, and spiritually in a book and its characters. Once I begin writing, I'm living in that world, barely sleeping, writing down transitions and snatches of dialogue all night. One time my partner said, "Have you ever looked at what you've written during the night? It's completely illegible." I said, "It doesn't matter if I can read it. As long as I wrote down the thought, I won't forget it."

After I'm done with 10 or 100 drafts and the manuscript feels slightly polished, I can come up for a breather. And once the book goes through editing and copy editing at my publishing house, I can take a very, very long nap.

Lauren Diaz: I have read three of your many books andI personally loved the ones I read with my full heart. Do you have any advice on how to get past all the harsh comments on you doing what you love to do?

Criticism is tough to take, especially when you've worked so hard and your book feels like your baby. But if you want to be a writer, the first thing you learn is how to deal with rejection. I remember one time I got the worst review on a book and my agent said, "Oh, blow it off, Julie. Someone peed in that person's Wheaties."

Nowadays I don't read reviews, good or bad. I always seem to take away the bad stuff, and it's not healthy for me.

Amanda Jay: What happens to Daelyn after the end of By the Time You Read This I'll Be Dead? (Although I do not think you will answer this question because it seems that it is meant to be interpreted by the reader.)

I was on a plane coming home from a conference where I served on a panel about bullying. The thought kept running through my head, "What if you're bullied to death?" We know this happens by the number of students who kill themselves every year because they just can't take the daily abuse.

This book wrote itself. One day I woke up and found the entire manuscript on my desk. The title was By the Time You Read This I'll Be Dead. It actually made me cry.

I can't tell you the ending because I don't know it. You decide how Daelyn "completes" herself.

Sharon: I am an avid book reader who finishes three-plus books a week. I would love to be a writer, but I feel that I have read too much to be able to come up with original ideas. Where do you draw your ideas from and how do you keep your characters unique?

My ideas come from my own life (which in your case would obviously be original and unique), articles I read, stories I hear, my imagination. I'd say most writers are avid readers like you, and should be. You learn the most about writing by reading, finding books and authors you love, and identifying what it is about their work that touches you. Then just jump in. You don't have to be particularly original if you have a fresh voice.

Sarah Dowdy: What is your favorite book? What YA books would you recommend?

I always say my favorite book is the last book I read and loved. Right now I'm reading My Salinger Year by Joanna Rakoff. It's probably more of a crossover book, but my younger self is enjoying it.

Besides YA, my favorites are mysteries, thrillers (not too violent), police procedurals, funny books, biographies, and strong character-based literature.

I love the Joe Pickett books by C.J. Box, Jeff Lindsay's Dexter series, Kent Haruf's heart-wrenching stories, Michael Connelly's Harry Bosch books, and Janet Evanovich (of course).



date
newest »
back to top