News and Interviews
Interview with Melissa de la Cruz
Posted by Goodreads on March 10, 2014
Melissa de la Cruz has written so many delicious, intrigue-filled series that it's hard to keep track of them all! There's Blue Bloods, which imagines vampires as a secret part of the American elite, and The Au Pairs, which draws on Melissa's own experience as a nanny. Her Beauchamp Family series is now a Lifetime show, Witches of East End. As a former fashion and beauty editor who has contributed to publications like Teen Vogue, Glamour, and Seventeen, she always manages to create worlds that feel glossy and gorgeous, even if there is something sinister under the surface.

Her latest novel, The Ring and the Crown, follows the stories of four young women who have to find their place in a changing world. It's set in an alternate world where the sun never set on the British empire and magic is very much real, but it was inspired by a classic novel plot. "I love Edith Wharton's The Buccaneers," says Melissa, "about American girls going to London to marry titled British guys, and how it doesn't really work out for them or what the pitfalls are that they never knew. I'm obsessed with class drama. I've always loved that sort of Regency tradition, where a rich marriage is a mark of a girl's success, mostly because it's not the case now. Girls make their own path, make their own money. Today Elizabeth Bennet would be able to buy Pemberley—she wouldn't have to marry Mr. Darcy! But isn't it romantic to write about that time?"


Melissa answers your questions about her writing process and issues of identity as well as clears up some confusion about Blue Bloods!

There were a lot of questions about the hows and whys of procreation in the Blue Bloods series—can you give us a little explanation? Laura asks, "At the end of Blue Bloods you gave us hope that Sky and Jack could have children. Did they ever end up having children, and if they did, have you thought about writing a story for their children?"

The Blue Bloods were not blessed with the gift of procreation. Instead of reproducing, the same spirits were born in new bodies. The Blue Bloods were also forbidden to have children with mortals, according to the Code of the Vampires. Lucifer stole the gift of procreation from the mortal world and created the Nephilim (half-human, half-demon). As for whether Jack and Schuyler have children, read the spin-off Vampires of Manhattan (coming in September) to find out!

Ricardo Rocha: I noticed that in the Blue Bloods series and in the Witches of East End series, mythology (whether it be Norse or the Christian faith-based mythology) played a pretty substantial role in both histories. Was it easy to intertwine the mythology into your writing? Summer adds: How did you come up with vampires being fallen angels? In most mythology they're usually referred to as just satanic, demonic beings that need to be expunged from existence. I find it to be a nice twist tying them further into the whole God vs. Lucifer battle as fallen angels that followed Lucifer in his time of rebellion.

Yes, it felt very natural to weave in a mythology into the story. The mythology came first, and the story came after. I wanted to create a foundation for my world and also to explain how vampires came to be, and imagined an explanation that made sense to me.

I can't explain how I came up with the idea of vampires as fallen angels other than I was sitting at my desk, working on this project, and I suddenly put the story of Paradise Lost and my vampires together. I remember it was like being struck by lightning. I actually stood up from my chair and said "EUREKA!" I was so excited by this idea. It made so much sense to me, it felt so natural, and I knew I was on to something from the beginning.

Nia: My biggest question, honestly, is about how you write. When you begin a novel, do you jump around? Do you know the ending and work toward it or do you just go in order? Also, what's your favorite TV show? (Because I'm literally obsessed with House of Cards!)

The creative process is hard to pinpoint and explain. Mostly I've talked about writing an outline and then fleshing it out, and that seems to satisfy a lot of people, and it sounds neat and tidy and wonderful and connect the dots and easy.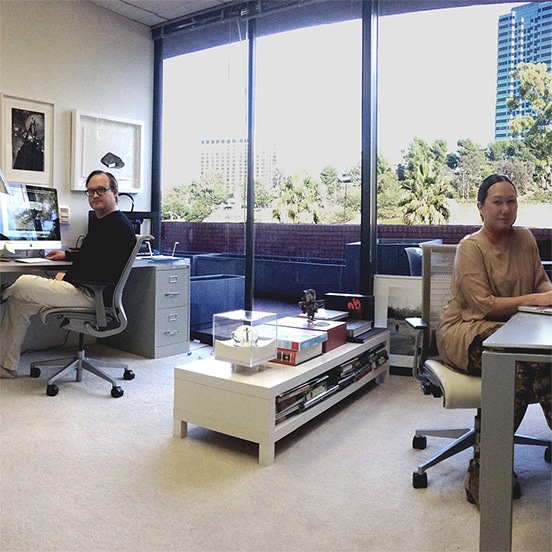 Mel and her husband (and Frozen cowriter) Mike Johnston in their L.A. office.

But it's not like that. Writers lie. I've done everything. I've outlined. I've jumped around. I've worked toward the ending, and I've gone in order. I've done it all. There is no "right" way to write a book. They all work, and everyone does it differently, and I would say each of my books has had a different process from the other. But I never know what it will be. What I do know is I start with an idea, then I figure out the story, which means I have a hazy idea of what the story is and I know the ending. I always know the ending. But see, that's not true either because sometimes I've changed endings. For instance, Witches of East End had a very different ending in my drafts than the one that is in the final book. I knew the ending didn't work, and it DROVE ME CRAZY. Finally, when I figured out the right ending, I rewrote the book to match it.

What I will say is that you have to exercise your writing muscle. Write every day. Get better at it. Read a lot of good books. As a professional writer, I force myself to write when I don't feel like it. I don't wait to feel inspired. It takes discipline and grit and sacrifice to be able to bring a book out to the world. It's so much work, and it's very difficult, but it is also the most fun I've ever had. I love making things up. I love amusing myself.

Ann Patchett has wonderful writing advice in her memoir. Challenge yourself. Write a harder book than the last one. Keep stretching. For me, there is an ideal version of the story I want to tell, but in the beginning it's cloudy, and as I write, I chip away at the haze, and the story starts to have focus, starts to have flesh and blood, starts to be a real story. When I get to that point of clarity, I know I've done my job.

I don't really have a favorite TV show. I enjoyed watching The Wire, Oz, The Killing, but I don't rewatch TV shows. But the show that was closest to my heart was probably Battlestar Galactica, the reboot. That was awesome. I keep waiting for Ronald Moore to do it again. But I don't rewatch that show either. TV shows aren't books. I don't see the point of watching it again, whereas with books every time I reread it I catch or discover something I didn't before. Or, as when I reread Harry Potter, I get swept away all over again.

Tyler Tsoumbos: While reading the Blue Bloods series, I couldn't help but notice the attention to detail when it comes to design, whether it be clothing or architecture. What methods do you use when brainstorming a story line? Are you inspired by what you see around you or things that you're interested in, such as, I assume, fashion and the like?

I love that you've noticed that! I am very interested in design and architecture and details, and I love those things in books, and so I put them in my books. I love writing about my obsessions, whether it's a fabulous midcentury-modern house or an important piece of artwork. I discovered culture through the books I read, and I'm glad to hear that my readers are being exposed to that through my own books as well.

Kat: For the book Frozen, was it as exciting to write as it was to read? And what was it like cowriting a book? Are you eager for the sequel to be published?

Yes, it was so exciting to write! There were times when [my husband and cowriter] Mike and I would be breathless just talking about what would happen. It was fun to write the book, sort of an extension of our marriage. There are so many ideas in the book that we talked about endlessly. Our obsession with garbage, climate change, environmental catastrophe, real dystopians in our world, etc.

Yes, very eager for everyone to read the sequel, Stolen, which comes out this November!

Rockferry: I was a huge fan of Witches of East End show. What was your most exciting experience during that whole venture? And how awesome was working with Daniel DiTomasso?


Having dinner with Maggie Friedman, Rachel Boston, and the dreamy Daniel DiTomasso.

Every step was exciting. I think for me, when they revealed clips of the pilot at the Television Critic's Association event, which is when they announced the premiere date, was probably one of the high points. Onscreen it flashed "Based on the New York Times best-selling novel," and I screamed in my chair. I jumped up and squealed, because it was SO EXCITING to see that on television. My book was really going to be a TV show! Really!

Seeing the first episode—it was like a dream, I couldn't even focus, I was so so SO excited. Seeing the engagement party and Freya in the bathroom with Killian was the high point. And I had seen the episode before, but to see it on our TV, where we watch so many TV shows, and to see a TV show that was connected to me that was based on my book, that was surreal.

Daniel is one of the nicest, sweetest people. He is so incredibly good-looking, it's almost too much. His beauty is distracting, but he puts you at ease immediately. He is just as charming in real life as Killian, and he has the best sense of humor. He's a lovely person, and we're so lucky he's on the show. All the cast is amazing; it's a huge happy family.

Ichigo_sora14: How do you feel about writing love scenes? And does your heart break when you write about one-sided love stories?

It's fun to write the love scenes, but I always try to make it a little different, try to inject something new into them so it's not always the same emotions that are being displayed on the page. So in a sense, it's hard to write because there are only so many verbs and adjectives you can use to describe a romantic scene, but I think the difference comes out in how the character is experiencing it, so in that way for me it's always new.

I always feel for my characters when their love is unrequited or it doesn't work out. I cry along with them.

Madison Goble: What are your top five favorite books?

War and Peace by Leo Tolstoy
The Lord of the Rings by J.R.R. Tolkien
Harry Potter and the Prisoner of Azkaban by J.K. Rowling
Morningside Heights by Cheryl Mendelsohn
Social Disease by Paul Rudnick

A lot of fans had questions about identity. In particular, asks Katherine: How were you able to incorporate your personality into books like Blue Bloods?

My books are me, they contain things I'm obsessed about, how I lived in high school, things I think about but don't say—and I think that's true for all writers and their books. I grew up in an insular, elite society in Manila, and that was the foundation of Blue Bloods more than anything I knew about New York. I understood the way a rich and sheltered and protective society works. My dad always said New York is Manila with more money, and people are the same everywhere truly.

Kristin: How do you incorporate your Filipino heritage into your works?

My sense of humor is definitely Filipino and very present in my books, and I have written about my Filipino heritage in Fresh Off the Boat, a novel I wrote in 2005. In Frozen the characters go to a turo turo restaurant, which is a Filipino type of café where you point at what you want to eat. (Turo turo means "point point.")

However, I will say that I consider myself American in outlook and personality and worldview, and while I respect and am proud of my Filipino heritage, I am an American, and I would not have been able to write the kinds of books I write had I not moved to the United States. I think I would think and write very differently if my family had stayed in Manila. It's something you choose when you are an immigrant—do you cling to the old world and the old life or do you embrace the new? I've been reading Gary Shteyngart's memoir, Little Failure, and he really nails what immigrant children go through, the reinvention and the rejection of the old world and how it wounds us, too. You can't live in two places in your head. It will drive you crazy.

Mostly, as an identity, I consider myself a New Yorker, a city that attracts a talented and global citizenry, who share all the same values and priorities: good pizza and great museums!



date
newest »
back to top