News and Interviews
Interview with Ishmael Beah
Posted by Goodreads on January 6, 2014
A Long Way Gone, Ishmael Beah's best-selling 2007 memoir of his experiences as a child soldier during Sierra Leone's civil war, was that rare thing—a book that was at once horrific and shocking while still being tender, clear-eyed, and ultimately uplifting. (His beaming photograph on the back cover seemed to signify the book's transcendence.) Critics were bowled over. Carolyn See, in The Washington Post, wrote: "Everyone in the world should read this book." Now, at the still youthful age of 33, Beah returns with a novel, Radiance of Tomorrow, which explores what happens to a people, and a country, after war—how old wounds are healed, new challenges faced, language and kinship and dreams renewed. "We must live in the radiance of tomorrow, as our ancestors have suggested in their tales," a village elder explains. "For what is yet to come tomorrow has possibilities, and we must think of it, the simplest glimpse of that possibility of goodness. That will be our strength. That has always been our strength." Anderson Tepper spoke with Beah, who now lives in New York, about war and healing, optimism and writing.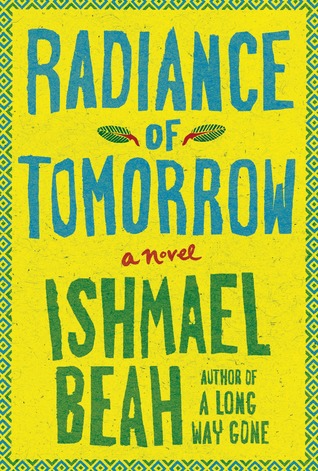 Goodreads: First of all, Ishmael, I wanted to ask if you were surprised by the success and impact of A Long Way Gone?

Ishmael Beah: Yes, I was, because initially I wasn't aiming to publish it. Then when it appeared, I thought it would only appeal to people working in the humanitarian field who knew about these issues. I didn't really have any expectations at all. But the book took on a life of its own, and I was amazed at the interest people showed in events unfolding in such faraway parts of the world. Of course, it was all quite a nice surprise, but also sad in ways, too, since the book did come under some criticism and prejudice as well. But that's all part of it, I guess.

GR: In your introductory note to Radiance of Tomorrow, you mention the fatigue you felt after finishing the memoir. It was quite a draining experience, but cathartic, too, right?

IB: It was a very difficult thing because it was the first time I really allowed myself to think about all I'd been through. When I decided I was going to write about it, I had to go back into some of these places because I wanted people to feel the emotions, to understand and even smell the places I had been. So I had to go back to a very difficult situation, and at the end of it I realized—which was surprising to me—that it actually helped me understand what it was that I had come out of, to really see what had happened because otherwise I never would have had the chance to do that.

GR: At the end of Radiance of Tomorrow, one of the main characters, a former schoolteacher named Bockarie, attempts to write down his own observations of his surroundings and community. The power of writing—to both heal and communicate—is an important theme in your books.

IB: Yes, exactly. It's the idea that you experience something, you feel or see it, and then try to present it in a way that the reader can also experience. It's always a challenge to ask somebody to experience something that you have, to allow someone to feel the pain and enter that landscape. How do you do that? That's always intrigued me, and even though it's challenging, I've always felt the rewards are worth it. I remember when I finished writing the memoir and gave it to a few people to read, a friend said, "One problem I had is that after reading it, I felt like I was having a breakdown." And I said, "Well, that's exactly how I felt!"

GR: Was writing the novel a very different experience for you? Did it require a more detached approach?

IB: It was very different. I've written short stories before but never something book-length like this. One of the big differences for me is that the novel is freer. So I was free to play with language, time lines, and my imagination more than I had been with the nonfiction, which is limited by what really happened. But in the novel I was able to play with the oral tradition, with folklore—I was able to use languages from my own culture and re-create them so that the English has a different feel. I found writing fiction actually much more exciting. And, of course, the emotional attachment is not as intense since it's not personal. You create characters and then let them loose in the world!

GR: The language of the novel is incredibly rich, full of startling imagery—hair is described as "the color of stagnant clouds"; a woman's troubled mind becomes "an anthill filled with smoke." Dusk or daybreak rarely come without a mention of the moods of the sun or moon. Are these images that come out of poetic translations from your own languages?

IB: Yes, from the different languages but also from the oral tradition. I feel like language fits a landscape—the mannerisms, the way you speak, fits where you are. So when I tried to get into the mind-set of the characters, there were both the older generation that was trying to go back to earlier ways destroyed during the war and young people who were resisting this. So how do you capture this in language? For me, I had to discover the many ways people use language differently. I'm fortunate that I come from a place where I can draw from so many versions.

GR: Some of the freshness of the language reminded me of other important works of African writing, like Ben Okri's The Famished Road...

IB: I know Okri's work well!

GR: Who are some of the other writers—whether African or not—who were important influences on you?

IB: Well, I've been influenced by a variety of writers. The South African J.M. Coetzee has been important to me, especially his novel Waiting for the Barbarians. He can express so much about a character in such a short space. You can really feel the care he has taken for each sentence. Also, the Haitian writer Edwidge Danticat has meant a lot to me. I've read a lot of her work, and I think The Farming of Bones is absolutely brilliant. Of course, in the African tradition there's Chinua Achebe and Wole Soyinka—all of these people have influenced me in their own ways.

GR: Do you also read many of the younger generation of African writers?

IB: I do read the contemporary writers, mostly of fiction. For example, there's Dinaw Mengestu, author of The Beautiful Things That Heaven Bears; and Maaza Mengiste, who's from Ethiopia and wrote a book called Beneath the Lion's Gaze. And then there's Chimamanda Adichie. I do try to keep up with the contemporary writers because right now Africa has many really worth taking notice of.

GR: I remember a few years ago there were several novels that came out about child soldiers in West Africa—Uzodinma Iweala's Beast of No Nation...

IB: Yes, right! And Emmanuel Dongala's Johnny Mad Dog, Ahmadou Kourouma's Allah Is Not Obliged...

GR: But your book, I think, was the first to address this history firsthand. Along those lines, Goodreads member Chris Williamson, a teacher on the South Side of Chicago, writes: "We've read A Long Way Gone in class, and many students find parallels to their own lives. What would you say to those who face violence as part of their everyday life?"

IB: Well, it's a tough question, but if you live in places surrounded by violence, you have to find your own ways to cope with it. I always say to people that to survive any violent situation requires intelligence and street savvy. It requires being aware of yourself and what's around you at all times; and you need to learn to use some of your strengths to get out of these environments. But I know that you also have to be realistic—at the end of the day you can't simply say, "Oh, everything is going to be OK." You have to find a way to resist the best way you can so that you don't end up hurting yourself in the process.

GR: Tell me about how you wrote this novel. Do you have a writing routine?

IB: I do, but I write very differently from people I know who sit down and plot out their books. When I know what I want to write, I start walking around for maybe a month just thinking about it. I carry around a small notebook in my pocket and take notes about my characters and ideas. And then when I'm ready, I'll start writing. Mostly I like to write late at night when everything is really quiet—especially here in New York—and I'll work right through until the morning. But if I'm home in Sierra Leone, it's different, and I usually write early in the morning or when I can during the day in between visiting people. It all depends where I am.

GR: How long did it take you to finish the novel? Haven't you spent a lot of time in the last few years traveling for UNICEF as well?

IB: Yes, I've been running around a lot, and it's been hard to carve out time to write. This book took me about three years to complete; I thought about it for about a year before I began actually working on it. After the first book came out, I was traveling around so much that I didn't have time to write, except in airports. At times I just had to go into hiding from people!

GR: Tell me about the characters of Radiance of Tomorrow. What's interesting is that in several cases they've had violent confrontations during the war that they're somehow able to overcome.

IB: When I started thinking about writing the book, it came out of the idea that when the war was over, people didn't really want to talk about it anymore. So I started asking: Who are these people returning home and how can I find a diversity of characters to represent them? So I went through a list of characters—grandparents, parents, teenagers, young children—and thought about how they would learn to live together again, and in a landscape that has changed. Before, for example, if a young boy with a machete were walking down the path in his village, it wouldn't have been seen as anything bad. People would have thought, He's going to the farm or to fetch firewood. But now when people see that, they immediately think about the war. So how do you learn to react differently as a human being without the burden of the recent past? That's what I wanted to do: create all these different characters who come back to this place and begin to find ways to live together again.

GR: One of the most powerful elements of your memoir, as well as the novel, is the overarching message of renewal and new possibilities. Goodreads member Sas wonders, "How are you able to still look at the world with optimism and hope, even though you've seen mankind at its worst?"

IB: Yes, this is another question that is at the heart of the novel, because oftentimes people have this idea that what we think of as peace is the absence of challenges and difficulties in life. What I wanted to show people is that even with the backdrop of all the terrible things that have happened, people still fall in love, find a way to move on with their lives, and celebrate moments of joyfulness. I know how hard things are, but I also know how beautiful they are, too. The very fact that I am a writer now shows this! If someone had said to me years ago that I'd be doing this one day, I'd have said, "No way, not even in my dreams would this ever be possible!"

GR: What are you reading and working on now? Are you planning to continue writing fiction?

IB: I do hope to write more novels, but right now I'm actually working on a collection of short stories. These are stories that show aspects of the war years that I don't think have been shown before. In terms of reading, for many years I've been curious about Kurt Vonnegut, so I bought a collection of his work and have been making my way through that. I've also been reading G¸nter Grass's The Tin Drum—another book that I've wanted to read for quite some time.

GR: Your title, Radiance of Tomorrow, seems to me to echo that of Guinean writer Camara Laye's 1950s novel, The Radiance of the King, which scholar Kwame Anthony Apiah called "one of the greatest of the African novels of the colonial period." Tell me more about what you hoped to express about our own times with your novel.

IB: I read that book a while ago! It's a wonderful novel! Well, I want people to read my book and maybe learn a little more about what it means to be human in difficult times, the ways we maintain our humanity however we can. And also to ask, "How do you preserve traditions and what means the most to you in uncertain times?" These are all questions I wanted to address. But I also just want people to enjoy the language, the images, and culture that the novel is immersed in.

GR: Finally, Goodreads member Lorie is curious, "Have you returned home since your book was published, and are you hopeful for your country?

IB: Yes, I've been back many times to Sierra Leone. I go very often and sometimes stay three to four months at a time. Eventually I plan on moving back and living there permanently. The first time I went back right after the book, it was very difficult because you could still see the reminders of what people had done, and that brought back a lot of painful memories. Things remain fragile politically, and we do still need proper leaders to move the country forward. But yes, Sierra Leone is a beautiful place, it's my home, and one day I want to raise children there who feel part of its culture.



Interview by Anderson Tepper for Goodreads. Anderson is on the staff of Vanity Fair and has written on books and authors for a variety of publications, including The New York Times Book Review, Tin House, Words Without Borders, and The Paris Review Daily. He is also on advisory committees for both the Brooklyn Book Festival's international stage and PEN World Voices, where he has moderated conversations with the authors Nuruddin Farah, Ben Okri, Rian Malan, and JosÈ Eduardo Agualusa, among others.
Learn more about Anderson and follow what he's reading.
Would you like to contribute author interviews to Goodreads? Contact us.
date
newest »
back to top