News and Interviews
Good Minds Suggest: John Hodgman's Vacation Reading List
Posted by Goodreads on October 2, 2017
Writer, comedian, and actor John Hodgman is facing an awful truth. He is an older white male with bad facial hair, wandering through three wildernesses: the hills of western Massachusetts, where he spent much of his youth; the painful beaches of Maine that want to kill him (and someday will); and the metaphoric haunted forest of middle age that connects them.

Vacationland collects these real-life wanderings, and through them you learn of the horror of freshwater clams, the evolutionary purpose of the mustache, and which animals to keep as pets and which to kill with traps and poison.

Hodgman is the author of three New York Times bestselling books—The Areas of My Expertise, More Information Than You Require, and That Is All. The Daily Show contributor is also the host of the Judge John Hodgman podcast, in which he settles serious disputes between real people, such as "Is a hot dog a sandwich?" He also writes a weekly column under the same name for The New York Times Magazine.

"I just came back from the existential endurance test that is a summer vacation in Maine," Hodgman tells Goodreads. "It is a place of great craggy physical beauty, but that beauty hurts when you fall on it funny or walk around on it barefoot; its vast ocean and empty-island vistas stun and humiliate you with their gray disinterest; and it is cold. Autumn comes in August there, and we had a fire roaring every night. It's a good place to read books. Here are some of the ones I read this summer to chase away the gloom."


The Dead Zone by Stephen King
"Summer reading offers an opportunity to take chances. To set aside what you think you should be reading and instead follow your nose to something you haven't thought to discover. What looks good at the airport? What thumbed spy novel did last week's tenant leave behind in the bathroom of the cabin you've rented? Each year I visit Maine, I put my faith in Ellsworth's the Big Chicken Barn (a sprawl of antiques and used books in what used to be a barn housing some sort of animal—who can ever know?) to cough up just the right used Stephen King novel for the season.

I came late to King, only picking his books up once I started visiting Maine. Reading one of his books each year has become a happy, haunted ritual. I like the ones that are set in Maine and especially those I can read in the original musty, loved paperback editions.

This year, though, I got drawn to a beautifully '70s, first Book Club edition of The Dead Zone. It is about a guy who wakes up from a coma with a supernatural ability to predict the future. Speaking of which, the antagonist is an absurd demagogue running for Congress whom everyone treats as a joke until he is elected, prompting me to ask: IS STEPHEN KING A SCARY FORTUNE-TELLING WIZARD?"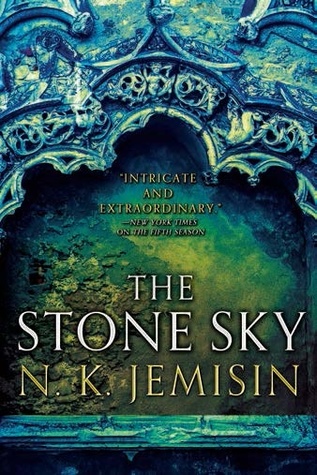 The Stone Sky by N. K. Jemisin
"This is the brilliant concluding book in Jemisin's Broken Earth trilogy. Set in a world plagued by constant earthquakes that can be controlled and quelled only by a certain class of mutants called orogenes, it's an engrossing picture of a culture warily shaped by a candid embrace of the possibility of its own extinction (something we need to work on) and misshaped by how we co-opt, exploit, and discard the gifts of the 'different' (ditto).

I had not read fantasy or science fiction for a long time until last summer, which was to my detriment. Jemisin is one extra-superpowered leader of an exciting new movement of vibrant, inclusive, challenging genre writing that is also energizing, can't-put-it-down storytelling. She is my teacher."
The Green Ripper by John D. MacDonald
"I started reading the Parker crime novels by Richard Stark right after the election. Somehow these blunt, dark, distracting stories about a professional thief who has no anxiety, sadness, or seemingly any human feelings at all was just…comforting. By the start of this summer, though, I hit Flashfire, the 19th book in the series, which, though set in 2000, contained a long surprise digression on the history of Donald Trump buying Mar-a-Lago. Not even in fiction would Trump leave me alone!

Feeling betrayed, I turned to MacDonald's Travis McGee novels, another renowned series of beachy crime novels that summer seems perfect for. Unlike Parker, McGee is all emotion: a soulful, mellow, tough/sweet guy living on a Ft. Lauderdale houseboat who, between long bouts of personal, social, ecological, and sexual introspection, tilts his lance of justice at various small-time creeps and rip-off artists, most of the time just because.

But The Green Ripper marked a maturation in the series as McGee sets off on a mission of true personal revenge and finds himself wrapped up in a doomsday cult in which even the best outcome—survival—necessitates him becoming a monster. These books are fun, full of weird '70s cultural artifacts and prescient warnings about computers. And the sexiness is really grown-up and sexy. But by the time I read this one, I realized I had been tricked again: Even the most escapist fiction, when written with the real humanity MacDonald and Stark both can conjure, can't escape darkness forever.

P.S. The University of Chicago Press just released the final four Parker novels into print, and I am ready to forgive and forget."
The Twelve Lives of Samuel Hawley by Hannah Tinti
"Summer is also when we hoard special books we want to spend extra time with. That's true for me with the latest from Hannah Tinti, who is just a brilliant delight, and if you do not know this, correct yourself. From her first short stories to her brilliant novel about an orphan adopted by 19th-century grave robbers, all of her work vibrates with insight, history, humor, true emotion, and unfussy, good storytelling.

The Twelve Lives of Samuel Hawley charts the history of the 12 scars on the body of mysterious Samuel Hawley and the price he has paid (and pays still) to protect his daughter, Loo. It's a brilliant literary thriller you can read alone or with your own teenager—you'll both be smarter, delighted, and closer for the journey."
Marvel Masterworks: The Defenders, Vols. 3 and 4 by Len Wein, Steve Gerber, and Sal Buscema
"You can buy these issues of The Defenders as books, but of course I found them as wrinkled loose issues in a cardboard box in some junk shop in Maine somewhere. I had never read the Defenders as a kid. It was too weird: an also-ran Avengers full of cast-off loners like Dr. Strange and the Sub-Mariner, plus B-level heroes like Nighthawk. And why would the Hulk hang out with any of them?

Taking them home out of sheer curiosity, I discovered they were even weirder than I thought. Especially with issue 20, when Steve Gerber started writing them. Gerber, the creator of the inexplicable genius that is Howard the Duck, is one of the most lauded and lamented creators in the industry: an innovator in social, satirical story lines, weird digressions, and whole pages of printed essays. He had a contentious relationship with Marvel, fighting bitterly for the rights to Howard (and losing), finally succumbing to cancer at age 60 in 2008 before he could see his creation cheered on the big screen at the end of Guardians of the Galaxy.

But here he was just getting started, sending his heroes through a string of bizarre adventures, some socially conscious, some simply surreal in their chaos: The Defenders fight a secret cult of white supremacists; the Hulk befriends a baby deer that turns mean when its mind is taken over by an evil magician; an elf with a gun shows up in several issues for seemingly no reason (Gerber later confirmed: There was no reason). It is difficult, now that Marvel runs mainstream culture, to remember how much of its legacy was built on selling counterculture to college-age marijuana enthusiasts. But Gerber's run of the Defenders was particularly devoted to a kind of dada ethos that has a lot to do with summer reading in general: Turn off your analytical mind and just let the psychic baby deer talk to you."
date
newest »
back to top