News and Interviews
Good Minds Suggest: Mackenzi Lee's Favorite Historical Romps
Posted by Goodreads on June 12, 2017
"I want to fill a kiddie pool with adventure story tropes and roll around in them," Mackenzi Lee, author of This Monstrous Thing, tells Goodreads. "I want swords and pistols and disguises and mistaken identity and every other ridiculous trope that stretches your suspension of disbelief just far enough to give it a workout."

The Boston-based history buff's latest novel, The Gentleman's Guide to Vice and Virtue, is a gleeful, trope-filled mash-up of history and magic, love and danger. It is the story of Henry "Monty" Montague and his traveling companion, Percy, as they embark on the Grand Tour of 18th-century Europe…and stumble into a fantastical manhunt and an unexpected romance along the way.

Lee shares her favorite tales of historical mayhem and mischief. "If you, like me, enjoy ye olde adventure stories with just a little extra bite," she says, "I recommend you read these five books immediately."




The Devil in the Marshalsea by Antonia Hodgson
"There's nothing I love more than a good fallen gentleman. Except perhaps a fallen gentleman dropped in the middle of the Marshalsea, the grotesquely rendered and completely real debtor's prison of 1700s London. (Seriously, you can basically smell the piss and rot rising off the pages.) Shortly after said fallen gentleman, Thomas Hawkins, is confined to the hellish Marshalsea, his roommate is murdered. This is part adventure novel, part thrilling closed-door mystery—all dropped into one of the most vivid and unique settings I've found in a historical novel."
Bloody Jack by L.A. Meyer
"Jacky Faber is the sort of leading lady you want a) to be best friends with, b) to party with, c) to have your back in a fight, d) to make out with, and e) to shake by the shoulders for all her bad decisions. As a borderline-feral street kid in filthy 1800s London, Jacky disguises herself as a boy and serves aboard a British navy ship. Bloody Jack kicks off a 12-book series about Jacky and her high seas adventures as she grows up. I happily frolicked through all of these; they never lose steam. I will never not be obsessed with this entire series."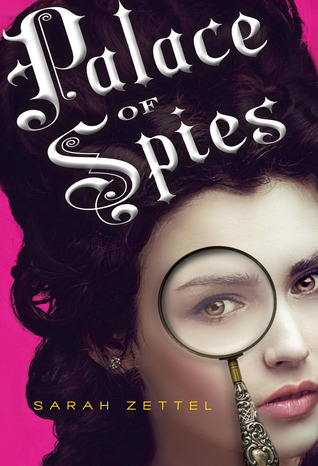 Palace of Spies by Sarah Zettel
"All of my favorite adventure stories have some spunk. There's something buoyant and energetic about the tales, whether it's in the voice or the characters or the setting or the plot. In the case of Palace of Spies, it is all of these things—set in a vividly rendered 18th-century England and narrated by a badass sass queen. Our spunky young heroine becomes a spy in the court of King George I and uncovers intrigue, mystery, and rebellion."
Drift & Dagger by Kendall Kulper
"Drift & Dagger is a complicated book to place because it's technically a prequel to Salt & Storm, the author's first novel—but it came out after Salt & Storm. Drift & Dagger was one of the books that made me want to write a travel adventure because of how vividly each setting is rendered and how much fun it is to follow characters around the world and see their story interact with their setting. The book follows Mal, a young man immune to magic in an alternate 19th-century world that runs on it, as he travels with his 'bad news' father figure, searching for a legendary dagger to get revenge on the girl who ruined his life."
The Scarlet Pimpernel by Emmuska Orczy
"I had to include a classic on here, a book that all of the above titles I owe some sort of debt to. (The Scarlet Pimpernel arguably started the dual identity, crime-fighting vigilante story… So basically the hypermasculine world of modern superheroes was started by a woman, but that's another soapbox I won't get on.) The Scarlet Pimpernel follows the exploits of Sir Percy Blakeney (the namesake of Percy in The Gentleman's Guide to Vice and Virtue), a foppish pretty boy by day—and then a swordsman, escape artist, and rescuer of innocent Frenchmen from Madame Guillotine in Revolutionary France by night. A little swash, a bit of buckle, romance, suspense, and escapades! Perfection."
No comments have been added yet.