News and Interviews
Good Minds Suggest: Christina Baker Kline's Favorite Novels on Hardship and Resilience
Posted by Goodreads on February 6, 2017
It's one of the most famous American paintings: In artist Andrew Wyeth's Christina's World we see a woman lying in a treeless field, her back to us, and in the distance, disrupting the stark landscape, is a farmhouse. Author Christina Baker Kline was inspired by that painting to create her new novel, A Piece of the World, about the relationship between the artist and Christina Olson, his subject and muse.

Kline—who has written five other novels, including 2013's Orphan Train, which spent more than two years on The New York Times bestseller list— now delves into Christina's life on a remote farm in the small coastal town of Cushing, Maine.

Forced to leave school at the age of 12 to take care of her family, Christina Olson lived out her life in an unheated farmhouse with no electricity or running water. While writing this novel, Kline read and reread many books that focused on hardship and resilience. Here are some of her favorites:


Their Eyes Were Watching God by Zora Neale Hurston
"This 1937 novel—a coming-of-age story about a young black girl in rural Florida in the early 20th century—was ahead of its time. It languished in obscurity for 30 years before being rediscovered by feminist and African American historians. I first read it in college; it's been on my short shelf of favorites ever since. While writing A Piece of the World, I returned to it again and again, finding particular inspiration in its imagery: 'She pulled in her horizon like a great fish-net. Pulled it from around the waist of the world and draped it over her shoulder. So much of life in its meshes! She called in her soul to come and see.'"
Wide Sargasso Sea by Jean Rhys
"A prequel to Jane Eyre, this 1966 novel tells the story of Antoinette Bertha Cosway, the 'madwoman in the attic,' whose presence haunts Brontë's 1847 novel. Like Christina Olson in A Piece of the World, Cosway is confined, betrayed, and abandoned; she faces hardships both physical and emotional. I'm awed by the deceptive simplicity of Rhys's language and by the fact that despite its shocking and salacious details, the story never veers into pathos."
A Thousand Acres by Jane Smiley
"This modern-day retelling of King Lear is about three sisters who inherit a family farm in Iowa from their brutal father. Long-buried secrets and resentments lead to tragedy. The bleak and yet hauntingly beautiful rural setting is as much a character in this novel as the three complex women who populate it. Rereading A Thousand Acres reminded me of the importance of anchoring my story in a specific, minutely drawn place."
Room by Emma Donoghue
"Speaking of place: Nearly half of this stunning novel takes place in an 11-foot-by-11-foot bunker. A woman who's been kidnapped lives in it with her five-year-old son, a result of rape by her captor and the narrator of the story. When the boy manages to escape, the entire world as he knows it is transformed (and not just for the better). When I was writing A Piece of the World, I was particularly interested in how Donoghue wrote from a child's perspective about confinement and how deftly she showed that any setting can be fertile ground for a child's imagination and creativity."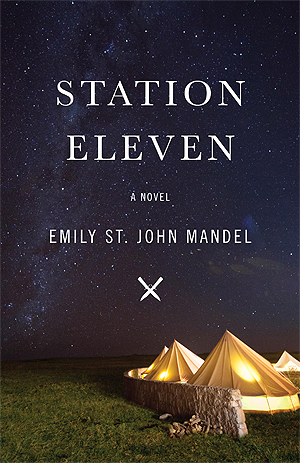 Station Eleven by Emily St. John Mandel
"After a pandemic and the resulting collapse of civilization, a ragtag group of actors and musicians moves from settlement to settlement, determined to keep the arts alive by performing. Emily St. John Mandel's writing is infused with empathy; despite the sometimes brutal details of life after an apocalypse, the story reveals a generous vision of humanity. I found it a useful model for writing about people who seek joy where they can find it, however bleak their lives may seem from the outside."
date
newest »
back to top