News and Interviews
A Life in Books: Stephanie Garber
Posted by Goodreads on January 9, 2017
Caraval
, the hugely anticipated debut novel about a legendary traveling performance so immersive, it's likened to magic.
Brimming with danger, intrigue, and twists, the book follows two sisters, Scarlett and Donatella, who escape their ruthless father by entering Caraval, the revered "game" in which the audience takes part. When Scarlett arrives where the show is being staged, however, she discovers that Donatella has been kidnapped and the object of this year's challenge is to find her before the game ends and Tella disappears forever.
But as she's repeatedly told, none of it is real—or is it?
Author
Stephanie Garber
likely had several such "pinch me" moments when she first sent her book out into the world. First came a frenzied bidding war for the rights to
Caraval
and its as-yet-untitled sequel, which Flatiron Books won in a major deal. And then within hours the film rights had been bought by Twentieth Century Fox and the project was set up with the producer of the blockbuster
Divergent
franchise, the series based on the books by
Veronica Roth
.
Now, with the excitement reaching fever pitch (
Caraval
comes out January 31), Garber, who also teaches creative writing, shares some of her favorite books about high-stakes games, mysteries she's loved, plus her top fantasy series.
In Caraval two sisters become involved in a legendary, romantic-sounding but dangerous game with apparent real-life consequences. What's your favorite book that features a high-stakes game, play, or challenge the protagonist(s) must take part in?
This is an older book, but it's one of my all-time favorites—
The Forbidden Game
by
L.J. Smith
. This story makes horror fun when an evil board game comes to life and sucks everyone playing inside. The villain in this story is one of favorites; he's the type of wicked that you hope will come invite you to play.
I also love
A Criminal Magic
by
Lee Kelly
. This is a fantastical, alternate historical where, instead of alcohol being outlawed during Prohibition, the use of magic has been prohibited. It has gangsters, romance, and a deadly competition between battling magicians, which shocked me on more than one occasion.
Scarlett and Donatella (the main characters in Caraval) have an incredibly strong bond, in part because of the abuse they have suffered at the hands of their father. Name a book about two sisters that you've loved.
I'm going to cheat on this one and name two books that I'm really excited to read but I haven't had the chance to start.
Gemini
by
Sonya Mukherjee
, which is a story about conjoined twins with two very different personalities who question whether it's possible to pursue their dreams together or if they should consider a life-threatening surgery to separate them. I've never read a book about conjoined twins, but from the tiny snippets I have read, it's clear Sonya's writing is full of voice and personality, so I'm excited to dive into this book.
I'm also really eager to read
A Map for Wrecked Girls
by
Jessica Taylor
. This book doesn't come out until next fall, but it has two sisters stranded on an island with one very hot boy and lots of secrets.
In the elaborate world of Caraval we're never sure whether things are really as they seem. What's your favorite mystery/things-aren't-quite-what-they-seem book?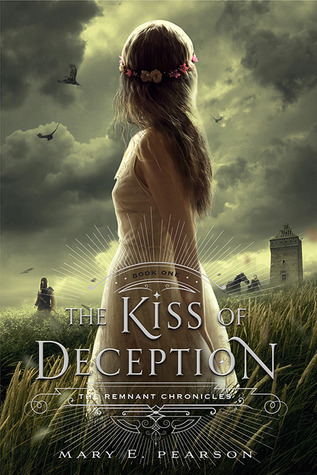 I adore mysteries, so I've chosen three books for this one. My current obsession is
The Kiss of Deception
by
Mary E. Pearson
—I've never read a book that has kept me guessing as much as this story did. This tale is about an adventurous princess who runs away on the morning of her arranged marriage, only to be tracked down by the prince she was supposed to marry and an assassin sent to kill her. For the first half of the book, I had no idea which boy was the prince and which one was the assassin, and I was equally in love with both.
I'm also madly in love with
RoseBlood
by
A.G. Howard
. It's a deeply atmospheric
Phantom of the Opera
retelling, full of magic and mystery and some very swoony romance.
My final choice isn't out yet, but I devoured an early manuscript of this book last year, so I really can't wait until everyone gets to read it.
The Disappearances
by
Emily Bain Murphy
is a magic-laced historical about a town where something vital—like the stars—disappears every seven years. This is another really atmospheric read, thick with tension and secrets and impossibly difficult questions.
What's your favorite fantasy series?
The Lumatere Chronicles
by
Melina Marchetta
are phenomenal. These books are full of everything I love in stories—cursed kingdoms, quests, assassins, romance, refugees, court politics, love, death, and murder. But what really grabs me about this series are all of the deeply flawed characters, the issues they struggle with, the decisions they grapple with, and the complicated relationships they have with each other.
I love the way
Melina Marchetta
shows how her characters grow and fail, and it's fascinating to see how she weaves everyone's lives together in unexpected ways. These books are both heartbreaking and hope inspiring all at once.
What's an underrated YA book you think everyone should read?
I wish that every person would read
Under a Painted Sky
by
Stacey Lee
. This story takes place in the Wild West and starts off faster than a spooked horse. The friendship in this book is so amazing that it's on the level of sisterhood. And there are cowboys!
Rook
by
Sharon Cameron
is also absolutely fantastic. This is a retelling of
The Scarlett Pimpernel
, with a smart heroine, a brilliant plot, a crush-worthy love interest, and a world that's set in the future but feels as if it's been stolen from the past.
date
newest »
back to top