News and Interviews
Good Minds Suggest: Connie Willis's Favorite "In Over Their Heads" Books
Posted by Goodreads on September 6, 2016
Science fiction luminary Connie Willis is known for her masterful, genre-bending novels that unite, for example, time travel and comedy or chaos theory with romance. Her illustrious career has produced classics such as Doomsday Book, Blackout, and To Say Nothing of the Dog while earning her 11 Hugo Awards and seven Nebula Awards. Now Willis is back with her first novel since 2011, Crosstalk, a satirical take on our cell phone-, social media-obsessed world that is also—rather than another "unbelievably grim and depressing" book about the consequences of galloping technology—a romantic comedy. The novel explores the perils of hyperconnectivity in a not-too-distant future where telepathy becomes possible, thanks to an outpatient procedure that leaves people able to sense one another's feelings. It sounds divine to newly-in-love Briddey Flannigan, whose fiancé, Trent, suggests having the operation to perfect their emotional empathy. But there is a dark side to so much information.

Willis tells Goodreads, "Crosstalk is about an ordinary person who finds herself in over her head, trying desperately to stay afloat and figure out what's going on, and there are tons of great books about that."


Have Space Suit—Will Travel by Robert A. Heinlein
"All Kip Russell's trying to do is fix up a secondhand space suit he won in a contest (he was trying to win a trip to the moon) when a spaceship lands on him and carries him off not only to the moon, but to Pluto and the Lesser Magellanic Cloud—with a ten-year-old girl genius in tow and the prospect of the Earth being destroyed to deal with. This was the first science fiction novel I ever read, and it hooked me on the genre for a lifetime."
Descent into Hell by Charles Williams
"Of all the Inklings (J.R.R. Tolkien, C.S. Lewis, etc.), Charles Williams is my favorite. His books are like nothing else you've ever read and beyond tough to describe—someone called them 'supernatural thrillers,' which is totally wrong but closer than any other description. Suffice it to say that Descent into Hell is about the burning at the stake of a medieval saint—and that it begins with a young woman walking home from a suburban play rehearsal who comes face-to-face with her own doppelgänger."
Computers Don't Argue by Gordon Dickson
"This little cautionary tale by one of science fiction's best short story writers is the ultimate man-against-the-system story—and funny, besides. All the poor guy did was try to return a book he didn't order (and didn't want) to the Book of the Month Club, and he finds himself on trial for murder. Anybody who's ever had to deal with automated phone menus, tech support, or customer service will totally relate!"


*You can read
Computers Don't Argue
in
Isaac Asimov's Science Fiction Treasury
.*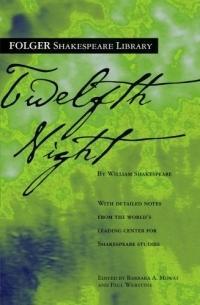 Twelfth Night by William Shakespeare
"My favorite play and my favorite heroine, who nearly drowned before the story even started and then landed in enemy territory and now is so far in over her head, she has no idea how to get out of the trouble she's in. Plus, Viola's in love with the Duke, and he thinks she's a guy, and he's in love with somebody else and wants her to go court her for him! And now Olivia's in love with Viola, and people are accusing Viola of doing things she didn't do—and she's been challenged to a duel! If all this sounds like something Preston Sturges could have written and Claudette Colbert could have starred in, that's because it is. (And if you're going to cheat and watch the movie, make sure it's the Ben Kingsley/Imogen Stubbs/Helena Bonham Carter version.)"
Showing 1-11 of 11
(11 new)
date
newest »
back to top