News and Interviews
Debut Author Snapshot: Bryn Greenwood
Posted by Goodreads on August 1, 2016
Bryn Greenwood never set out to write a controversial love story that would draw comparisons to Vladimir Nabokov's Lolita and Alissa Nutting's Tampa. But that's what happened when she introduced the two protagonists of her powerful debut novel, All the Ugly and Wonderful Things. Wavy and Kellen meet after he wrecks his motorcycle near her Midwestern home. She is the eight-year-old daughter of abusive meth dealers and addicts. He is a tattooed ex-con who works as a heavy for her father. Both are loneliness and neglect personified, and they form a bond that is as tender and mutually nurturing as it is unlikely and inappropriate. Heartbreaking, raw, and dangerous are among the words that have been used to describe Greenwood's book, but the author, who herself grew up the daughter of a drug dealer, also finds beauty in the pair's connection that transcends their brutal backgrounds. Greenwood tells Goodreads how she embraced her characters' "troubling" relationship and lists her favorite books that challenge traditional notions of love.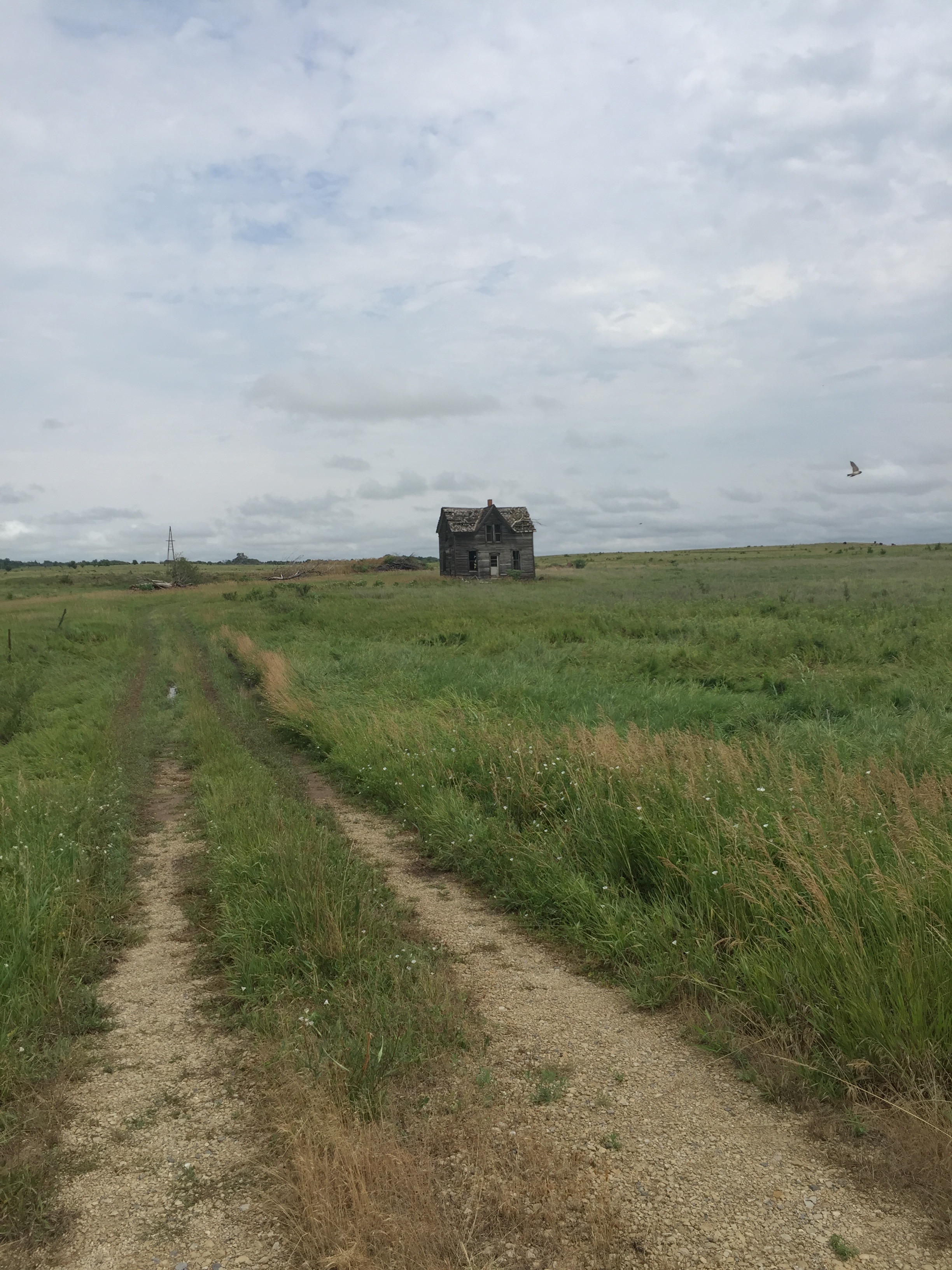 Svensk Road East Marquette: An abandoned farmhouse on Svensk Road, east of Marquette, Kansas. The west is full of these farmhouses slowly being consumed by the elements, and I imagine that as the eventual fate of the farmhouse where Wavy grew up. (Photo by Bryn Greenwood)
Goodreads: Tell us about what motivated you to write All the Ugly and Wonderful Things.

Bryn Greenwood: Most of my stories begin as something akin to a ghostly visitation. Characters arrive in my head, and next thing I know I'm writing down what they tell me. I met Wavy and Kellen at the same time they met each other, on a dirt road at dusk. Once I met them, I needed to know what was going to happen to them. That need to know got such a grip on me that I kept writing even after I hit the truly difficult parts of the book. The other thing that motivated me was the feeling that stories like this need to be told, and not for shock value. We don't all have neat, well-lit childhoods, and sometimes the things that nurture us seem wrong to people looking in from the outside. Although I don't see much of myself in Wavy, I have been in her shoes a few times. My father was a drug dealer, and at age 13 I started a serious relationship with a much older man. It was the first in a series of May-December romances, some of which were illegal and all of which were frowned upon. That first relationship was also a very empowering experience for me. Telling Wavy's story was a way for me to acknowledge the positive effect of that relationship on my life and to be in community with other people who have experienced something like it.

GR: Wavy is the beating heart of this novel, but her story is told through multiple POV characters. What were you able to accomplish with this structure that you couldn't with a single narrator?

BG: Wavy is an intense and idiosyncratic character with a lot of baggage. (As her roommate says: "a nine-piece matched set of hard-sided Samsonite.") Telling the whole story from Wavy's POV presented two major problems. As a writer, I wasn't sure I could sustain that level of intensity (and still retain my sanity), but I also felt like readers might not be willing to sign on for 352 pages of uninterrupted, unrelenting Wavy. Like her grandmother, I learned to love Wavy, but not before I went through a lot of hair-tearing, teeth-gnashing over her. Her world is defined by neglect, fear, confusing rules, and a stubborn loyalty to the unlikeliest of loves. By telling the story through multiple narrators, I could give readers a good look inside Wavy's head while still providing some balance to her perspective. The multiple narrators almost function like a documentary format, where a variety of people are interviewed to provide insight into an event.


Star House: A painting by local artist Geoffrey Benzing that hangs in my hallway. I love the way the light of the stars seems to echo the lone light in the upstairs of this isolated house. (Painting by Geoffrey Benzing)

GR: Did your vision for Wavy and Kellen's relationship evolve between drafts?

BG: It was less that my vision evolved and more that my resolve was strengthened. From the halfway point of the very first draft, I knew this was a love story, and I could see how troubling it was going to be. In the course of revising, I tried to create viable alternatives to that problematic relationship, but they all fell apart. I was introducing characters that I thought might be able to intervene, like Wavy's third grade teacher. I thought she might be brave enough to help Wavy or reckless enough to love Kellen, but she was neither of those things. In some ways I felt like I was creating an escape plan for Wavy and Kellen, to rescue them from lives full of loneliness and neglect. Every time I tried to change their relationship or supplant it with a more appropriate one, the plan failed. The only way to get them both out alive was together.

GR: "If you knew the constellations," reads one memorable quote from All the Ugly and Wonderful Things, "you would never get lost. You could always find your way home." What do stars represent for Wavy?

BG: Wavy's early life is incredibly unstable. After her parents are arrested, she is shuttled from one temporary home to another, from foster care to various relatives' houses. She ultimately is reunited with her mother, whose mood is so changeable that Wavy describes her as being "different people on different days." Once Wavy learns to name and recognize the constellations, they offer her something reliable. No matter who her mother is on any given day, the five stars of Cassiopeia form a shape like a W for Wavy. In relation to our little planet, the stars travel in measurable time and in relatively fixed patterns. The moon goes through its monthly and yearly cycles like clockwork. No matter what kind of chaos or loss Wavy experiences, she can look at the night sky and find the same constellations, like guideposts that will never let her get lost. After she meets Kellen, the stars become a way to connect with him, something they share that reorients them, even after tragedy.


Windmill Morton County: A windmill with a stock tank located in Morton County, Kansas, not far from Point of Rocks, which was a landmark on the Santa Fe Trail. I've done more than a little swimming in stock tanks like this. (Photo by Bryn Greenwood)
GR: What are some of your favorite books that challenge readers' notions of love?

BG: At the top of my list is Alice Walker's The Color Purple, as it's a book that requires most readers to check their preconceived notions about love at the door. The love between Celie and Shug (and peripherally Shug's other paramours) is complicated, beautiful, and enduring. And it's not just that relationship but the permutations of all the other forms of love that make the book so compelling. In particular sisterly love—both familial and spiritual—propels the book forward and buoys up the characters. There are loves in this book that grow, change, die, revive, and persist across continents and years.

One of my other favorites is the traditional fairy tale Beauty and the Beast. (My preferred version is Jeanne-Marie Leprince de Beaumont's La Belle et la Bête from Le Magasin des Enfants.) Although I adore the story, it frustrates me enormously because of the way the love story unfolds. At the heart of the problem for Beauty is this idea of platonic love versus romantic love. To borrow a modern phrase, Beauty puts the Beast into the "friend zone" because he's a hideous beast, and she's in love with this mysterious and handsome prince in her dreams. Of course, as everyone knows, once Beauty confesses her love for the Beast, he is revealed to be the handsome prince. In short, Beauty's reward for learning to love with her heart rather than her eyes is that the man she loves is altered into someone else. That's maddening, and supposedly a "happy ending." As for me, I'd have preferred to keep the Beast who earned my love.

I also include nearly any book about conjoined twins. (Just as examples: Lori Lansen's The Girls, or Sarah Crossan's One, or any number of nonfiction works.) The very notion of a life conjoined to another person requires next-level concepts of love. Contemplate not just a lifetime of talking to that person but a lifetime of being physically connected to that person. Eating, sleeping, making love, and all the other bodily functions, right alongside another human being—and I can't stress this enough—one you may not even like or have anything in common with.


Motorcycles have always been a part of my family's life, so it seemed natural to me that Kellen's 1956 Panhead would play a central role in the book. Just as the stars are a symbol of stability for Wavy, that bike represents freedom for her and Kellen both. Although you'll often see riders kick-start these bikes from the side, for someone Kellen's size, it's easy enough to do it astride the bike, as you see in this video of a '58 Panhead. (Video source)
No comments have been added yet.