News and Interviews
Debut Author Snapshot: Stephanie Danler
Posted by Goodreads on May 2, 2016
With barely enough money in her bank account to pay the bridge toll, a Midwestern girl arrives in New York City, the place where dreams are made and crushed. In Stephanie Danler's sharp-edged debut novel, Sweetbitter, 22-year-old Tess comes of age and comes into her own while working as a backwaiter (the lowest-ranking waiter) at a high-profile, high-stress Manhattan restaurant. She befriends an older, more worldly server, Simone, falls for the aloof bartender, Jake, and makes plenty of bad decisions as she trains her palate and learns the seductive language of food.

Danler worked in New York restaurants for many years while also studying creative writing at the New School. She famously sold her book after a Penguin Random House editor, one of the regulars at the West Village restaurant where she worked, asked her to send him the manuscript. (Waiters with a dream, take heart!) Danler shares some of the inspiration behind her first novel.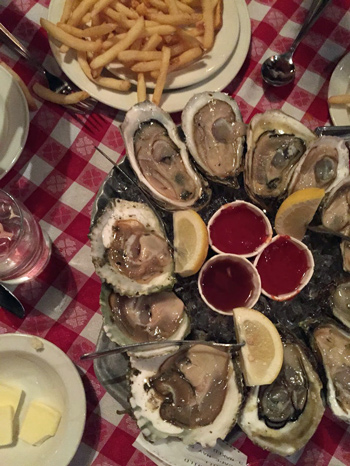 "Grand Central Oyster Bar is one of my regular solo spots in the city—you have the rush of people, that transient anonymity, with superb oysters. And the dark bar in the back is one of my favorite places to disappear with a book."
Goodreads: Tess gets asked in her first restaurant job interview: "When you purchase a bottle of wine, what do you tend toward?" So of course, I have to ask you.

Stephanie Danler: Ha! It's a great question, right? Like most people, I go through phases, but right now I head straight to the Loire section in any wine store. Most people know the Loire for Sancerre and Muscadet, but regions running along the Loire river also produce the most luscious Chenin Blancs and powerful Cabernet Francs in France. Loire wines across the board tend to be higher acid, really stony and nervy. The Loire is at the forefront of biodynamic and organic winemaking, which can sometimes sound phony, but what it means to me is that somebody is putting care into the viticulture and the process. My everyday "emergency" bottle (because we all have wine emergencies) tends to be a Muscadet (perfect for daytime spritzes) or a bottle of Cabernet Franc from Bourgueil.

GR: "New girl in the big city" is a classic story line because it parallels so many of our lives (or wished-for lives)! Tell us about your own "new girl in the big city" experience and how you decided to transform that experience into fiction.

SD: I graduated from Kenyon College in 2006 with a degree in creative writing and two parts of what I imagined—quite grandly—would become a novel. I moved to the city because that's what writers were supposed to do. At that point—and maybe this is still true—I believed that writers had a moral obligation to experience as much of the world as possible, but not in a passive way. They had to be crushed by it. New York is a place where you can be crushed. I wasn't exactly new—I had worked in the restaurant industry since I was 15, I had spent summers in the city, I had dozens of friends that were moving there—it wasn't a new frontier. But it was overwhelming, and lonely, and thrilling—all of the things it is for Tess.

I was so fortunate to find a job at Union Square Café, a landmark—and Danny Meyer's first restaurant— formerly in Union Square. The process of falling in love with that world—the food, the wine, the blitz of dinner service, the highly creative, slightly deranged people I worked with—is similar to what I experienced, though not exact. I stayed in the restaurant business, working every position from hostess to beverage director to general manager, for seven years. When I went back to get my MFA in Fiction in 2012, I had an idea about a girl and disillusionment, something related to what I love so much about Portrait of a Lady, and I knew that the story would be set in the punishing and sensual world of restaurants I knew so well.


"I've had so many incredible meals at Union Square Café, formerly located in Union Square—I always saved my menus. I didn't realize it at the time, but they became this snapshot of a certain period of time, a certain style of food. I never thought things would change or that Union Square Café would have to move."
GR: Did your vision and plans for Tess evolve between the first draft and final draft of the novel?

SD: God yes. The first draft of this book was a 25-page short story that starts with the same first line and ends with the same last line—it came to me in one piece. It had a food scene for each of the seasons (the oysters, the tomatoes, the truffles), it had choruses of servers, and it had the voice of Simone, visions of Jake. It had a sketch of the plot. But it was distant, as if everything were overhead, chaotic, and what was missing was Tess. She was only a filter so we could see this world.

Elizabeth Hardwick's Sleepless Nights—one of my favorites—in which the narrator (also named Elizabeth) is sorting through a loose tangle of her memories, with seemingly no rhyme or reason. What binds it is this sense of strength of the "I," her character. We trust her authenticity.

As I was in the revision process for Sweetbitter, I was going over Tess's interview scene (for the millionth time), and though I could have kept Tess and Howard bantering for hours, I kept getting stuck. It was just banter. One night—I really don't know where this voice comes from—I heard her say, "Enough." Howard is toying with her, but finally she puts up a wall. From that point on in the interview, they are having a real conversation. She's a person, she can push back. I can remember so many moments of my own life, especially in my early twenties, where I worked at making things easy for people, where I didn't want to draw attention to myself or create conflict. Every instance where I said, "Enough," or even better, "No," that was when I was growing up. That moment in the interview is when Tess's voice—the "I"—became grounded and the book turned into a novel.


"My first job when I moved to the city was practically in the Union Square Greenmarket—shopping there weekly was a major shift in the way I thought about food and the seasons."
GR: Sweetbitter offers a behind-the-scenes look at the world of restaurants, with the good and the ugly. What did you want to capture about this subculture?

SD: How intoxicating it is! Any time I left New York City, I would have such a hard time translating that I had a "real" job. The vast majority of people—especially in 2006, it's a bit different now—think of the service industry as temporary, transitory. What I found in restaurants was a vibrant, stimulating community, an instant family, and a valid industry in which to have a career. One in which you had to study and really push yourself in order to keep up and continue to grow.

Since 2006, we have had no shortage of behind-the-scenes views of restaurants—there's been an explosion in the mainstream media, especially for the back-of-house (kitchen) culture. It's hardly a subculture anymore. People graduate from Ivy Leagues and aspire to bartender positions in Williamsburg. It doesn't have the same stigma. So my goal wasn't to expose a world. It was to investigate what it meant to me at 22, and then what it means to Tess. When this book was still an idea, I would talk to my coworkers during shift drinks and say, "Real life happens in restaurants!" I'm sure they thought I was crazy, but that's what I wanted to show. Small moments of taste, everyday boredom, and then these real transformations, real heartbreak, real joy. Learning to eat and drink will change the way you interact with the world, if you're paying attention.


"I've been ten years in New York City, and I have lived in Williamsburg the entire time. The landscape of that neighborhood has changed so much, but it still feels like my home—the Grand Street Ferry park is one of my favorite places to watch the sun set."
GR: What's next for you as a writer?

SD: I'm currently in the middle of some essays, which excite me to no end. There's so much relief in the shorter burst of focus, the narrow investigation, versus the marathon of writing a novel.

I'm definitely still processing that the book is done. In a way, it's not mine anymore, and I find that alternately painful and liberating. I am working on a second novel for Knopf—but when I was writing Sweetbitter, I would have dreams about Simone, Tess, Jake, and I called them visitations. It's been years, but Simone still visits me.

GR: Any recommended fiction (or cookbooks!) for fellow foodies?

SD: The Gastronomical Me by M.F.K. Fisher, forever and ever a favorite. That book was instrumental in showing me that food was a subversive but effective way to tell a story. M.F.K. Fisher was a cookery writer from the mid-20th century—all her books are divine—but The Gastronomical Me stands out because of the way in which it is not "about" food but actually about the transformations (she calls them "sea changes") that take her from being a girl to a woman. In the midst of the cauliflower gratin in Dijon, the pea soup on an ocean liner, the cheeses in Switzerland, Fisher is falling in and out of love, recognizing her shortcomings, her powers, and facing the blackness of illness and grieving. She carries it all with a somber grace and biting wit. In this book food is salvation—it keeps us present in the world when things go dark.



date
newest »
back to top