News and Interviews
Good Minds Suggest: A. Igoni Barrett's Favorite Books About Transformation
Posted by Goodreads on February 29, 2016
If you could turn yourself into someone else, who would you be? Furo Wariboko, the protagonist of A. Igoni Barrett's daring new book, Blackass, didn't get a choice. Instead Furo, a black Nigerian living in the sprawling metropolis of Lagos, wakes up one morning as a white man, completely transformed with light skin, bright green eyes, and red hair. While Furo initially revels in the opportunities and advantages his new "condition" earns him, his thoughts linger on the one part of him that stayed exactly the same—his ass. This provocative modern satire is the first novel from Nigerian author Barrett, who previously published two acclaimed short story collections, From Caves of Rotten Teeth and Love Is Power, Or Something Like That. He shares his favorite books about remarkable mental and physical transformation.


Fluke by James Herbert
"I was a youngster when I first read this uncharacteristic fourth novel by the British master of horror fiction, about a dog that thinks it's a man. Or was it a man trapped in a dog's body? No matter. The thrill of the tale and the tenderness of the telling left me shaken and stirred long after I closed the covers. So much so that I tried to get Coco, our soft-eyed shaggy dog, to tell me his thoughts in sounds more intelligible than barks. That he never even managed to utter 'hungry' doesn't mean he didn't comprehend our many emotional (though one-sided) conversations. That's the power of excellent fiction: It deepens our empathy and expands the imagination. James Herbert's Fluke achieved this for the child I was."
The Palm-Wine Drinkard by Amos Tutuola
"Transmogrifications abound in this pioneering Nigerian novel about a tippler's quest in the land of the dead. People turn into birds and bonfires, among other phantasms, and a character called 'the complete gentleman' returns hired body parts until he's reduced to a skull. Death is a yam farmer whom the protagonist captures in a net. A novel unlike any you've ever read, whose unremitting inventiveness clings to the memory and whose artistic significance—to quote a poem by one famous early admirer—continues to 'rage against the dying of the light.'"
Crime and Punishment by Fyodor Dostoyevsky
"This wintry Russian classic is about many things big and small—one of the small being the appropriation of yellow, that happiest of colors, to represent human misery: a sunless task indeed—but the central thread of the narrative follows the conscience-induced transformation of an energetic young idealist into a mental and physical wreck. The fate of us all in time, one might say. Read this novel for its ageless insight into the workings of an obsessed mind. Or read it because the passage describing Raskolnikov's murder of his moneylender is one of the finest examples of thriller writing."
Love in the Time of Cholera by Gabriel García Márquez
"The fantastical element of this love story par excellence is quieter than in García Márquez's other great novel, as none of the characters in this book—at least none of the ones we come to cherish over a timeline of 53 years, seven months, and 11 days and nights—are born with a pig's tail or change into talking spiders for disobeying their mothers. But as the hero Florentino Ariza sheds his virginity along with his shyness, piling up sexual conquests until the final liaison with his underage ward, we experience all the stages of his tormented transformation from lovelorn stalker into the methodical roué that Fermina Daza at last falls in love with. And with the closing line of this majestic book, we, too, emerge transformed."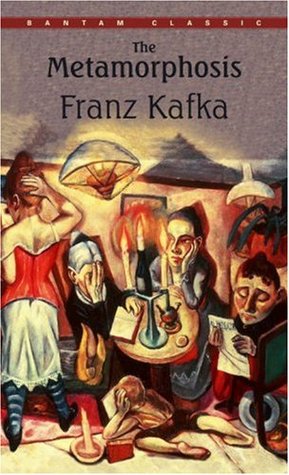 The Metamorphosis by Franz Kafka
"This is most likely the first book that springs to lips whenever the topic of transformation is brought up in a gathering of readers. (Closely followed by Virginia Woolf's Orlando, whose eponymous hero changes from man to woman through centuries of one life—a novel I must reread.) During the three years of writing Blackass, I was constantly engaged in conversation with Kafka's masterwork, even during those times I got so entangled in my own protagonist's adventures that Gregor Samsa almost became a distraction to be shoved away, an insect to be swatted dead—which, in the end, was what his family did. A man wakes up one day to find he is no longer what he thought he was: Strangeness ensues. For the fictional Gregor Samsa, that strangeness was the minutiae of insect life; for some flesh-and-blood victims of societal prejudices, it becomes the fantastic problem of being simply human."
date
newest »
back to top