News and Interviews
Good Minds Suggest: Salman Rushdie's Favorite Books About Mythological Creatures
Posted by Goodreads on September 1, 2015
Fact can be stranger than fiction, and Salman Rushdie has had his fair share of both. The world-renowned British Indian novelist creates unforgettable stories of mythical history and fantasy, but in reality he's long been the protagonist of his own barely believable tale. He survived multiple assassination attempts—in response to his controversial 1988 novel, The Satanic Verses—and was placed under police protection by the British government.

The real-world danger has done nothing to slow Rushdie down. Queen Elizabeth II knighted him for his services to literature in 2007, and a year later The Times ranked him 13th on its list of the 50 greatest British writers since 1945. In his new book Rushdie turns once again to the realm of magical realism he first popularized in his breakout novel, Midnight's Children.

Two Years Eight Months and Twenty-Eight Nights is the story of the jinn. Once separated from our world by a veil, the whimsical, capricious creatures are on a collision course with humanity—and the children of both are caught in the crossfire. Rushdie shares his favorite books about mythical monsters struggling with their own fragile, terrible, and beautiful existence.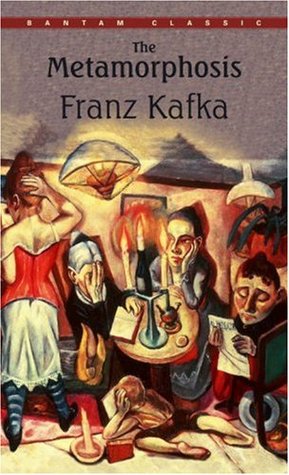 The Metamorphosis by Franz Kafka
"One of the great themes of classical literature, the transformation of bodies into other bodies, gets a dark modern twist from Kafka. Gregor Samsa wakes up to find himself turned into a giant and largely helpless dung beetle, and gradually his world—his boss, his parents, his sister, their cleaning lady—turns away from him in disgust. Strangeness is finally intolerable, and his end comes, for everyone else, as a happy relief."
Beowulf by unknown; translated by Seamus Heaney
"Heaney's supple, muscular verse brings this Old English narrative poem powerfully into modern literature. Beowulf, the hero, comes to the aid of the king of the Danes, whose people are being attacked by the fearsome monster Grendel. Beowulf kills Grendel, but unfortunately there's always another monster to kill; Grendel's angry mother is even harder work, and then at the end of his life there's a dragon waiting."
Nights at the Circus by Angela Carter
"Perhaps Angela Carter's finest novel, in which her gorgeous, antic language—part-mythic, part-vaudevillian—richly evokes her greatest heroine. Fevvers the aerialist is a six-foot-plus winged beauty who (at least in her own version of events) was hatched from an egg. Her circus adventures take her from Cockney London across Russia; there are tigers, outlaws, and blizzards. Irresistible."
The Strange Case of Dr. Jekyll and Mr. Hyde by Robert Louis Stevenson
"The classic tale of the divided self. Dr. Jekyll's noble, moral outside contains, and periodically releases, the murderous evil that is Mr. Hyde. Schizophrenia and Victorian hypocrisy coexist in a single body and cause havoc. 'A fine bogey tale,' Stevenson himself called it, and so it is."
Ulysses by James Joyce
"It's based on one of the greatest of myths: the Odyssey transformed into the mock-epic tale of a Jewish Irish advertising salesman's cuckolded day wandering in Dublin while his faithless wife, Molly, the antithesis of Odysseus's Penelope, gets up to much nonsense in the marital bed. It may not feature dragons, monsters, dung beetles, or evil Mr. Hydes, but it's the most fully achieved myth novel in modern literature. It's the best there is, so read it."
date
newest »
back to top